Courtesy Photo
The Commonheart
Now in its 36th year, the Burlington Discover Jazz Festival is one of the most highly regarded music events in Vermont. Top-shelf entertainers headline the 10-day marathon, and the 2019 lineup is no exception. Household names Patti LaBelle, Bobby McFerrin and Brian Wilson lead the pack and emphasize the fest's stylistic diversity.
It's not hard to rack up a bit of credit-card debt checking out some of this year's hottest concerts. But it's just as easy to see music every day without breaking the bank. Read on for a quick look at some noteworthy shows that are absolutely free.
Friday, May 31
The Commonheart, 9:45 p.m., Top Block Stage
Start the first night of BDJF right with Pittsburgh's the Commonheart. The expansive ensemble presents a soul-crushing blend of blues-rock, funk, gospel and R&B. The group's high-octane bangers are sure to leave the audience gasping for breath. The band performs as part of Levitate Live, the fest's official kickoff event. Brawlik and Swift Technique also perform.
Other May 31 highlights:
Dan Ryan Express, Nectar's, 5 p.m.
La Rebelión del Tango, Light Club Lamp Shop, 7 p.m.
Andriana Chobot, Deli 126, 8 p.m.
Harsh Armadillo, the Skinny Pancake, 8:30 p.m.
Saturday, June 1
Sabouyouma, 6 p.m., City Hall Stage
Courtesy Photo
Sabouyouma
Traditional sounds of West Africa fuse with psychedelic stylings in Sabouyouma. Ousmane Camara, descendent of a long line of troubadours known as griots, fronts the Vermont-based group. The bandleader has some of the fastest hands in the state, which he uses to rock the balafon, an ancient, curved mallet instrument. (See the review of Sabouyouma's debut album Sabouy on Page 58.)
Other June 1 highlights:
Queen City Hot Club, Leunig's Bistro & Café, 11 a.m.
Joe Davidian Trio, Nectar's, 5 p.m.
James Harvey, Radio Bean, 7 p.m.
West End Blend, the Skinny Pancake, 8:30 p.m.
Sunday, June 2
Buckjumping film screening, 3 p.m., BCA Center
Lily Keber's 2018 documentary Buckjumping takes viewers to the streets of New Orleans. The film examines how dance is an inextricable part of the southern city's identity. From drag clubs to funeral processions to the annual Mardi Gras celebration, get up close and personal with the Big Easy's vastly diverse community of literal movers and shakers.
Other June 2 highlights:
Michael-Louis Smith & Brooklyn Circle, Top Block Stage, 3:30 p.m.
Trio Gusto, Radio Bean, 5 p.m.
Mr. Clifford Band, 5 p.m., City Hall Stage
Monday, June 3
Jazzyaoke, 7 p.m., Light Club Lamp Shop
Regularly seen in central Vermont locations such as Barre's Espresso Bueno, Jazzyaoke are a six-piece live karaoke band specializing in jazz standards. Just like regular karaoke, singers are provided with song lyrics. But rather than a hokey backing track, folks croon along to live musicians. Jazzyaoke is probably the only event in the entire BDJF in which attendees can spontaneously become performers.
Other June 3 highlights:
Chris Peterman Trio, Leunig's, noon
Will Patton Quartet, American Flatbread, 5:30 p.m.
Northern Spy, Red Square, 7 p.m.
Tuesday, June 4
Latin Dance Block Party with Mal Maïz, 7:15 p.m., City Hall Stage
Led by Costa Rican expat Maiz Vargas Sandoval, Mal Maïz are a scintillating Afro-Caribbean outfit specializing in cumbia music. The genre pulls from South American, Caribbean and West African cultures, resulting in a highly danceable combination. Many of the band's tunes tell Sandoval's story from his early life to his relocation to Vermont.
Other June 4 highlights:
Paul Asbell Quartet, noon, Leunig's Bistro & Café
Charles Berthoud, Rí Rá Irish Pub & Whiskey Room, 5 p.m.
Guagua, Radio Bean, 6:30 p.m.
Wednesday, June 5
Funky Dawgz Brass Band, 6:30 p.m., Top Block Stage
Courtesy Photo
Funky Dawgz Brass Band
Funky Dawgz Brass Band hail from Connecticut. But the spirit of dirty New Orleans funk lives in its soul. The group offers up ultra-peppy renditions of mega pop hits like Beyoncé's "Crazy in Love," Eurythmics' "Sweet Dreams (Are Made of This)," and Daft Punk's "Get Lucky." And that's on top of a fine selection of toe-tapping originals.
Other June 5 highlights:
EVNGwear, 7:15 p.m., City Hall Stage
Ensemble V, 7:30 p.m., Radio Bean
Birdcode, 9 p.m., Juniper
Thursday, June 6
Dr. Sammy Love, 5:30 p.m., American Flatbread
Burlington-based cover band Dr. Sammy Love seem to have only one criterion for the music they play: sex appeal. The neo-soul group, led by acoustic-soul singer-songwriter Ivamae, relishes in sultry slow jams and languid ballads. Heavy on synths and smoldering energy, the band reimagines the work of artists such as Sade, Amy Winehouse and H.E.R.
Other June 6 highlights:
Matt the Gnat & the Gators, 4 p.m., Red Square
Dawna Hammers' Joni Mitchell tribute, 6:30 p.m., Radio Bean
Cassarino Family Band, 8:30 p.m., Bleu Northeast Seafood
Friday, June 7
Willverine and Japhy Ryder, 8:30 p.m., the Skinny Pancake
Willverine, the moniker of local trumpeter and producer Will Andrews, plays smooth and groovy electro-soul originals and covers. He's also a member of Japhy Ryder, an instrumental group melding jazz, funk and hip-hop architecture into a hip-thrusting hybrid sound. Back to back, the two projects comprise one of the smoothest nights of music on the BDJF schedule.
Other June 7 highlights:
Peter Krag Quartet, 1 p.m., Vermont Pub & Brewery
NBC 5 Friday Night Block Party with High Summer, 5 p.m., Top Block Stage
Katie Matzell, 7 p.m., Farmhouse Tap & Grill
Saturday, June 8
Jonathan Scales Fourchestra, 7 p.m., Nectar's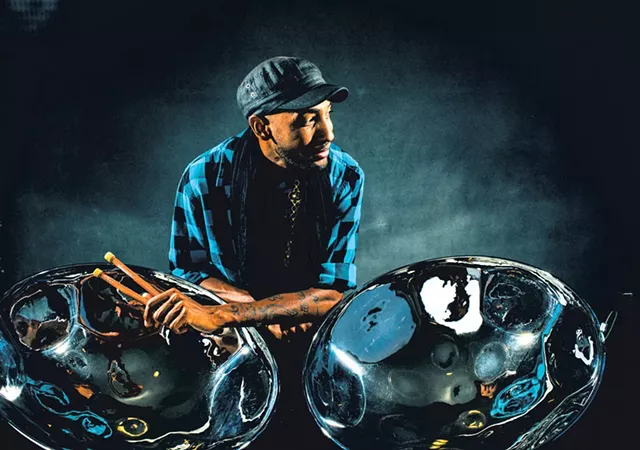 Courtesy Photo
Jonathan Scales
Jonathan Scales is a master of the steel pan. Also known as the steel drum, the apparatus' iconic reverberations instantly conjure scenes of tropical serenity. But the player's music leans heavily into jazz and funk. With a full backing band, Scales defamiliarizes his instrument through his effervescent avant-garde compositions.
Other June 8 highlights:
Shane Hardiman Trio, 2 p.m., Leunig's Bistro & Café
Marty Fogel's Mixed Bag Quartet, 2:30 p.m., City Hall Stage
Hokum Bros., 5 p.m., Leunig's Bistro & Café
Ye Day: A Night of Kanye West with DJ SVPPLY, 10 p.m., Club Metronome
Sunday, June 9
Myra Flynn's "Flynn Theater" Songwriter Showcase, 6 p.m., Light Club Lamp Shop
Bicoastal Vermont native Myra Flynn makes a yearly pilgrimage to her home state, performing frequently throughout BDJF and continuing on through June. Touching on contemporary R&B and neo-soul, the artist confronts some of life's biggest stumbling blocks, such as coming of age and toxic relationships. A group of singer-songwriters joins Flynn for this special closing-night showcase.
Other June 9 highlights:
Old Sky, noon, the Skinny Pancake
Eric Hoh Trio, 1 p.m., Vermont Pub & Brewery
Avery Cooper Quartet tribute to Thelonious Monk, 10 p.m., Radio Bean