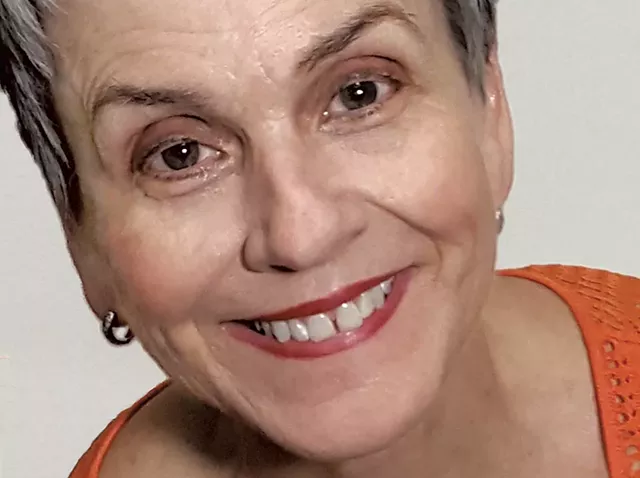 Courtesy of Frances Moore Lappé
Frances Moore Lappé
Frances Moore Lappé poured another mug of coffee. By the end of this day, she said, the world would have produced 80 grams of protein, 2,900 calories and three to four pounds of food per person. That's only "the leftovers" — the food that remains after half of all globally produced grain is digested at feedlots or burned for fuel. According to the Food and Agriculture Organization of the United Nations, most people don't finish their "leftovers"; if food waste were a country, it would be the third largest greenhouse gas emitter after China and the U.S.
Lappé has spent her life pinpointing the reasons for that waste. She offered me a cup of dark roast as we settled into a couch in the dining room of the Swift House Inn. A fireplace smoldered beside us while travelers tucked into complimentary breakfasts of omelettes, orange juice and housemade granola. It was a remarkably cozy atmosphere for a conversation about the intersection of food democracy and world hunger.
The previous evening, October 26, Lappé had delivered a lecture at Middlebury College called "Beyond Hunger: Toward Food Democracy," an extension of her latest book, World Hunger: 10 Myths. Her talk illuminated the questions she's tangled with since publishing her first, groundbreaking book, Diet for a Small Planet, 45 years ago.
Eighteen books on food and politics later, Lappé still steadfastly asserts that hunger is as much an issue of individual mentality as it is a problem of government systems. Hunger, she writes in 10 Myths, has as much to do with feelings like anxiety, humiliation and fear as it does with the pangs in one's stomach.
"We are creatures of the mind," said Lappé as the coffeemaker hummed beside us. "And there are culturally determined features that establish what we can and cannot see."
Lappé's legacy is as multifaceted as it is lengthy. She wrote Diet for a Small Planet at age 26; the Smithsonian National Museum of American History deems it "one of the most influential political tracts of the times." Translated into 15 languages, her books also include EcoMind: Changing the Way We Think, to Create the World We Want and Hope's Edge: The Next Diet for a Small Planet.
In 2008, Lappé won the James Beard Foundation Humanitarian of the Year Award for her global influence on the way people consider food, agriculture and nutrition. Gourmet named her one of "25 People Who Changed Food in America," along with folks like Julia Child and Thomas Jefferson.
Lappé is no stranger to Vermont; she lived in Brattleboro for half a decade during the 1990s as head editor of the late national journal the American News Service. And, she added, her stepmother's Vermont heritage runs five generations deep.
"I was a die-hard, obnoxiously chauvinistic Californian married to somebody who wanted to move back East," recalled Lappé. "Then I was invited to speak at a couple different food conferences [in Vermont], so we came out here and rented a car. It was like an overnight religious conversion; I said I was never leaving."
Lappé parted ways with Brattleboro five years later when she was offered a visiting scholar position at the Massachusetts Institute of Technology. Soon after, she founded the Small Planet Institute in Cambridge, which she now fronts with her daughter, Anna Lappé. (Last June, following in her mother's footsteps, Anna won a James Beard Foundation Leadership Award for her work as a sustainable food educator.)
Courtesy of Frances Moore Lappé
Harvard Book Store launch event
"I thought I'd be in Vermont forever," said Lappé. "What turns me on to Vermont is not just the beauty but something about the culture. There's an expectation of mutual connectedness here. Yes, it's a small state, but that's only part of it — you can feel atomized and disconnected in a small community, too."
Lappé paused as an older couple burdened with suitcases trudged to the checkout desk. "When I was here, there was — and, I think, there is — this sense that we're creating a shared 'Vermont experience,'" she continued. "That atmosphere of connectedness and co-responsibility is reflected in the food culture here. The more Vermont can embody and communicate that sense of mutual accountability, the more influence it'll have as a role model for the rest of the country."
To Lappé, "mutual accountability" means knowing that one's individual decisions — such as whether to buy local or processed foods, to fill one's diet with plants or animal protein — affect whether or not every human has enough food for life. That sense of responsibility is the opposite of believing any elected leader will swoop in and save us all.
"That's not what democracy is," she said. "There's a fallacy in thinking that democracy is something we have, or something that's given to us. It's not. Democracy is something that we do. It's substantiated by the way it's lived on an everyday basis."
Diet for a Small Planet was published in 1971, a period that resounded with the words of U.S environmentalist Lester Brown: "Scarcity is the new norm.'' Lappé, then a graduate student at the University of California, Berkeley, hit the library to "see if [Brown's comment] was really true," she said. She was not a trained development specialist, a nutritionist, an international commodities economist or even the holder of a master's diploma.
"But that was the great advantage," she remarked. "I was fresh eyes. I was asking the questions that everybody else had already bypassed."
Lappé found that scarcity was not the issue driving global hunger — in fact, her research revealed that more than enough calories were produced to feed the world each day. The rub was that many of those calories were being fed to cattle or furnaces, or distributed in a way that left some satiated and others starving.
"Scarcity wasn't the problem, but the idea that there wasn't enough to go around created this essence of powerlessness," she said. "The idea that we are separate, that things are what they are and we can't change them, and that, since there's not enough to go around, we have to compete to 'get ours.'"
In reality, Lappé continued, "economic and political structures determine whether or not food production is actually meeting the needs of human beings." This is a particular problem when such structures are dominated by wealthy private interests, which then shape the discussion about food.
"Hunger is an issue of democracy, not scarcity," said Lappé. "In this election, it's a lot about pointing fingers. But whoever becomes our president, change isn't influenced by electing somebody and then sitting back to watch them fix or ruin things. The conversation we need to have is how we can live this idea of democracy every day ... how we can formulate a national framework that isn't controlled by privately held wealth."
Across nearly five decades of work, Lappé has repeatedly asked: If our own mental maps create our picture of the world, how can we change those mind-sets to align the needs of humanity with the needs of the rest of the Earth?
To explain, she tells me a story.
It's Thanksgiving. Lappé has 30 people coming for dinner, and she wants to cook her favorite root vegetable dish in her biggest Dutch oven — a holiday staple. As she preheats the oven, she can't find her Dutch oven anywhere. She's frustrated. So she begins chopping, not knowing what else to do. Ten minutes later, she looks up mid-chop and sees the massive, flame-red pot on the table in front of her.
"But it has a plant in it," she continued. "I wasn't looking for something with a plant in it, and we can't find what we're not looking for."
Lappé called humans "creatures of the mind," but history shows that mentality is malleable. When Diet for a Small Planet arrived on bookshelves, she said, some cooks considered its recipes for vegetarian lasagna and walnut-cheddar loaf "to be heresy." In 2016, it's no longer radical to ponder the origins of chicken thighs or visit a café that offers the options of cream, 2 percent and "milk" made from almonds or soybeans. Words such as "organic" and "farm-to-table" are now commonplace, thanks in part to Lappé and her contemporaries, like chef and food activist Alice Waters, who probed the counterculture movement against big ag.
Lappé finished her last sips of coffee and donned her jacket and hat, ready to catch a Rutland plane bound for her next lecture. We were about to part ways when I asked one more question: "If you could eat anything in the world tonight, what would it be?"
The writer looked momentarily flummoxed.
"I'd cook," she said at last. "A farmer recently gave me some beautiful farro. I'd make farro risotto. Maybe with some Vermont foraged mushrooms."
With that, she left for the airport.