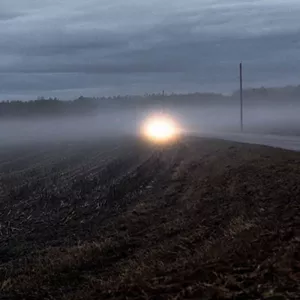 Courtesy
A Box of Stars, Big Hole in the Sky
(Self-released, digital)
A Box of Stars aren't a band anymore — at least not right now. The former four-piece dream-folk outfit succumbed to the perennial enemy of rock and roll: life. The pandemic, ramped-up educational trajectories and artistic wanderlust conspired to leave Burlington's Macaulay Lerman as the band's sole proprietor. So what did he do? He recorded not one but two freakin' albums and dropped them both at the end of September.
Big Hole in the Sky was meant to be a full-band album, Lerman explained by email. While recording it, he also found himself writing Museum of Light, a sort-of companion piece. Given how stylistically linked the albums seem to be, it's puzzling that they're siloed.
Both records are stripped-down, lo-fi, beta-blocked collections of acoustic rock. Lerman sounds close, as if he were right there lying next to you, breathing into your ear while he spoons you to sleep. The works are remarkably intimate, a trait shared by Days Drunk Off Heat, A Box of Stars' 2018 album.
What's missing in the new LPs is the oomph heard on Days. Understandably so — it's difficult for a single person to conjure the magic that happened when four creative minds came together. Also, Lerman recorded at home using a four-track recorder; its wispy hiss is a constant, glowing aura. It's hard not to see the shift as a degradation of sorts, given the warmth, depth and vivid textural sensations Days put into the world.
Courtesy
A Box of Stars, Museum of Light
As I began to dig into the two LPs, I thought I was momentarily losing my mind. That's because the albums' opening tracks are practically indistinguishable, save for their lyrics. Both songs are in the same key and have an identical chord progression, and they fuse and get lost in each other if played simultaneously.
Try it for yourself. Open up two browser windows and play Big Hole's "Spend the Afternoon" and Museum's opening title track at the same time. Since they're played at nearly but not exactly the same tempo, they gradually fall out of phase as the sync continues, creating an entropic sound-art piece that likely wasn't intended as such but is bewilderingly enthralling nonetheless.
Only the most ardent fans of whisper-core will want to devour these two records, but Lerman's poetry and observations about the world should at least briefly hold the attention of general indie fans. Standouts include "Frankie Is Alive," from Museum, a charming love letter to an animal companion that's bolstered by shimmering synth pads; and Big Hole's "Knapsack," a simple tune with evocative harmonica and a shuffling pace.
Big Hole in the Sky and Museum of Light are artistically transitional albums that imply more great things in Lerman's future. Both are available at aboxofstars.bandcamp.com.