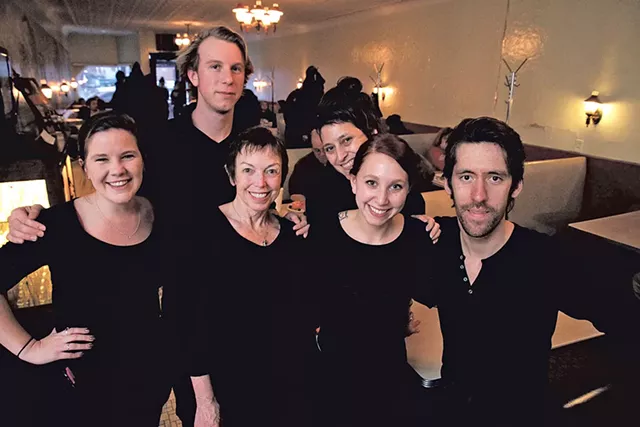 Matthew Thorsen
From left: Cori Conchieri, Grayson Crounse, Martha Snyder, Marya Vallejos, Hannah Sorkow and Peter Hedin
As you may have heard, Bove's Café in Burlington will serve its last supper on Wednesday, December 23, after 74 years (plus two weeks and two days) in business.
On the day Louis and Victoria Bove opened the Pearl Street pasta joint, the Japanese fleet bombed Pearl Harbor. The restaurant kept on through the war — and through two more generations of Boves.
As the business expanded, the family started selling canned sauces, meatballs and other prepared goods, eventually contracting out sauce production to an Ohio company. Now, owner Mark Bove plans to bring sauce production back to Vermont — to a new plant in Milton, scheduled to open next year — and use the restaurant building to grow the family's catering operation.
Aside from the Boves themselves, few people know the restaurant, or its customers, better than longtime waitress Martha Snyder. And it seems safe to say that, once it closes, few people will miss it more.
Snyder grew up on a dairy farm in the hamlet Clarence Center outside of Buffalo, N.Y. The second of 12 children, she landed in Burlington in 1976 and picked up a job waitressing at Bove's. Aside from two maternity leaves, she's worked at the restaurant ever since.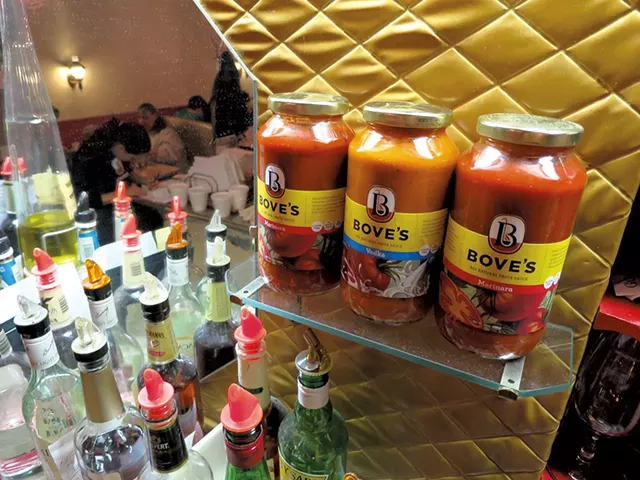 Photos: Matthew Thorsen
Bove's sauces
"[Bove's] was owned by four brothers and a sister," she recalled in an email exchange, "and I quickly became fond of them all."
Snyder met her husband of 31 years through a coworker. As the years rolled by, she took on more responsibility at the restaurant, training servers and bar staff. She also stirred sauces and answered phones, packed to-go orders, and set and reset table after table. She got to know her guests, watched their families grow (and sometimes "shrink again," she noted) and memorized orders for hundreds of regulars.
Right down to her last shift this week, Snyder devoted herself to the job. (With work, family and the approaching holidays, she couldn't find time to meet in person for an interview.)
"I have very few moments to think or talk or breathe lately," she wrote in a 6:30 a.m. email one morning last week. "This is the only private time in my day!" In the thousand words that followed, Snyder reflected on her past: on the restaurant; its owners and customers; on life in Burlington, past and present; and on her own life, which has followed a restaurant-hours schedule since she was twentysomething.
"I need to get ready for the day," she concluded. "You know where I am."
Excerpts from Snyder's memories follow.
Matthew Thorsen
Martha behind the bar at Bove's in 2004
SEVEN DAYS: Tell me about your early days at Bove's.
MARTHA SNYDER: It was busy; we went in at 8:30 a.m. to clean and restock and peel garlic. A lot of us worked split shifts — [we'd] work lunch and [then return] for dinner. The café was open until 11 p.m., and even if someone came in at 10 of [11], they were served.
I was one of the youngest servers. I loved Burlington — it felt smaller then, and more connected. I walked everywhere, often alone, and never thought anything of it.
I became very close to Kim Johnson. She and her sisters had all worked at the restaurant, and it's a friendship I cherish to this day. We would go to Finbar's [a former bar/café] between [shifts] and have lunch and shop at Expressions. Such a time!
SD: Did you take time off when you had children?
MS: I took time off when Joel III was born and was asked back the following spring. Seven years later, our son Sam was born — my water actually broke at the restaurant when I was six months pregnant. I took another year off because he was three months premature.
I often thought of finishing school, but my husband was beginning his electrical business (he's a master electrician and sound engineer), and the time wasn't right. Finally, two years ago, after both my sons received their degrees, I earned mine — an associate in human services from Community College of Vermont — one of Vermont's finest institutions. Now I am working towards my BA at Johnson State College.
SD: Is this your only job?
MS: I have been a volunteer at the Restorative Justice Center in St. Albans for almost nine years — I am very concerned about at-risk young adults. That's a career I would focus on if I weren't doing this.
SD: What is your favorite dish at the restaurant?
MS: My favorite sauce is the vodka sauce — I could eat it plain in a little bowl! I'm not a pasta person; I was never served pasta growing up. [And] I had never seen a veal patty until I worked here. Also, the white garlic sauce is overlooked. That's a winner! Sometimes I bring veggies from home and pour it on.
SD: What's something important you learned from your years at Bove's?
MS: Dick Bove taught me a lot about running a business and how to be fair-minded. He always gives people chances, people that could get overlooked. I so admire him for that.
SD: What did you like most about the job?
MS: My greatest joys have been the servers I've hired, trained and remained close to upon leaving — we stay in touch.
I have watched children grow up and marry and come back with their own young families. I have been part of people's lives for so many years, they regard me as one of their [own]. I could easily see hundreds of people in a week whose dining habits I've come to know, and whose names I know.
SD: How have people's tastes changed since the 1970s? Are the same things popular now as then?
MS: Back in the day, spaghetti and meatballs was the definite go-to dish. Now a lot of people prefer Mark's lasagna, or some of his fabulous signature sauces. It does seem as though people are willing to spend more now than they did when I began.
SD: What will you do when the restaurant closes?
MS: I don't plan on retiring, but I will take the winter months to breathe a bit. I want to spend some quality time with my mother, who built a house on the land my family owns. [It's] across from the farmhouse we were raised in, where one of my sisters now lives. And enjoy some good Buffalo snowstorms. A lot of my [siblings] are in the area there, so I can be with them.
We have two amazing granddaughters who live in Fairfax, and I want to be here in Georgia with my family and be home at night for dinner. Catch the sunsets.
I want to be able to do things on Saturdays!
SD: Any possibility of staying on at the company once things start in Milton?
MS: I would consider it an honor to work with Mark at the plant in the spring, but I'll enjoy the down time in between. I have movies to catch up on and some writing I've been trying to do, and remodeling at home.
SD: What will you miss about the restaurant?
MS: I will so miss the people. Sometimes I go in early, and the café is dark and quiet, and all you can hear is the ice machine. [Then] I realize it's the clientele and the staff that light [the place] up, that give it spirit, and I know how very, very much I will miss that.