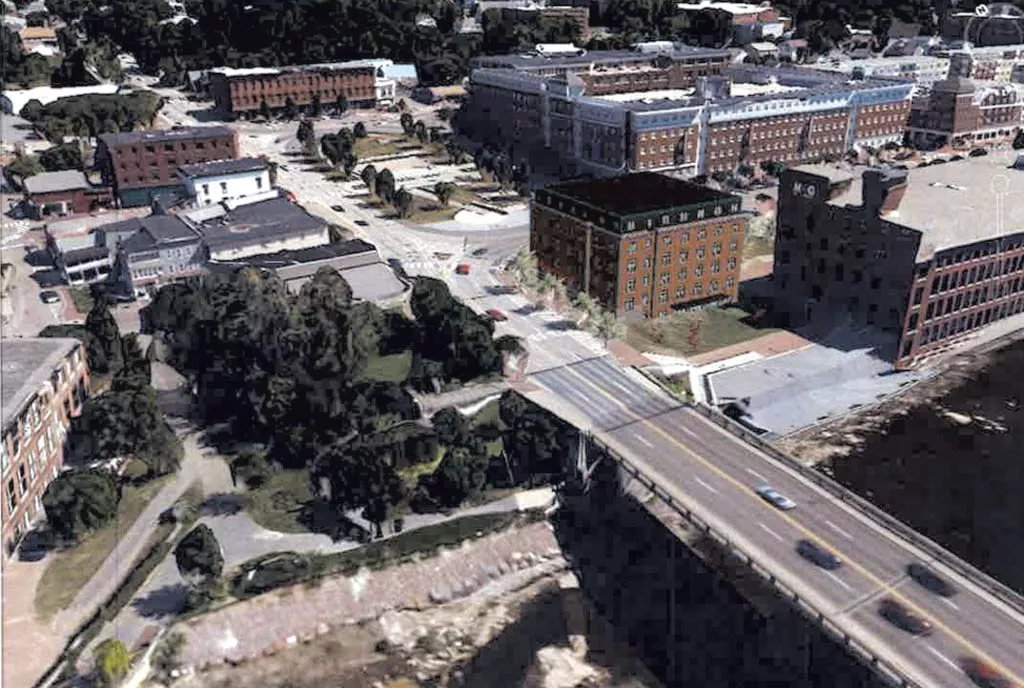 Winooski officials say they hope to approve a recently unveiled plan for a boutique hotel on the downtown roundabout, but parking and pedestrian-safety issues could delay the deal.
City councilors and Mayor Michael O'Brien are cautiously supporting the proposal from Colorado-based developer Adam Dubroff. His Alpha Inn Management firm wants to build a four-story, 70- to 80-room hotel on a vacant lot next to the Champlain Mill on the southeastern edge of the roundabout. The parcel, owned by Pizzagalli Properties, has been designated as a prospective hotel site since the city began planning its downtown makeover 14 years ago, O'Brien notes.
"It's another piece to fit into the puzzle of our developing downtown," the mayor says.
Dubroff's would not be the first hotel to operate in the Onion City. A couple of motor lodges functioned in Winooski during the 1950s, recalls City Manager Katherine Decarreau. The Deluxe Hotel, which was actually "pretty run down," also housed transients around that same time on what was then West Canal Street and is today Winooski Falls Way, Decarreau notes. The Deluxe was swept away by the first wave of urban renewal in the 1960s, she adds.
Having since repurposed its old textile mills and added hundreds of new apartments and condos, the Onion City has come to be seen as a hip place to live, work and play.
Dubroff points to the vibrant downtown restaurant and bar scene, along with easy access to the Winooski River, as attractions for the guests he hopes to host. "The location is central to everything that's happening in the Burlington area," he says, noting that his hotel would be a short distance from Fletcher Allen Health Care, the University of Vermont campus and Saint Michael's College.
It would also be adjacent to a farmers market. In response to concerns about the hotel's impact on it, Dubroff assures that the site plan he's developing could actually expand the pedestrian space where the farmers market is now situated.
The developer also seeks to soothe localist sensibilities by remarking that he's well acquainted with Vermont, even though he lives 2,000 miles away. He says he skied in the Green Mountains in the 1970s, and members of his family built the Residence Inn in Williston 25 years ago. The Alpha Inn Management website lists several hotels it has developed — none with more than 153 rooms — in Colorado, Florida, Texas and 10 other states.
Matthew Thorsen
proposed site
The competition potentially posed in Burlington by the Hilton Garden Inn, nearing completion on Main Street, and the Marriott and Hilton hotels on Battery Street doesn't appear to faze Dubroff. "We'll be smaller and different," he says, offering assurance that filling the rooms "won't be a problem."
But finding room for more cars could be.
Downtown Winooski already lacks adequate parking during business hours. The few curbside spaces in the Winooski Falls project are usually filled, and the garages, which can accommodate more than 1,000 cars, are used by apartment and condo residents as well as by workers in the Champlain Mill, the Vermont Student Assistance Corp. and the Community College of Vermont. Some spaces in the garages are currently unoccupied but are reserved for potential future use by local businesses, notes Decarreau. She says contracts with those firms and organizations would not allow hotel guests to use the empty spots.
The absence of a large surface parking lot, viewed as a good thing by new-wave urban planners, is one reason there's no supermarket in the city. While Winooski's restaurant row may be all about locavore cuisine, residents who want to cook at home find the city — with the exception of small ethnic grocery stores on Main Street and Malletts Bay Avenue — a "food desert."
Dubroff has not yet formulated a specific plan for parking, but he suggests the hotel could use spaces in the garages at night, when there's ample availability. What about during the day? That's a concern voiced by O'Brien and some city councilors.
"You can build parking on that site," the mayor says in regard to the hotel. "Ideally, that's where the parking should go."
Winooski city planners have been asked to devise solutions for downtown's current parking problems and to identify ways to handle the additional demand the hotel will generate. "I'm confident it can all be resolved," O'Brien says.
What about local drivers already daunted by the challenges of negotiating the roundabout? They won't likely welcome the additional car and delivery-truck traffic associated with Dubroff's hotel. City councilors Seth Leonard, Brian Corrigan and Sally Tipson, who also serves as deputy mayor, say the roundabout functions fairly well, although each acknowledges the need for safety improvements.
Demetrios Michaelides, owner of the building on the roundabout that houses Donny's New York Pizza, offers a more critical appraisal. "It's very dangerous here," he says, pointing to the poorly marked pedestrian crossing near his building's front door. "I see at least one or two people a day in near-misses with cars. Safety needs to be addressed before there's any more growth here."
O'Brien and the councilors suggest that fixes are being devised. But Michaelides wants to see results. "Of course, a hotel would be good for everybody's business," he says, "but they've first got to make improvements for parking and pedestrians."
Dubroff is expected to speak to these issues at an August 18 city council meeting. And if he can satisfy councilors and residents, the next step would be to apply for an Act 250 permit. Developers know that could be a long process, but Dubroff is optimistically — and perhaps unrealistically — projecting that construction will get under way next spring. If so, Winooski's hotel could start welcoming guests one year later.
The original print version of this article was headlined "A Boutique Hotel Proposed for Winooski's Roundabout"