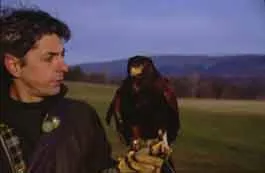 HAWK EYES Master falconer Rob Waite shows off "Miss Piggy."
I take a step forward with my right foot, at the same time flinging my left arm towards the sky. The hawk gripping my leather-gloved wrist reluctantly spreads her wings, catching the wind and flipping momentarily on her back in the air. She rights herself with two beats of the wing, catching an updraft and gracefully soaring to the nearest raised perch.
A few moments later, master falconer Rob Waite instructs me to raise my arm. The stunning bird leaves its perch with wings wide and glides towards me. Though she can dive-bomb dinner with enough force to kill it instantly, she lands on my wrist like a feather and gobbles the tiny piece of beef Waite has placed there.
My heart is beating wildly. I have never held such a bird. To me, raptors have always been aloof, aggressive, mysterious — and far away. Now one of them is sitting on my hand. I have just "cast" and recalled "Miss Piggy," the apt if unelegant name of my charge. The exercise is part of her daily training regimen, which keeps her in shape for hunting.
This is the British School of Falconry at the Equinox Resort in Manchester — one of two schools in the U.S. that allows unpermitted people to handle raptors under the supervision of a general or master falconer. Since 1995, Steve and Emma Ford have introduced all kinds of people to this brand of big birding. But their democratic approach has inspired criticism from fellow falconers who would clip their wings.
"My" bird is a Harris hawk. Natives of the Southwest, Harris hawks hunt pheasant, partridge, rabbit and squirrel, as well as snakes, frogs and moles — small game also available in the Northeast. Their balanced temperament makes them ideal for handling by strangers. Harris hawks are the only raptors that hunt in a group. And they're no birdbrains: They quickly learn that flying to a raised glove will get them an appetizer, and honing in on whatever the hunting dog points at will earn them a feast.
Piggy wears a band, bells, leather jesses and a radio transmitter on her ankles — quite a load for a relatively small bird — but she doesn't seem to mind. The band signifies she was born in captivity; the bells help the falconer find her when she's hunting in the woods. So does the bell affixed to her tail feather — Harris hawks give a little shimmy when they land. The radio transmitter is a last resort for birds that may have overeaten and flown astray.
Miss Piggy is just under two pounds, about a foot in length, and has a brown speckled chest, polished ebony talons and a beak to match. Despite her weight, she is majestic and powerful. I have no idea what to do with her next.
Waite doesn't let me wonder for long. We go on a hawk walk. I cast Miss Piggy, and she soars as before. We walk towards a stand of trees, just beyond the historic Hildene barn where Piggy and friends enjoy deluxe accommodations.
---
Falconry — the hunting of wild quarry with trained birds of prey — originated in China about 4000 years ago. Already ancient when it found its way to Europe, the practice quickly became more a noble art than a way to bring home the "bacon." From King Ethelbert II to George III, every British monarch flew falcons. By the 18th century, falconry entered the realm of the common man — albeit those with a lot of spare time.
I have no illusions that I'm truly practicing falconry. My bird has been trained by someone else, and I'm only with Miss Piggy for an hour of entertainment. Waite, a falcon junkie, makes it clear that falconry is a serious sport, and that keeping a bird is akin to having a child.
In the U.S., federal regulations require an aspiring falconer to demonstrate long-term dedication to the sport. Before you can touch a bird, you must build indoor and outdoor quarters to house the raptor, pass — with a minimum score of 80 percent — a written exam on bird handling, equipment, health and habits, and apprentice with a general or master falconer for two years of training. After earning an apprentice permit, the beginning falconer is allowed to try trapping a yearling trainee from the wild.
Raptors have a 75 percent chance of dying of natural causes their first year in the wild. One reason falconry is so highly regulated is that those raptors in the U.S. not yet extinct are on the protected or endangered list. There are extensive regulations prohibiting their disturbance, except by falconers and breeders, and the only birds that can be taken from the wild for falconry are the most populous species: the red-tailed hawk and American kestrel.
In Vermont a permit costs $250, but the biggest expense is really time. "It's not like you can go away for the weekend and leave the hawk at the kennel," Ford reminds. But in spite of the commitment and regulations, 3500 falconers are registered in the U.S. — 10 of them are in Vermont.
Waite looks lovingly at Piggy, who is waiting for her next cue. He is obviously attached to her, but she's only interested in finding food. That makes sense, considering she needs to eat the equivalent of 20 percent of her body weight every day.
Birds of prey are designed to capture rabbits, rodents and other birds either on the ground or in the air. They are built for speed, maneuverability and efficiency. The peregrine falcon is the fastest around, snatching flying prey at upwards of 200 miles per hour. A peregrine tackles breakfast, lunch and dinner in approximately two minutes of hunting a day. Unlike their handlers, they develop no emotional attachments.
Piggy drives home this point. Her x-ray eyes are constantly searching for the movement of possible prey. When Waite throws out a training lure — a pheasant wing on a string — Piggy attacks it before I know what's happened.
Hawks and falcons don't become domesticated. The falconer rewards the bird with meat whenever it performs, and the bird gets to eat what it catches. For a falcon, a successful hunt results in a kill. For a more pacifist falconer, the perfect hunt ends after an extended chase with a clump of rabbit hair in the bird's talons, the bunny hopping away, and the bird too exhausted to fly further.
Falconers have to monitor a bird's weight and performance daily. If the bird is flown when it's not hungry enough to hunt, or above its "flying weight," the handler might find himself singing "Bye, Bye Birdie." If the bird is too hungry when it goes to hunt, it will tire quickly. The window is a matter of ounces.
---
The Vermont school is the Fords' second. In 1982, they founded the world's first dedicated falconry school in Great Britain, now at the Guinness-owned Gleneagles Resort in Scotland. Some 33,000 have studied there. Since 1995, 7000 students have passed through the Vermont school.
This has ruffled the feathers of some falconers who would like to see the Vermont venue regulated into extinction. It is the opinion of some members of the North American Falconers Association — including 32-year veteran falconer Frank Bond in New Mexico — that the school is compromising the sport. As counsel for NAFA, Bond has petitioned the U.S. Department of Fish and Wildlife to review the school's permit since 1997, and to consider replacing it with a permit that would effectively prohibit the uninitiated from experiencing a bird at close range.
While NAFA's argument seems like so many technicalities to an outsider, emotions are running high, and that makes the real issues hard to distill. It appears the NAFA faction that Bond represents doesn't like the idea of money being made off birds of prey, and they seem concerned that bringing falconry into the public realm will somehow threaten their own privileges. The irony is that all British School of Falconry handlers belong to NAFA — and clearly have a different opinion.
U.S. Fish and Wildlife, under the pressure of two expiring school permits and a third application for a school, is proceeding cautiously. They want to make sure they're abiding by their own regulations, and protecting both wild birds and those bred in captivity. And they're turning to the public for guidance.
Last November the agency sent out an appeal to school students and others, asking whether non-permitted individuals should be allowed to handle birds with supervision. Diane Pense, author of the notice and the DFW's wildlife biologist, says the decision will depend to a great extent on what these people have to say. "We have the ability to amend the regulations," she says. "We're looking forward to hearing the arguments presented on both sides."
The Fords fail to understand Bond's passionate position against falconry schools. The British School of Falconry exceeds minimum standards for their birds. As Steve Ford puts it, no expense has been spared in caring for their birds. "It's not some dark, underworld thing," he comments. "It's not like we're barbecuing hawks and serving them to people for dinner. We're just providing an experience for people who can't take it on as a full-time sport."
Pense suggests the conflict may evidence a hint of anglophobia. "It does feel like there is an aspect of the Fords importing European culture to the U.S. at their school," she admits with matter-of-fact neutrality. "There aren't the same kinds of regulations in the U.K. Neither is right or wrong, they're just different."
Bond voices a similar feeling. "What's good for the goose isn't good for the gander," he says. Perhaps the Fords should have dropped the word "British" from the name of their school.
U.S. Fish and Wildlife is accepting comments through January 19. A final decision will not be made until late spring or early summer, when all submissions have been reviewed. In the meantime, the school has a temporary permit allowing it to continue operations as is. Already, the testimonials are pouring in, many strongly in favor of keeping the school.
Casting, catching and holding a hawk proves an intense, moving and exhilarating experience. I doubt I'll ever become a falconer, but the opportunity to interact with one of these creatures is profoundly moving. The British School of Falconry provides an all-too-rare opportunity to turn off the Discovery Channel and discover a bit of the natural world for yourself.