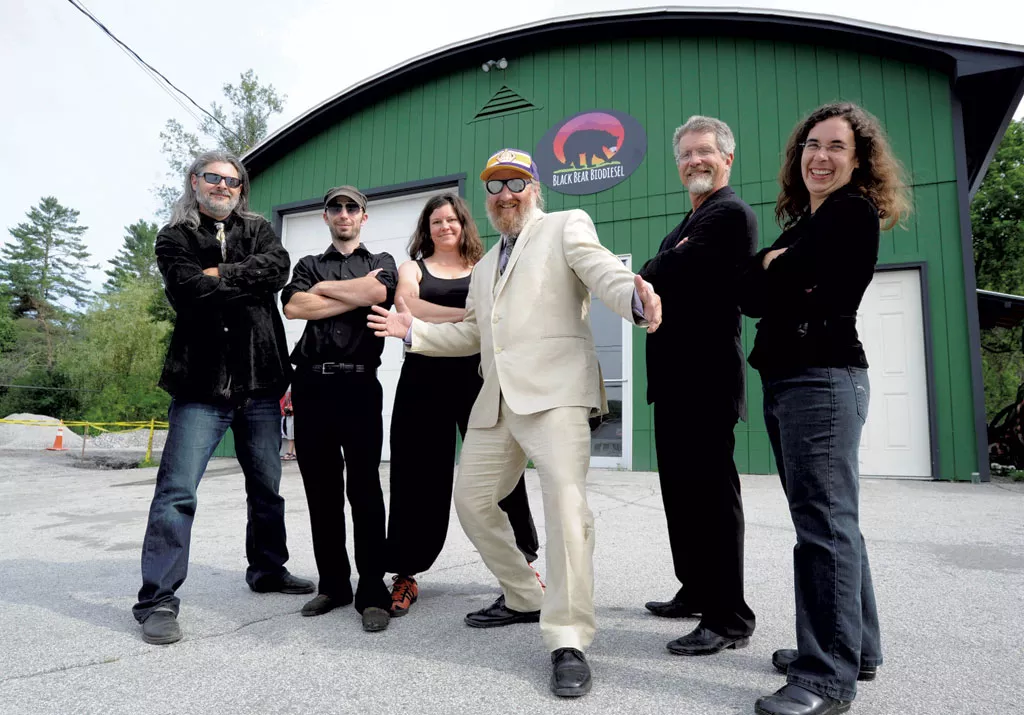 Jeb Wallace Brodeur
Scott Emery, Doni Cain, Julie Medose, Jim Malloy, Peter Young and Erin Malloy
When Jim Malloy and Peter Young started scouting locations for a biodiesel company, they had the perfect spot in mind: Plainfield's former Red Store, a one-time gas station and convenience store that was on the auction block in 2012.
Young planned to purchase the building for Malloy's biodiesel station. But the proponents of recycled veggie fuel lost out at auction to a gasoline baron: Skip Vallee, the owner of R.L. Vallee, Inc., the St. Albans-based fuel dueler behind Vermont's empire of Maplefields convenience stores. Vallee also owned the Maplefields Mobil a half mile away in Marshfield.
Vallee tore out the gas pumps at the Red Store and placed a restriction on the deed barring the building from use as a gas station or convenience store. Several weeks after paying $405,000 for it, he put the property back on the market for $299,000.
So Young and Malloy set their sights on the building next door, purchasing the former garage and auto parts store just three months after the auction. "If we're going to fight back, we're going to do it at arm's length," said Malloy. Literally.
Vallee sought to block permits for the business in state environmental court, but ultimately lost. Now, nearly two years later, Malloy's business, Black Bear Biodiesel, finally has the green light.
While Vallee's Red Store sits vacant, Black Bear Biodiesel is gearing up to open its doors — and pump its first gallons of recycled vegetable oil — later this month.
It will be the first location in Vermont to offer 100 percent biodiesel, known as B100. B100 contains no petroleum. Biodiesel blends — which typically mix conventional diesel fuel with five to 20 percent biodiesel — are available at a handful of fueling stations throughout the state.
The oil works in most vehicles with a diesel engine, and it can be used interchangeably with traditional petroleum diesel. But employing high-percentage biodiesel blends in some newer vehicles may void their warranties; that more potent biodiesel can be especially problematic for diesel vehicles manufactured after 2007, according to Popular Mechanics and online biodiesel forums.
Malloy calls B100 a "silver buckshot solution" rather than a silver bullet. He believes there are plenty of uses for his pure biodiesel — including to power farm equipment, trucking fleets, home heating oil and older diesel cars.
For vehicles that are compatible with B100, the fuel has benefits. According to the U.S. Department of Energy's Alternative Fuels Data Center, B100 has a lubricating effect on engines and can clean a vehicle's fuel system. Biodiesel also produces significantly fewer emissions than petroleum diesel — eliminating 100 percent of sulfur emissions and cutting carbon dioxide by more than 75 percent, according to the Department of Energy.
Black Bear Biodiesel will serve as a collection facility as well as a fueling station, bringing in used vegetable oil from restaurants and shipping it out to be processed into biodiesel. Already, Black Bear has recycled 26,000 gallons of used oil into biodiesel.
"We're scavengers," said Malloy, alluding to his company's namesake black bears.
Biodiesel proselytizer Malloy said that many in Plainfield have already bought diesel cars in anticipation of the new station. Malloy expects to price the diesel at roughly $3.75 a gallon — low enough to compete directly with petroleum.
Sarah Galbraith, the program manager for the Vermont Bioenergy Initiative, said that so far biodiesel remains a small part of Vermont's overall energy diet.
"We're at a stage still where we have the early adopters, the people who really believe in this for sustainability," said Galbraith. "They want to do what they think is right by their community and the environment."
Price-sensitive consumers will likely take notice "if and when we see fossil fuel prices go up again."
In an interview with Seven Days, Vallee said he had no quarrel with Malloy operating a biodiesel facility. His concern, he said, was that Black Bear's intention to allow food carts and vendors was not in accordance with the town's original permit and the "policies, purposes, or terms of the plan or the bylaws of the Town of Plainfield." Vallee was also worried that Malloy's company might start selling other kinds of diesel at the station — turning it into a truck stop, and causing traffic trouble for neighboring properties, including the Red Store.
On those grounds, Vallee appealed the Development Review Board's permit for Black Bear Bioidesel in state environmental court last October.
But this spring the court kicked the case back to the town. Last month Plainfield's Development Review Board upheld its original decision to issue Malloy a permit; Vallee's lawyer said the company would not appeal the decision. That clears the way for Black Bear Biodiesel to break ground on July 11.
Black Bear Biodiesel isn't the only company R.L. Vallee has taken to court. He sued Costco over the discount store's plan to install 12 gas pumps in Colchester — not far from a Maplefields outlet. The years-long fight is currently in environmental court, where R.L. Vallee is pushing for the court to overturn an Act 250 wetlands permit for the project. Late last month, R.L. Vallee's environmental expert argued that the proposed gas station would harm a nearby brook and wetland.
It's become a political fight, too. U.S. Senator Bernie Sanders has openly supported the Costco pump project, provoking Vallee, a former ambassador to Slovakia and GOP fundraiser who for years has flirted with the idea of running against Sanders. In December 2012, Vallee bought television ads bashing Sanders for his pro-Costco position.
Malloy's biodiesel business grew directly out of the personal choices he made in the 1990s and early 2000s. In college, he switched majors from accounting to African American studies. After graduation, he eschewed steady employment and drove cross-country to Alaska, filming a movie — "Easy Rider meets 'National Geographic,'" as he described it — along the way.
A few years later, Malloy decided that it was time to get serious about the values that had, to that point, informed his unconventional choices.
He recalls thinking, "I am sick of going to these protests and holding quirky, funny signs. I need to implement these plans." That meant ditching rent payments and electricity bills; Malloy was sick of paying money, as he put it, to companies he didn't believe in. He committed to living outdoors for two years and saved up $14,000 to buy a piece of land. He landed in Plainfield, and two years later started construction on an off-the-grid cob house built from earth and straw, with the volunteer labor of friends and strangers.
He and his wife, Erin, dreamed of building the house entirely without fossil fuels. That's where biodiesel came in; Erin had the idea to use recycled vegetable oil to power the couple's car and transport building materials.
A few years later, Malloy's younger brother applauded his environmental ethic — but chided Malloy for not looking at the bigger picture. Malloy remembers him saying, "You're up at the end of the road in heaven, but what about the rest of us?"
So he turned his focus on the family business, a 70-year-old home heating company in Rhode Island that Malloy once vowed he'd never take part in. Under Malloy's guidance, the company immediately began blending biodiesel into its fuel. Of the family's 4,000 customers, only three opted out.
It was Malloy's 5-year-old son who pointed out that it made little sense for Malloy to transport his own supply of biodiesel from Rhode Island to Plainfield. Why not set up shop in Plainfield, too?
Bearded and bespectacled, Malloy doesn't look the part of a businessman — or a lobbyist, for that matter. But much of his work with the family business in Rhode Island sends him to D.C., where he advocates for biofuels. "I look good in a suit," jokes the jovial Malloy — the homesteader who can deftly tap out emails on his smartphone.
When Black Bear Biodiesel opens, it won't pay for the vegetable oil it collects from local restaurants, including Positive Pie, the Cornerstone Pub & Kitchen in Barre and Three Penny Taproom in Montpelier. The spot will also host food carts and vendors in warmer months. Dena Cox and Ryan Zacher, the chef at Salt in Montpelier, will start selling house-made sausages and gluten- and dairy-free baked goods this month.
"We're going to do fuel, but a different kind of fuel. We're going to do food, but a different kind than the blue slushies they sell at Maplefields. Are we competition?" Malloy asked. "Not really, but I think he's just pissed that he didn't get his way."
Even with the Black Bear dispute behind them, some in Plainfield remain dissatisfied with the fact that the Red Store remains vacant more than two years after Vallee purchased the building. Last month, Plainfield resident Fred Woogmaster handed in a petition to the selectboard with 89 signatures, asking the board to hold a public forum about the Red Store — and to explore purchasing the property through eminent domain. The petition will be discussed at a July 28 meeting.
Vallee has floated various plans for the building. Now he's considering developing the property as a bakery, gallery and Laundromat.
Regardless of what happens at the Red Store, Black Bear Biodiesel landlord Peter Young said he's excited to see one of the few developable properties on Route 2 in Plainfield spruced up.
Said Young: "Instead of not saying that much, or looking a little run down, [this] says, 'We're a renewable-energy town.'"
Correction 07/14/14: An earlier version of this story incorrectly stated that Black Bear Biodiesel would be the first biodiesel-only fueling station east of Berkeley, Calif. A listing of other biodiesel stations can be found at the Alternative Fuels Data Center.
The original print version of this article was headlined "In Plainfield, a Biodiesel Proselytizer Primes the Pump"