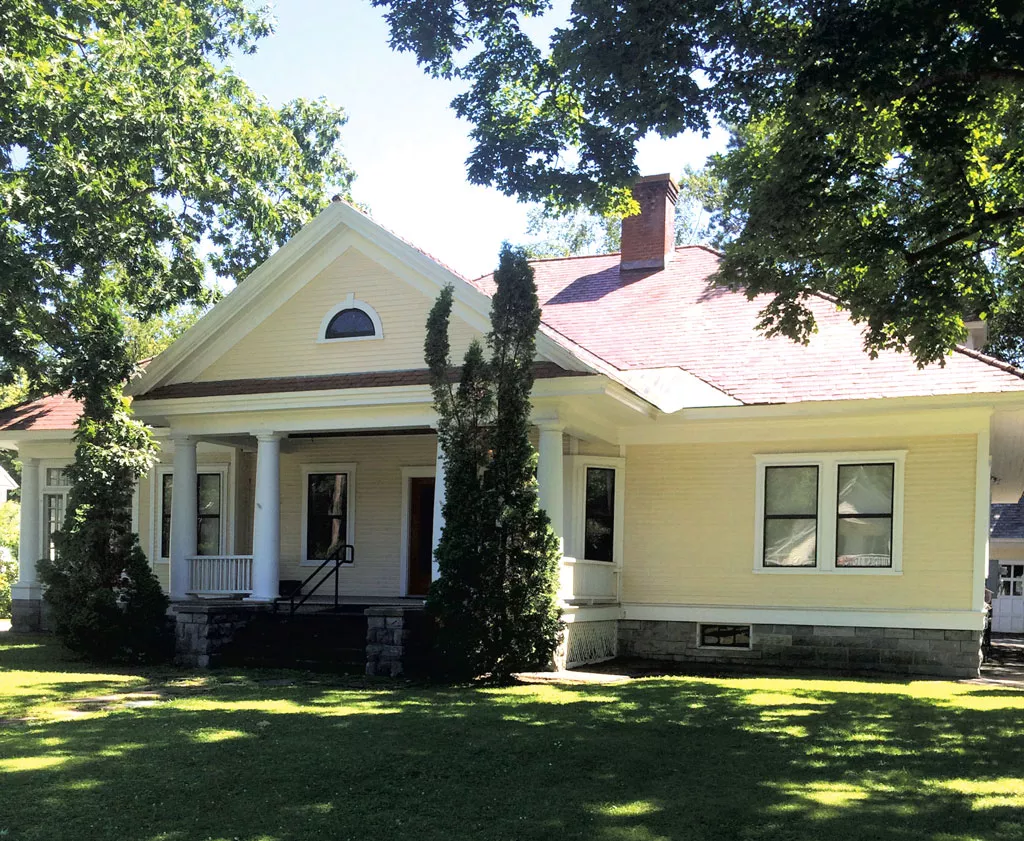 Nancy Remsen
Green Mountain at Fox Run
Karen Talbert freely admits she has struggled with her eating. "I could certainly sit down and eat a whole thing of Oreos," she recounted in a telephone interview from her home in New Jersey. "I could graze all day, too. It was sort of mindless eating. Usually it was in reaction to something I didn't recognize at the time. It made up for what was lacking in my life."
Nancy Remsen
Randall Autry
Over the years, Talbert has come to Green Mountain at Fox Run, a weight-management retreat in Ludlow, 10 times. It has become a vacation now, she said, but added that each time she returns she picks up a new strategy to try. "I did manage to lose a significant amount of weight, but the ultimate goal is to have a healthier lifestyle. You learn how to help yourself. The weight isn't the priority."
During her stays, Talbert said, "There were people with much more serious issues" than hers. "When you are an overweight individual, you think you are spinning out of control," she said. "As you try and fail, you have less confidence. Some people are at their wit's end."
Vermont doesn't have many options for such people. "Eating disorders are an area of need in Vermont," said Dr. David C. Rettew, a psychiatrist at the University of Vermont Medical Center. "There is a lack of specialty services for these problems."
Fox Run had proposed what it claimed would be a first-in-the-nation outpatient center intended exclusively for women with binge-eating disorder. The owners of the 40-year-old Ludlow weight-management retreat wanted to supplement its educational weight-management program with therapeutic treatment for a complex behavioral problem.
But the Green Mountain Care Board rejected Fox Run's proposal — its first denial since it took over review of certificate-of-need applications two years ago; before that, the Department of Financial Regulation handled them for more than three decades. The regulatory board could have offered Fox Run a hefty list of conditions. But it didn't. This was a straight-out "no" that Fox Run never saw coming.
In its rejection, the board said the applicant failed to meet essential statutory criteria and cited shortcomings. Among those, the board said that because Fox Run would primarily serve out-of-state patients, it did not explain how it would improve the health of Vermonters. The board also said the applicant failed to provide evidence that the proposed clinic's treatment model worked and would produce health benefits beyond those that clients already obtain at Fox Run's existing retreat, which is licensed as a hotel — not as a medical facility.
Compared to the other certificate-of-need applications the board has reviewed, "Fox Run was an outlier," said Al Gobeille, chairman of the Green Mountain Care Board. "They had never been part of the acute-care world." The state's GMCB also approves hospital budgets and health insurance rates.
"Yes, we were surprised" to be turned down, acknowledged Fox Run CEO Randall Autry during an interview at the retreat. Rather than give up or appeal the rejection, Fox Run submitted a scaled-back proposal in June. Gone were the two intensive-treatment programs in which clients would have received an array of therapies for four to six hours each weekday for a month or two. Instead, Fox Run will offer appointments for psychiatric assessments, psychotherapy and nutritional consultations. The reduced menu of services will have an estimated operating budget of approximately $400,000 per year.
Those costs are less than the $500,000 threshold that triggers a care board review for a certificate of need. The board agreed on July 14 that it has no review authority for this smaller project — meaning the operation needs no approval. Autry said Fox Run plans an October opening for its outpatient satellite, Women's Center for Binge and Emotional Eating, in a former doctor's office in downtown Ludlow.
Today, Green Mountain at Fox Run operates in a former corporate retreat perched on a hillside at the end of a private road, with a panoramic view across the valley to the ski trails at Okemo Mountain Resort. "Imagine a Life Free of Weight Worries," its website suggests.
Thelma Wayler, a nutritionist, founded Fox Run in 1973. She "saw a need to help women who had been struggling with weight most of their lives," said Autry. Her son, Alan Wayler, and his wife, Marsha Hudnall, currently run the nonmedical program.
Weekly sessions begin on Mondays. On one opening day last month, a group of casually dressed women sat in a classroom and concentrated on a lesson called Principles of Mindful Eating. Autry explained that the class teaches women "how to eat for the right reasons and stop when they feel satisfied." Eating balanced meals and cooking demonstrations are also part of the program.
Another group of women piled into SUVs to go to a local pool for an aquatics class, one of the exercise options the retreat offers.
Fox Run's website stresses that it's not a weight-loss boot camp where restrictive dieting and intense exercise peel off pounds temporarily. Rather, "We're about real women getting healthier and happier while losing weight and keeping it off through healthy living immersion."
The retreat is not cheap. A stay with a private room costs $3,471 a week, according to the website, none of which is covered by health insurance.
Fox Run doesn't promise a quick fix. Many clients come with a challenging eating dysfunction, Autry said, noting that more than half the retreat's clients in the past two years met at least two of the criteria for a binge-eating disorder diagnosis.
Binge eating was added to the diagnostic classification manual of the American Psychiatric Association in 2013. It states: "The essential feature of binge-eating disorder is recurrent episodes of binge eating that must occur, on average, at least once per week for three months." An episode is characterized by consuming unusually large amounts of food, eating rapidly, feeling unable to stop, hiding because of embarrassment, and feeling disgusted, depressed and guilty. It's the most common eating disorder in the U.S., according to the National Eating Disorders Association.
Given this official recognition and the national spotlight on obesity, Autry said, it had seemed like the right time "to really address the needs of these women" by supplementing the educational offerings at the retreat with a medical-treatment program.
Coincidentally, Bree Greenberg-Benjamin has been thinking the same thing. The founder of the Vermont Center for Integrative Therapy in South Burlington said that 30 percent of her clients report eating problems. Currently for those with eating disorders, her center can customize a package of services that may include yoga, meditation and therapy. Greenberg-Benjamin said, however, that some people need more than weekly classes and counseling. To help them, she's been "flirting" with starting an intensive outpatient program.
"Part of what has held me back was the need for a certificate of need," she said.
Why does the state get involved when someone wants to offer a new health care service or the University of Vermont Medical Center plans to expand? Vermont has required certificates of need since 1979. The process "is intended to prevent unnecessary duplication of health care facilities and services, guide their establishment in order to best serve public needs, promote cost containment, and ensure the provision and equitable allocation of high-quality health care services and resources to all Vermonters," according to the Green Mountain Care Board website.
Darcie Johnston, founder of Vermonters for Health Care Freedom, argues that the process has failed to achieve its goals. Instead, she said, it interferes with health care innovations and patient choice. "We have created an expensive bureaucracy," she said, yet almost every request is approved. Besides Fox Run's denial, state regulators recalled only one other, when the Department of Financial Regulation oversaw the certificate-of-need process.
On July 21, Johnston issued a press release calling on the legislature to repeal the certificate-of-need requirement. She said the marketplace ought to decide whether health projects are good ideas. For new health services such as the one Fox Run proposed, Johnston said, "It is up to them to determine whether they are going to be successful or not."
Kari Anderson said Fox Run's original proposal was a model that could be successful. Her biography on the retreat's website says she has made a career helping people recover from binge eating because of her own struggles with the disorder. She once hid in her basement eating a case of frozen Twinkies.
Anderson spent most of her career in Arizona, but she got to know the owners of Fox Run at eating-disorder conferences. "When they decided to expand, they asked me if I would join them," she said. She moved to Vermont a year ago to help develop the intensive psychotherapy program to treat binge eating. Beginning in October, Anderson will run the psychotherapy center at the downtown Ludlow site that Fox Run is leasing for its modified program. "We will be serving people who are attending Fox Run, and we also are going to be open to the community, " she said. Insurance is expected to cover much of the treatment at the new center, which would make it more affordable for Vermonters. "The more we can build the program for Vermonters," Anderson said, "the more the review board will see the need."
"We are absolutely committed to serving Vermont," CEO Autry said. And committed, he added, to trying again to win the state's approval for a more comprehensive treatment program for binge eaters.