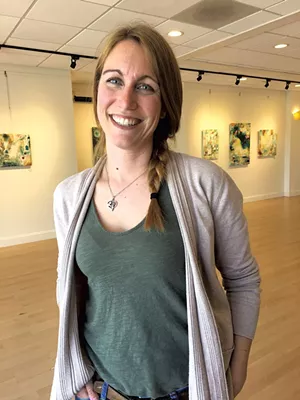 Pamela Polston
Sarah Drexler
It's not unusual for people with good intentions to establish a nonprofit to fulfill them. That's why curator Sarah Drexler and musician Tim Danyliw recently founded the Balanced Intelligence Group. If the name is a bit cryptic, the acronym works handily for their tagline: "If you're going to dream, dream B.I.G."
Sounds inspirational, but what's it all about? The overall objective of B.I.G. might be categorized as body-mind-spirit wellness. But its specific endeavors are a lot less fuzzy. Under the B.I.G. tent, as it were, are Drexler's curatorial services, called Little Umbrella : Art Curation; and Danyliw's Heart to Hand program, which puts his handmade singing drums in school classrooms.
Drexler, 37, is the link between the two seemingly disparate activities. The former associate director and sole curator of the South End Arts and Business Association, she spent seven years hanging art exhibitions at upward of 10 sites around Burlington's South End. It's a job she's passionate about, Drexler says — not just for the visual stimulation but for "visual wellness," as she puts it. "It's been proven that having art around improves your [mental] health," she asserts.
After leaving SEABA earlier this year, Drexler launched Little Umbrella and has worked at three sites for Main Street Landing. And she's been working with Danyliw, "managing his studio, helping him with social media and the gallery," she says of his Vermont Singing Drum quarters on Howard Street.
Courtesy Of Sarah Drexler
Tim Danyliw
Drexler enthusiastically promotes the Heart to Hand program, having witnessed the salutary effect of drumming on children in her 9-year-old son's classroom at Edmunds Elementary School. She has developed a unique "sponsorship" model: With every sponsorship, Danyliw donates a pair of drums and four mallets to Heart to Hand (the sponsor gets a drum, too). "Our goal is to get two singing drums into every Vermont classroom," Drexler says, dreaming B.I.G.
The reason? Sitting together quietly and playing, or listening to a classmate play, has a stilling, focusing effect on the kids, she says. Daily sessions of just five minutes or so, over time, have been shown to increase cooperation and reduce anxiety, stress and even bullying, she notes. When people drum, "you all become one; you break down barriers and build a bridge." B.I.G.'s website calls this a "musical mindfulness classroom management program."
Showing Seven Days around his gallery and workspace, Danyliw says much the same thing and demonstrates how he approaches a room full of youngsters. "I call it the kindness drum and show them how to hit it kindly," he says. Though his website elaborates about scales, the effects on your brain of playing an instrument, and which tunings are "Zen" and which are "Bliss," Danyliw explains simply that the drums he gives to classrooms are tuned to G major. Those, by the way, are Zen drums.
Danyliw makes the drums by hand using recycled steel primarily from Ohio. He cuts a band out of the middle (saving the scrap hoops to make furniture and lighting fixtures) and reunites the two discs into a sort of flattened sphere. A hole cut in the bottom is wrapped with a rubber gasket to form a secure base. Danyliw then torch-cuts "tongues" on top of the drum, each of which, when struck, vibrates at a different pitch. The tones are resonant, gong-like and, indeed, pacifying.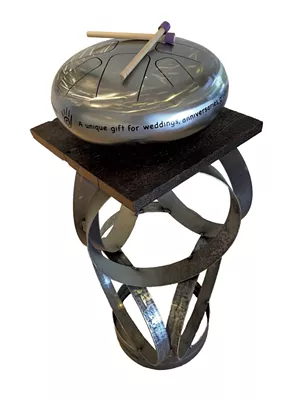 "They're in a pentatonic scale, so [the notes] sound good with each other," he says. In other words, a player with no musical training, hitting the tongues randomly, will make beautiful music. The 12-inch-diameter drum costs $295 and comes with a protective bag.
Formerly a professional photographer in Connecticut, Danyliw found his way to drum making in 2007 after reading an article "about a guy who made singing drums from old propane tanks," he says. "Shortly after I started making them, I gave a drum to a fifth-grade teacher friend; I wanted to see what meditation would do [for] the kids."
His friend reported that "drum practice" slowly evolved into a twice-daily session, in the morning and after recess, that left the kids calmer and more focused.
Danyliw has placed drums in Burlington and South Burlington classrooms, and in a half dozen other schools in Vermont, Connecticut and Georgia. "We give a talk at the school, and they decide to buy [the drum]," he says. "Or individual teachers would ask for it."
On the Vermont Singing Drum website, Danyliw has posted videos of himself playing drums with different tunings, photos of tiny tots banging drums and a video of a pair of fifth graders playing for a morning meditation. Their classmates listen quietly, heads on desks. "I want to do a video with children talking about the program with other kids," he says.
But the singing drum isn't just kid stuff. Testimonials from adults on Danyliw's site report effects ranging from stress relief to a drastic reduction in migraines to facilitation of healing meditations. One user quipped: "I don't want to work ... just want to bang on the drum all day."
Danyliw counts some Vermont tourists among his customers: "We're in most welcome centers in Vermont," he explains. Others have purchased the drum as a wedding gift — perhaps the Bliss model?
Whatever their use, Danyliw and Drexler hope to make the world a better, calmer place, one drum — or art show — at a time. As Drexler puts it, "Be well, be kind."