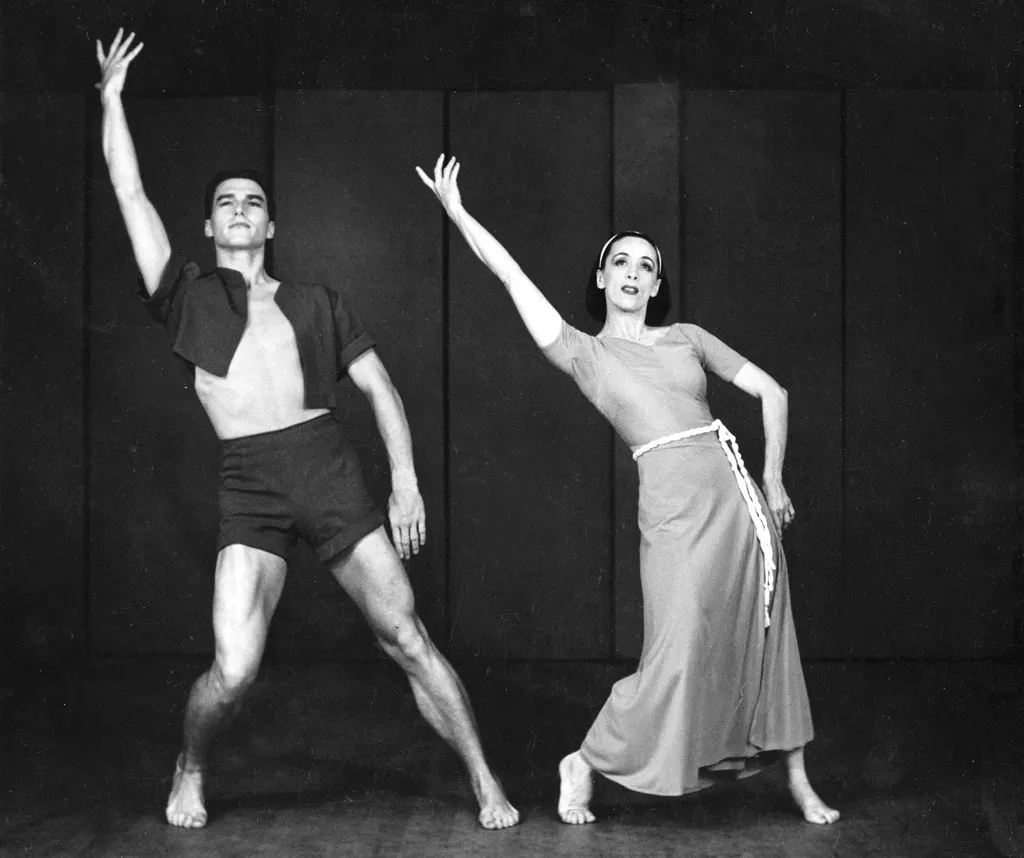 courtesy of Bennington College and the Amy E. Tarrant Gallery
Erick Hawkins and Martha Graham
Dance, like all performing arts, is ephemeral. In the words of Dana Reitz, a celebrated contemporary performer, choreographer and longtime dance faculty member at Bennington College, "You move through it and then it's gone."
Of course, live performances have been captured in photography and film since the advent of the camera. Nowadays, professional theater and dance companies record their artists at work as a matter of course. And while they're no substitute for an in-person experience, those visual records can document important moments in an ever-evolving art form.
So it is with an exhibit currently at the Amy E. Tarrant Gallery at Burlington's Flynn Center for the Performing Arts. Titled "Dance at Bennington College: 80 Years of Moving Through," the selection of black-and-white images chronicles a set of significant events in modern dance — namely, those that occurred right here in Vermont, at Bennington.
On one wall, early luminaries such as Martha Graham, Doris Humphrey, Charles Weidman and Hanya Holm can be seen at work during summer sessions at the legendary Bennington School of the Dance. Opened in 1934, it became the U.S.' first collegiate dance program.
Another section of the show pays tribute to famed postmodern dancer and choreographer Steve Paxton, known for transforming the field with improvisational techniques. (Paxton's 1983 work "Bound" will be performed by Slovenian dancer Jurij Konjar at the FlynnSpace on Thursday, November 6; Paxton, who lives in Vermont, will be present for a preshow talk.)
Finally, the exhibit presents photographs of Bennington artists from the 1940s to the present, and includes images of some Vermont-based contemporary dancers such as Polly Motley.
The subjects of these images, as Reitz puts it, are "the main names in American modern dance." Yet the photographs have never before been displayed outside Bennington College; many were stored in an attic for decades until current dance faculty members discovered them. For the past few years, student volunteers have been scanning and digitizing the collection. In 2009, Kelly Smith, a fellow from the Washington, D.C.-based Dance Heritage Coalition, created a "finding aid" to assist researchers and lay the groundwork for an extensive catalog.
Aside from the historical importance of the dancers in these photos, the images themselves are evocative.
"I was almost hyperventilating the first time I saw them, they were so beautiful," says John Killacky, the Flynn's executive director.
A professional dancer who studied with Martha Graham's dance company in New York and later became the managing director of the Trisha Brown Dance Company, Killacky first encountered the Bennington images earlier this year. On his own time, he had embarked on a writing project about Brown and other dancers of her era, during which he encountered several mentions of Bennington College. Intrigued, he called up Reitz, a longtime acquaintance; she invited him down to view the collection.
"It blew my mind," Killacky recalls. He and Tarrant Gallery director Nancy Abbott-Hourigan shared the discovery with Flynn artistic director Steve MacQueen, who had been planning to bring Paxton and the Martha Graham Dance Company to the Flynn. The three decided to "tie it all together" with the exhibit and additional programming.
"Before then, I didn't know that Bennington was really, truly at this nexus," Killacky says. "It wasn't the birthplace of modern dance, but it was the place that brought it to the next level."
That's because, before 1934, "there wasn't really a professional modern dance community, as it were," Killacky explains. The Bennington program was cofounded — just two years after the progressive liberal arts college itself opened — by dance teacher Martha Hill as a way to monetize the summer months. (She would go on to run the first dance program at the Juilliard School.)
By that time, visionaries such as Isadora Duncan in Europe and Ruth St. Denis and Ted Shawn in America had already revolutionized dance by exploring organic, unstructured movement. Their work was a vast departure from the rigid confines of ballet and other traditional forms. St. Denis and Shawn — romantic partners as well as professional collaborators — trained legions of dancers in their Los Angeles-based company, Denishawn. But modern dance hadn't yet found legitimacy among audiences or in institutions of higher education. As Killacky puts it, dance "existed in the PE departments of most colleges."
Indeed, along with professional dancers, many of the 133 students who showed up for the first summer of Bennington's dance school were physical education instructors. From 1934 to 1937, hundreds of them came to train with pro choreographers including Graham, Humphrey, Weidman and Holm. These came to be known as the "Big Four" of modern dance.
"What they learned that summer, they brought into PE programs at different colleges, so modern dance became codified, in a way," Killacky says. "And the four artists, Doris and Martha and Charles and Hanya, fell into distinct 'camps' of dance. But as they were building their dances and coming to Bennington each summer, they also had to codify their techniques."
In 1939, the School of the Dance moved to Mills College in Oakland, Calif., where it offered classes on an invitation-only basis. (There, Graham encountered Seattle-based dancer Merce Cunningham and urged him to come east; in New York, Cunningham became one of the most influential forces in postmodern dance.) From 1940 to 1942, the program was back in Bennington under the name Bennington School of the Arts, which expanded to include music and theater. The project folded after three years owing to wartime pressures and was never reinstated at Bennington. It was, however, resurrected in 1948 at Connecticut College under a new name: the American Dance Festival, which continues to this day at Duke University.
"It was a moment that catalyzed dance in America," says Killacky. "I don't think modern dance in America would be what it is today if it weren't for those moments at Bennington College."
Contemporary dancers and dance scholars agree that Bennington helped lay the groundwork for the evolution of modern dance. One of the latter is Elizabeth McPherson, who combed through Bennington's collection for her 2013 book The Bennington School of the Dance: A History in Writings and Interviews. "Since my earliest studies of dance history, the Bennington School of the Dance has held a mythical quality for me," she writes in the book's introduction, "something like Camelot, often described so fantastically as to seem unreal."
In a phone interview from her home in New York, McPherson says, "The School of the Dance brought all of these choreographers together. People were seeing a movement of modern dance, not just scattered choreographers.
"In New York, they really worked very separately," she adds. "Bennington brought them together, and they also began to influence each other."
McPherson recently completed a documentary film, Miss Hill: Making Dance Matter, about the Bennington dance school cofounder. She'll bring a presentation on the history of the program to the Bennington Museum in March 2015.
Meanwhile, at the Flynn, contemporary dance performances, educational programming and public talks have coincided with the exhibit. A series of professional and advanced courses — curated with input from local dancers such as Hannah Dennison, Lida Winfield and Sara McMahon — kicked off last week. Flynn education director Christina Weakland calls the new offerings "a renewed commitment to local artists, and to the growth of local artists and their potential."
On Tuesday, November 11, students from the dance programs of the University of Vermont and Bennington, Castleton, Middlebury, Johnson and Saint Michael's colleges will present new work at the Flynn in the Vermont College Dance Festival showcase.
While they're there, both students and professionals will spend time in the Tarrant Gallery with the Bennington photographs.
"It's a way of reminding dancers in our state of those who came before them," Killacky says. "Now they can see what these people are, because a lot of that history is kind of in boxes, as we find. And it's great to have a way to find it and put it out there, and have it be a living archive."
INFO
Martha Graham Dance Company, Friday, November 21, 8 p.m., at the Flynn MainStage in Burlington. $25-60. flynncenter.org
The original print version of this article was headlined "Breakthrough Dance"
Correction 11/05/14: An earlier version of this story misstated John Killacky's relationship with the Trisha Brown Dance Company. He was the managing director of the company, not a performer.