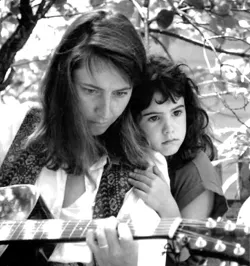 Rachel Bissex and Emma Sky
Emma Sky was 19 when her mother, beloved Vermont singer-songwriter Rachel Bissex, died of breast cancer. And that was when the classically trained violinist decided to devote her life to music. This despite having seen her mom and dad, musician and playwright Stephen Goldberg, struggle financially. "As a kid watching both my parents be artists, I thought, I'm never going to go through that," Sky says. But, she adds, "Music is the one thing that has always been there for me."
It's not every teen who can carry on with such purpose after a parent dies young, but Sky — who changed her surname when she began performing professionally — has both taken up full-time music and embraced fundraising for cancer victims.
Though she moved to Brooklyn last fall, Sky, now 26, has organized a benefit in Burlington called "Dancing with Rachel," featuring an evening of original music by more than 10 singer-songwriters. On the bill this Saturday, February 25, at Studio A are Joshua Glass, Rebecca Padula, Linda Bassick, Carol Abair and others. The recipient is a New York nonprofit called CancerCare, because "the money goes directly to cancer victims and their families," Sky says.
Her involvement with the charity is also more personal: "They asked me to come to a retreat for families healing their hearts," Sky says, who adds she's learned "what music is made of and how it connects people." She's also teaching a class called "The Heart of Music" at the "community-driven" Brooklyn Brainery, and gives private violin lessons.
But classical music is not Sky's only interest. The University of Vermont grad performed with symphonic groups in college, but also played bluegrass fiddle. In Brooklyn, she's hooked up with hip-hop artists through the Brooklyn Label and an outfit called the Freight Train Hobos. She's also part of a band called the Eggs, "formed with people I've met since I moved here," Sky says. "It's incredible music." Asked to describe it, she hesitates. "It's a mix between rock — Pink Floyd and Radiohead — but a big classical influence, too… There's also a flamenco influence." Sky says the Eggs are aiming to book a tour in early April and will try for a venue in Vermont.
Meanwhile, there is "Dancing With Rachel," which Sky hopes will become an annual event. "We're all going to play a few songs, and at least one of Rachel's," she says. "I'm really looking forward to hearing people play her music."
Dancing With Rachel: A Benefit for Cancer Victims. Studio A, 294 North Winooski Avenue, Burlington, Saturday, February 25, 7:30 p.m. Suggested donation $10-20. cancercare.org