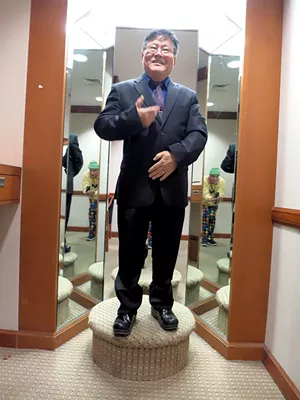 Matthew Thorsen
Sonam Chophel
Burlington's downtown Macy's attracted a smattering of frenetic shoppers last Friday. They roamed the racks and displays as hidden speakers periodically blared announcements about reduced prices on this or that merchandise. A section of the second floor, behind home goods, was filled with unclothed mannequins of all shapes and sizes, relieved of their sartorial duties.
It was a day in the life of a store going out of business and selling everything — including the furnishings. Last August, the national chain announced that it would close 100 stores across the country. The Burlington Macy's is scheduled to shut its doors for the last time in mid-March. It will leave 65 employees out of a job, according to Emily Hawkins, director of Macy's Northeast media relations.
One of those employees seemed unperturbed on Friday. Sonam Chophel was busy behind the counter of the second-floor menswear section. He was ringing up a young man who clutched a pale beige mannequin leg. Chophel's coworker asked the man what he would do with the leg, which cost $10. The customer giggled and suggested making a lamp.
It was a comical scene, but selling DIY lamp supplies is not Chophel's bread and butter. The Tibetan immigrant has worked in menswear for 18 years, first at Filene's and then at Macy's, which has occupied the hulking concrete building in the Burlington Town Center for more than a decade. Over that time, Chophel has acquired a devoted following among people who buy suits.
Wearing practical clogs, with a mala bracelet on his wrist, Chophel looked calm for a man about to lose his job. Perhaps that's because the 62-year-old Buddhist has other things to do.
As president of the Tibetan Association of Vermont — over the weekend he celebrated the Tibetan New Year with community members — Chophel is something of an ambassador for a group of immigrants many Vermonters know little about. He also serves on the board of the Community Health Centers of Burlington.
But neither of those roles supports Chophel and his family, and neither places him at the nexus of a broader community the way his current job does. Chophel is the go-to guy for many suit seekers, ranging from young people about to enter the workforce to Burlington Mayor Miro Weinberger.
During an interview with Chophel at Macy's, Moise St. Louis, associate dean of students and director of multicultural student services at Saint Michael's College, dropped by to ask the salesman about his future plans. And during a second interview, another customer — whom Chophel had met just the day before — returned to give Chophel remnants of a holy site he had visited in Afghanistan.
Making personal connections appears to be Chophel's MO.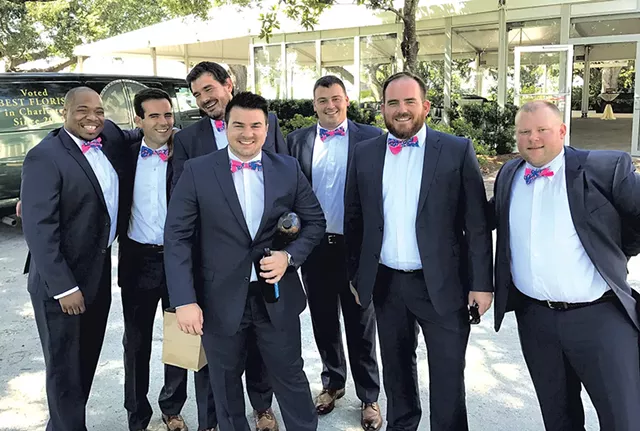 Courtesy Of Cliff Cooper
Cooper family wedding party
It's not hard to see why. He's pleasant to talk with and excels at his job, often going the extra mile for his customers. His expertise in suit fitting comes from years of experience at Filene's and Macy's. Chophel says both stores sent employees to Boston every year to meet with reps from menswear companies and learn about new fits and techniques.
To observe Chophel in action, this reporter brought a colleague, assistant arts editor Dan Bolles, to Macy's last week for a fitting. The mission was to find a summer wedding suit.
After greeting Bolles, the salesman looked him up and down and rattled off his suit size — to a tee — without touching a measuring tape.
Chophel instructed us on how to tell if a suit fits: You should be able to slip a fist between your stomach and the button in front and to easily grasp the bottom of the jacket in your hands. That means the jacket falls at a length that makes everything look proportional.
As for pants, Chophel said, the hem should fall at your heel. He suggested matching the belt and shoes and using the tie, or some other part of the ensemble, to incorporate colors from the wedding parties.
Bolles walked away without a suit, since the summer wedding was fictional. But most customers, according to Chophel, leave with exactly what they came for, at a price they can afford. He tells people to wait for a sale if they can't find the right suit within their budget.
Chophel has even lent his services to customers out of state. Last summer, the Cooper family, publishers of Burlington monthly the North Avenue News, worked with him to outfit their son's groomsmen for his wedding. Chophel helped the men procure identical suits, at a discount, from stores in Massachusetts, California, Pennsylvania, New Jersey, North Carolina and Vermont. The parents of the groom sent letters of thanks both to him and to Macy's corporate office, he said, and showed up after the wedding to thank him in person.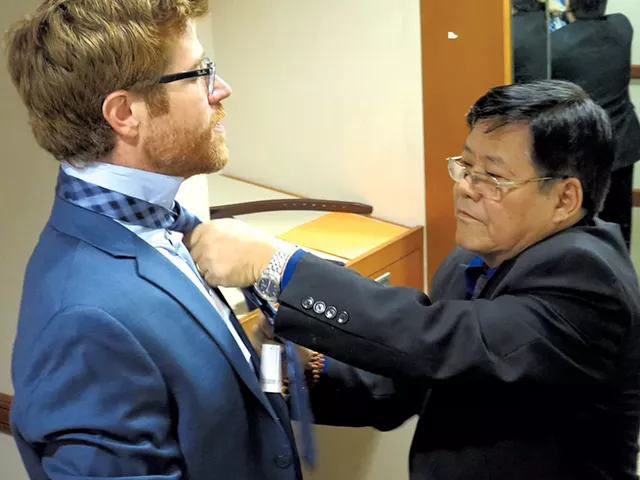 Matthew Thorsen
Sonam Chophel helping Dan Bolles with a tie
As for the mayor, Weinberger recalled buying a suit from Chophel for the 2011 Democratic Caucus, where, after a protracted debate, he won the Democratic nomination for the city's top office.
"I've come to know [Sonam] as one of the leaders of the Tibetan community," Weinberger said. "In the last six years, he's become a friend."
What's next for the people-oriented salesman? Will Clavelle, a project specialist at Burlington's Community & Economic Development Office, is assisting the Department of Labor Rapid Response Team in organizing a job fair for Macy's employees and other recently laid-off local workers. He said more than 50 employers from a variety of industries will send representatives to the February 21 event.
Chophel plans to attend, but it's doubtful any of the prospective jobs will match what he does now. The land of Carhartts is no hotbed of menswear retailers.
Like many immigrants, Chophel had a different occupation before coming to the U.S. He worked as the deputy secretary of the Department of Religion and Culture in the Tibetan government in exile in India. Asked if he would consider entering public service again, Chophel said he's not sure.
He's certainly made no small number of connections at Macy's. "I see thousands of people right now," he said. "We know each other from all corners of Vermont. People come from Canada and say, 'Oh, I'm not buying a suit, but I just want to see how you are today.' It is so nice.
"His Holiness [the Dalai Lama] always says you should be ambassador of the Tibetan cause," Chophel continued. "You share our courtesy, our compassion, our loving, for how to have a meaningful life. The goodness you give to people [here] will spark to all of [your] surroundings."
St. Louis expressed concern for Chophel's future, noting that their relationship has extended beyond the sales floor. The Tibetan community has participated in St. Mike's annual international festival, the college administrator said.
"I don't know where he will end up [after the store closes]," St. Louis said of Chophel. "It's troublesome, because he's such a wonderful human being to interact with.
"Through the years, I've really appreciated his presence and humanity," St. Louis added, "and I worry about him in the transition. Sometimes, as a community, we don't recognize gems when we have them. And he's one of the gems."