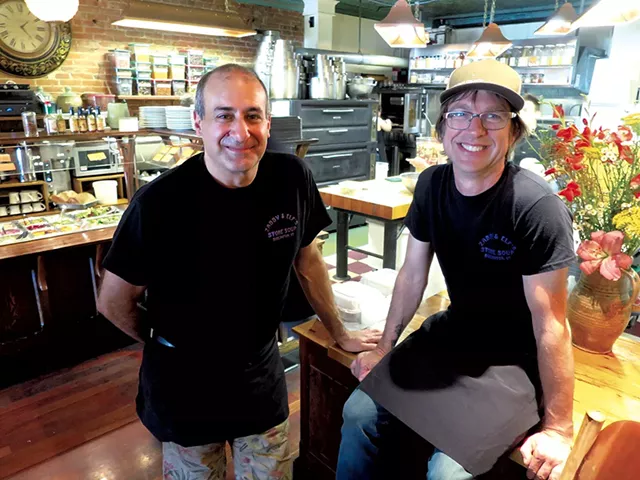 Matthew Thorsen
Avery Rifkin (left) and Tim Elliott
It was 20 years ago today, more or less, that Avery Rifkin and Tim Elliott opened Zabby & Elf's Stone Soup, their restaurant on College Street in Burlington.
A customer at Origanum Natural Foods, the long-gone store on Main Street, brought them together. Elliott ran the café there and, with that business nearing its end, the customer suggested he talk to Rifkin about a job.
Résumé in hand, Elliott showed up at Rifkin's place of work — the Olive Branch Bakery on Williston Road. He said he was looking for a job. Rifkin considered Elliott's credentials and decided he was over-qualified. But he posed another idea.
"Want to open a place with me?" Rifkin asked him.
"No," Elliott said. "But I'll be head chef."
The intro fizzled and they parted company.
"Avery's always had a better vision for me than I've had for myself," Elliott said last week.
Avery and Tim 20 years ago
The Stone Soup co-owners were recalling the origins of their restaurant on the cusp of its 20th birthday. Their July 14 celebration will include making breakfast for employees past and present, and adding specials to the lunch menu.
"Avery and I feel really lucky that we got to do what we wanted to do," said Elliott. "We had great employees, and we made this unique style of restaurant — which is a gift to us and to the people who have supported us. Without that combination, it would've just died."
About six months after their initial meeting, Elliott and Rifkin reconnected. Each of them had looked at a recently vacated storefront at 211 College Street. Elliott found that he was warming to Rifkin's idea. During the winter of 1997, over plates of Nectar's fries with gravy and mayo, they met and talked about making a restaurant together. They laid out their ideas for what they wanted the place to be.
Rifkin wanted meat on the menu. Elliott, then a vegetarian, was hesitant but came around. Rifkin said no dishwasher: pots, pans, dishes and mugs would be washed by hand. Elliott said a restaurant needed a machine. Stone Soup, which serves 200 people a day, has one. Both agreed they'd be "in the trenches," working every day in their black Stone Soup T-shirts. Neither wanted to be beholden to anyone else.
Matthew Thorsen
Stone Soup
In April 1997, they signed a business agreement. On July 14, they opened Stone Soup.
"We had 50 grand to set it up," Rifkin recalled, "which is why, 20 years later, we're still setting it up."
Elliott, now 49, brought with him recipes he helped develop at Origanum — Dogan's tofu and brown rice, chickpea and cauliflower curry, broccoli-tempeh salad. For two decades, he said, he's been content to walk in the door, pile vegetables and herbs and grains on the big prep table, and start to cook.
Among the colorful, flavorful, fresh and signature array of dishes to choose from, diners can always find brown rice, sweet potatoes and kale. The restaurant runs through 45 pounds of brown rice, 150 pounds of sweet potatoes and 84 bunches of kale a week. Rifkin, 55, said it's boring to talk about brown rice. But Elliott said it feels good to feed many people lots of healthful and nutritious food. His recipes — 150 to 200 of them — are printed on laminated cards and kept in a handmade wooden box.
"Recipes are not a possession to us," Elliott said. "We give them out freely. It's basic knowledge that should be shared."
Some things, though, only Rifkin makes. His recipes, when they exist, are hand-written. These include brisket, chicken soup, challah and Israeli salad. The best way to make that salad — which features avocado, red onion and cucumber — is a point of disagreement between the two. Elliott thinks it should be dressed with olive oil, lemon juice, salt and pepper. Rifkin insists on adding three more ingredients: hot pepper, tahini and parsley. Elliott ceded that battle, and customers are advised to be flexible as well.
"It's not about what you like," Rifkin said. "It's our house."
You can get away with a lot in your own house when you play "In a Silent Way" by Miles Davis on the stereo and add crispy chicken skin to a chopped-chicken-liver sandwich.
If you're a regular customer, Rifkin might swing by and steal a chicken wing off your plate. But he'll also set in front of you a ladleful of fish soup from a pot simmering on the stove. He might hand you a chunk of bread with a glob of avocado on it while you're waiting to pay, or tear off the crusty end of your Friday-morning challah as he recites the accompanying Hebrew blessing.
The restaurant has an open kitchen and a dining room that seats 33 people, including one communal table and a few chairs at a bar overlooking the kitchen. Stone Soup has a serve-yourself hot bar and salad bar, as well as sandwiches, soups and daily specials that are brought to your table. In the summer, hanging flower baskets frame the open garage-door window. In the fall, bales of hay and stands of pumpkins and gourds fill alcoves and entrances in the dining room.
"Stone Soup is an evolutionary process," Rifkin said, thinking back on his history with Elliott. "We were clueless. We just knew we didn't want to work for anyone else. We threw it together opening day and figured out the nuts and bolts.
"Tim and I have been winging it for 20 years, playing and having fun," he continued. "Trying to make ends meet and trying to make a good, spirited environment."
Winging it, perhaps, but there is a precision to the proceedings. Hamburgers are served on Fridays only, for instance, and come with mustard (a combination of grain and Dijon) and a little ketchup. No mayo. No pickle. No tomato. Have it Rifkin's way or not at all. Beef stew to go is available in one size; if you want a small, eat at the restaurant. Be careful not to spill the cardamom-orange apricots topping your salad into the tip jar, but do check out the vessel: It's a shallow, wide, jade-green ceramic bowl, locally made.
Matthew Thorsen
Stone Soup's open kitchen
This piece, like other objects in the restaurant, speaks to the Stone Soup aesthetic: good-looking and functional. You find it in the wooden pedestal with a jug-shaped base that supports an assortment of cookies, and the black-and-white photograph of Mick Jagger and Keith Richards at the top of the basement stairs. (They were once good-looking and functional, too, the picture attests.) The aesthetic is evident in the wood-frame self-service station (for water, cream, utensils and dirty dishes) that is decorated with philodendrons and lit by stained glass. It is prominent in the kitchen, too, with its collection of 20 or so stainless steel pots stacked by size atop the oven, and the long butcher-block table.
That nine-foot table is the center of activity, where cooks measure rice, peel onions and chop vegetables. "This is the way to feed people," Elliott said. That is, start with farm-fresh produce and take a "super-flexible" approach to preparing options from which people create their own meals. He likes the look of the food after the eater has plated it, he said.
"You fill up that front line with really high-quality food," Elliott said, gesturing to the hot bar. "It's not [about] waiting for someone to decide they want a piece of baked scrod, and [then] cooking it."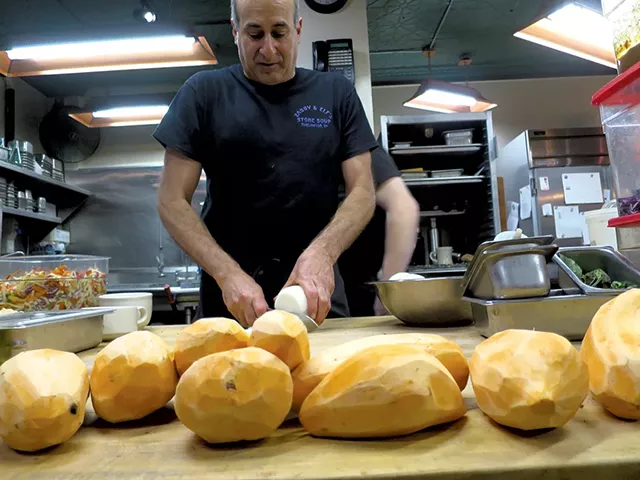 Matthew Thorsen
Avery Rifkin
A baker — one of 15 employees — occupies one corner of the kitchen. She starts her day at 4 a.m. baking 24 loaves of bread before moving on to muffins, scones, cinnamon rolls, fruit bars and more.
"This place is such an art project every day," baker Emma Prendergast said. She's been coming to Stone Soup since she was a little girl, when her father brought her to the restaurant for lunch after trips to the nearby Fletcher Free Library.
Prendergast said she and her family would read the children's book Stone Soup, for which the restaurant is named, while they ate. (A half dozen copies sit on a shelf at the front counter. Elliott recommended the version by Jon J Muth, which depicts the communal spirit of making and eating a meal.)
"It always has been and still is an amazing place for kids," she said. "The food is so colorful and bright, and you get to eat exactly what you want."
The Origanum customer who played matchmaker for Rifkin and Elliott is a regular at the restaurant. Bruce Standish, a retired electrical engineer from South Burlington, has been eating at Stone Soup for all 20 years.
"It's like a community eatery," he said. "I've made friends just by eating there. It's an icon for Burlington now."