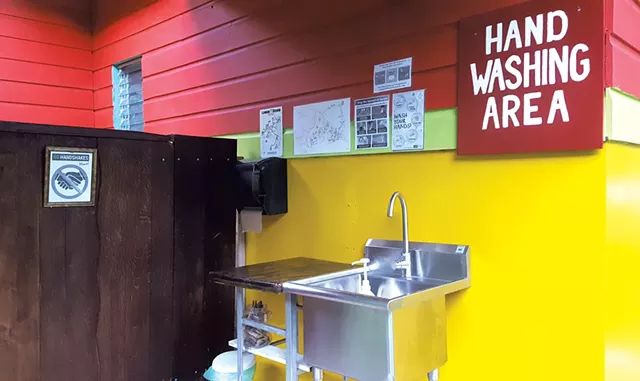 Courtesy Of Madeline Reynolds
Vermont-created posters at one of the field station's handwashing areas
The Lower Dover Field Station, a hotel in the tiny Central American nation of Belize, is nestled in a 100-acre plot of jungle. It boasts easy access to nearby ancient Mayan ruins, a winery and bird-watching opportunities. It's also plastered with infographics about COVID-19 created by the Vermont Department of Health.
Madeline Reynolds, a 65-year-old American expat who owns the station with her husband, Bill, told Seven Days that she first saw the graphics posted in a grocery store while shopping in the nearby Mennonite community of Spanish Lookout.
They covered all the expected prevention methods — social distancing, handwashing and mask wearing — and included photos for each recommendation. That made it ideal for her hotel, Reynolds said, since one of her staff members cannot read.
"The picture tells it all," she said. "No words needed, no matter the circumstance."
She tracked down the Vermont health department's website, printed the graphics and taped them up throughout the grounds. Then, feeling guilty about borrowing the images, she emailed a thank-you to the department.
"Even though they say Vermont, we are displaying them anyway to teach and remind everyone (from Spanish speaking employees to New Zealand guests) of proper Covid prevention procedures," she wrote.
Reynolds need not have worried: The health department made the infographics precisely for this use, said spokesperson Ben Truman, though staffers were still pleasantly surprised to learn their work had such long legs.
The station has been closed during the pandemic, but Reynolds said she hopes to soon start accepting "bubble travelers," or prescreened groups. First, she needs to renew her hotel license and undergo an inspection. She expects to pass — thanks to the help from Vermont.
"Tell the taxpayers that their COVID prevention dollars are going to the right place, even if it's not just Vermont," Reynolds said. "[Because] how we're going to cancel this COVID thing is by dealing with it worldwide."