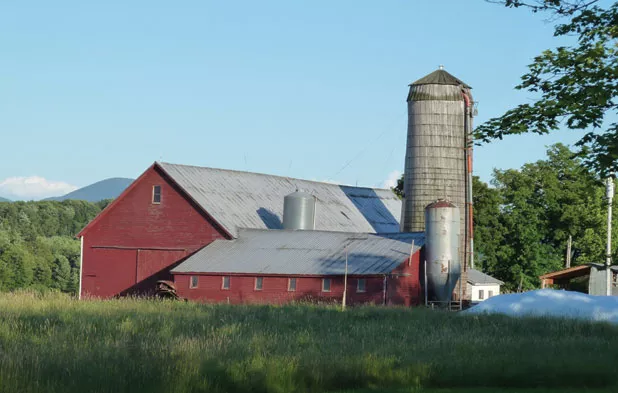 Other than cows, few things are more visually iconic in Vermont than barns. Because the looming structures are so integral to the state's identity, preservationists? are keen to show them off — and to help them look their best.
This Saturday, October 13, locals and leaf peepers alike can poke around a dozen old barns in Jericho. Participants in a tour benefiting the town's community center will find proof that barns aren't just relics of the state's agricultural past. The event includes stops at three working dairy barns, as well as at two recently built barns that have other, nonfarming purposes.
Meanwhile, in a parallel project, crews from a men's prison and a women's prison are sprucing up a couple of dairy barns through a partnership involving state agencies, private companies and nonprofit organizations. Ten men serving sentences at the Northeast Correctional Complex in St. Johnsbury are painting and repairing a barn on Paul Gingue's farm in Waterford. And a group of female inmates at South Burlington's Chittenden Regional Correctional Facility will soon undertake a similar project on the Maille dairy farm in Shelburne.
"We were looking for barns that would be fairly visible to the public and also not too far from the correctional centers," explains Colleen Leonard, a spokeswoman for the state's Agency of Agriculture, Food and Markets. Organizers of the initiative, funded by Pizzagalli Properties and Sherwin Williams (which is donating paint), want to call attention to the state's working landscape while helping to enhance its appearance.
The prisoners, all nonviolent offenders, receive one day off their terms for every day they spend painting the barns. And, through training provided by Vermont Works for Women and Preservation Trust of Vermont, the inmates are learning skills that could enable them to find paid employment after leaving prison.
One of the oldest barns on the Jericho tour has not only been preserved, it's been converted into an art gallery featuring the works of Emile Gruppe (1896-1978), a Massachusetts artist who spent several summers vacationing and teaching in Vermont.
Another of the barns — one of the few in Jericho that still houses cows — is owned by the family of Deborah Rawson. Nearly a quarter-century ago, she wrote an influential book mourning the transformation of farmland into suburbs in Chittenden County. Rawson's Without a Farmhouse Near helped advance the movement to contain sprawl and to protect open spaces in Vermont's most populous county.
Rawson died in 1992 at age 40. The public library serving Jericho and Underhill is named in her honor.
Rawson's book indeed foretold the future of the area where she lived most of her short life.
"Agriculture in Jericho has largely vanished," says Julia Blake, a tour organizer and board member of the town's community center. "Only two or three working dairy farms are left. Jericho has become more of a bedroom community for Burlington."
One purpose of Saturday's tour, Blake adds, is "to remind people of our heritage, which is fast disappearing."
Barnstormers who take the self-guided tour can also stop in at the community center to hear scheduled talks by longtime Jericho resident Brooks Buxton and by specialists from Preservation Trust of Vermont and the state's Division for Historic Preservation.
The Jericho Barn Tour, a self-guided tour of 14 barns, and talks by experts on history and restoration at the community center, Saturday, October 13, 10 a.m. to 3 p.m. $15 includes map and refreshments. Info, 899-4180. communitycenterinjericho.com/Upcoming-Events.html
For more info on correctional facilities' work crews painting Vermont barns, see vermontagriculture.com.