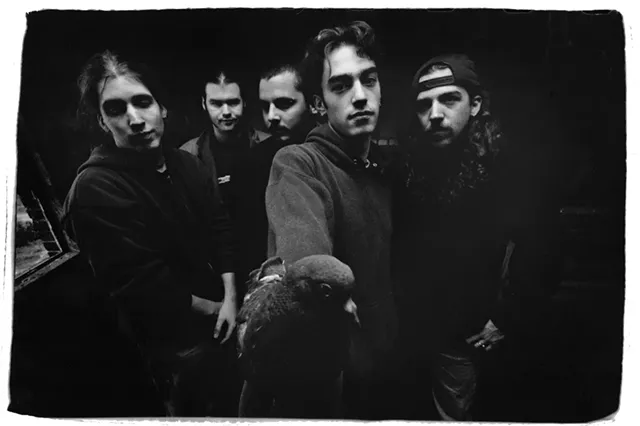 Matthew Thorsen
Rocketsled
When iconic Burlington venue 242 Main closed late last year, it was a huge blow. The area is still packed full of venues, of course, but 242 Main was something special. First and foremost, for more than 30 years it was a substance-free, youth-friendly safe space that focused on inclusion more than profit. And for that, it was beloved by generations of punk rockers and hardcore kids, its dingy walls rich with sweaty history, and hailed as America's oldest all-ages punk venue.
Though its doors remain closed, the club's legacy lives on. This Saturday, January 21, at the Higher Ground Showcase Lounge in South Burlington, one of Burlington's best metal bands, Rocketsled, will reunite for a celebration of 242 Main alongside fellow distinguished BTV alumni Jesus Nut, From the Ground Up and Hemlock Verdict. It promises to be a memorable night, reuniting not just a band but a community — many of these fans and musicians haven't seen each other in 20 or more years.
Rocketsled were a dominant presence in the first half of the 1990s Queen City music scene. The band's seriously talented young members went on to make huge contributions to music, locally and beyond. Post-'Sled, guitarist Daryl Rabidoux and drummer Greg Beadle founded prog-rock instrumental powerhouse the Cancer Conspiracy. Guitarist Matt Roy was a founding member of Burlington hardcore legends Drowningman. Vocalist Casey Rae did a stint on guitar with power-pop outfit the Halogens before becoming the music editor of Seven Days from 2004 to '07. Along with bassist Eric Kennison, Rocketsled left behind a remarkably forward-thinking body of work.
While Rocketsled started as a four-piece, things really got rolling when they connected with a young Rabidoux, who filled out the guitar section and helped cohere the group. "Until we found him, we were like children lost in a vast sea of emptiness and despair," Roy says by phone. "He's probably been regretting it ever since."
Their 1995 debut (and only) EP, '71 Nova, sounds like it was recorded a full decade later. Full of atonal math-rock intricacy laid over Beadle's crushing, primal grooves — not to mention Rea's careful balance of melody and menace — it was like Rocketsled were tuned into a whole different planet. (Especially when you consider that the charts back then were topped by the likes of Green Day, Stone Temple Pilots and ... Bush.)
"We were always sort of the odd band out," Rae reflects in a recent phone interview. He now lives in Washington, D.C., and is the director of music licensing at SiriusXM. He's also an adjunct professor at Georgetown University and a professor and course author at Berklee Online.
"Burlington had a strong punk and hardcore scene that begrudgingly tolerated us at first, but then became a big part of our fan base," Rae continues. "The scene back then was quite diverse, and we enjoyed the benefits of that diversity."
Among the early converts was Simon Brody, who would go on to lead Burlington hardcore heavyweights Drowningman.
"The hair metal of the late '80s had disappeared overnight," Brody says. "Rocketsled was part of a new era, [and] they had a lot more going on. Sure, sure, it was immediately identifiable as metal, but I would say their influences were pretty far ranging."
Rocketsled might have been musical misfits, but their aesthetics were a perfect fit for a punk scene: self-aware, subversive and too smart for their own good. '71 Nova bears testament to this sly humor. The cover art presents the EP as a magazine devoted to "Cars and Style for the Post-Apocalypse" — Issue 6, Volume 66, no less.
Through their five-year run, Rocketsled's anchor was always that basement chamber in Memorial Auditorium, 242 Main.
"It was a facility that was run by people that embraced your eccentricity and welcomed self-expression," says Rabidoux, now a recording engineer in New York with a serious discography to his résumé. "I've really thought about it a lot lately," he continues, pondering 242. "The experiences and skills I learned there really shaped who I am and ... made it possible for me to still be involved in music."
"We actually practiced at 242 Main, which is another reason the place felt like home," adds Rea.
242 Main is legendary for many reasons, but fine acoustics has never been one of them. Anyone who went there often knows what a difference crowd size could make. Without a bevy of bodies to absorb all that sound and fury, that basement could get pretty uncomfortable for human ears.
"It wasn't the best, sound-wise," concedes Rea, "with the amps cranked, the tuning dropped and everything bouncing off the concrete walls. But I think it made me a stronger vocalist, because I really had to project to cut through the maelstrom."
As in so many other hot music scenes at the time, major labels were believed to be stalking Burlington. In their prime, Rocketsled were often rumored to be a breakthrough act. Rae is pretty up-front about what happened. Or, rather, didn't.
"We never really had our shit together enough to make a go of anything," he explains. He then adds, sagely, "I was 21 years old, for fuck's sake."
Instead, Rocketsled thrived on regional renown and built a fiercely loyal following.
"We never did full-on tours, but we were constantly jumping in a van to drive to Boston or Connecticut for one-off shows," recalls Beadle, now drumming with Massachusetts thrash outfit Rule. "We always did really well in Portland, Maine, which was a great scene. We'd play with bands like Sam Black Church or Tree, who drew big crowds."
The DIY ethos gleaned from 242 paid off early.
"This was back when you were stuffing literal demo tapes into manila envelopes," Beadle says, chuckling. "But that was the role I assumed. And I was relentless."
Roy remembers that hustle all too well.
"We kept mailing lists in a giant old legal ledger book, then blew hours at Kinko's, then used the 'sneakernet' to distribute our propaganda," he recalls. "Booking shows meant lots of phone tag, and without the internet to research a venue."
Inevitably, disagreements on direction and the ravages of twentysomething-hood took a toll on the band.
"We'd reached a place where everyone in the band was drawing from very different influences," says Beadle. "That made it hard to keep going as a group."
After the fuel tank ran out and side projects became main gigs, the last hurrah for Rocketsled was another reunion, this one inspired by the imminent closure of Burlington venue Club Toast in 1998. Despite the near 20-year gap between reunions, Rocketsled have found that old habits die hard.
"Getting back into the groove has been easier than we anticipated," marvels Rea. "We can't wait to unleash the beast one more time."
"There are people driving and flying in from all over the U.S.!" exclaims Rabidoux. "I almost can't believe it's happening."
As the days count down to the show, Rae is reflective on the former music scene.
"We saw kids grow up to our music and start their own bands," he muses. "That's the most fulfilling part. And I can't wait to see those kids as grown-ass humans with kids and mortgages!"
Rock on.
Correction, January 18, 2016: An earlier version of this story misspelled Casey Rae's name.