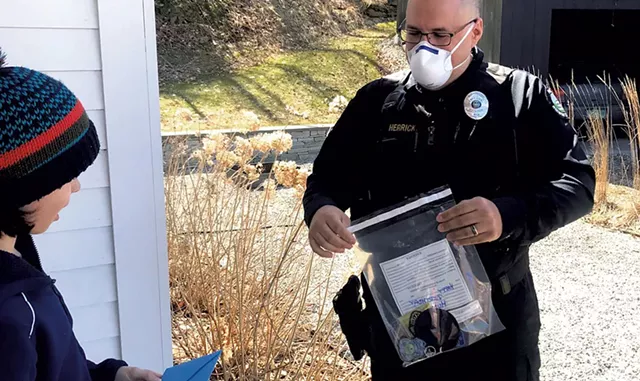 Courtesy Of Maria Brown
Hudson Brown and Officer Ben Herrick
It's a tough time to be a kid.
School's closed. So are playgrounds. Playdates are now a virtual affair.
But members of the Richmond Police Department are trying to bring some joy to socially distanced youngsters. Last week, officers started a party patrol: Parents can contact the department and request a visit for a kid who's celebrating a birthday.
"As adults, we all understand what's going on and why we have to do what we have to do right now," said Officer Ben Herrick, who pitched his chief on the idea. "But for these little kids, who have been taken out of school, and they're not seeing their friends and extended family and neighbors, being told they can't have a birthday party is a pretty big impact."
By Monday morning, the department had already completed or scheduled nearly 20 visits, according to Herrick. One of the first recipients was Hudson Brown, who turned 10 on April 7.
He was at home preparing to watch an educational show online when he heard sirens blaring. There in the driveway were two patrol cars and a fire truck, lights flashing.
"It was awesome," said Hudson, who was completely surprised. "I was pretty sure they were coming to arrest me!"
Officer Herrick, donning an N95 respirator mask, handed Hudson a police evidence bag full of trinkets and mementos from the department, including a card signed by officers.
"They're putting themselves out there and coming to all of our homes, which they don't have to do," said Hudson's mom, Maria Brown. "This is a really great service they're doing, especially for the kids."
An appreciative Hudson said it wasn't the only nice gesture on his birthday. A friend drove over and put up a sign for him, a neighbor serenaded him, and he video-chatted with friends.
"I feel like things happened this year on his birthday that probably wouldn't have happened during a normal year," Maria said. "It was a special day, for sure."