Courtesy Image
Palmer Lane Maple
1. Palmer Lane Maple
It's not hard to find a maple creemee in Vermont, but these are made from a creemee mix from St. Albans Cooperative Creamery and Palmer's own pure maple syrup. The sweet, smooth concoction is pumped into a cup or a cone — including a gluten-free option — and can be topped with homemade maple sprinkles. "It's the crushed maple candy sprinkles that puts Palmer over the top," says one fan. Sizes range from the $1 baby, which comes in a tiny cone, to the $4 five-swirl-high regular. Three other flavors change weekly.
[location-7]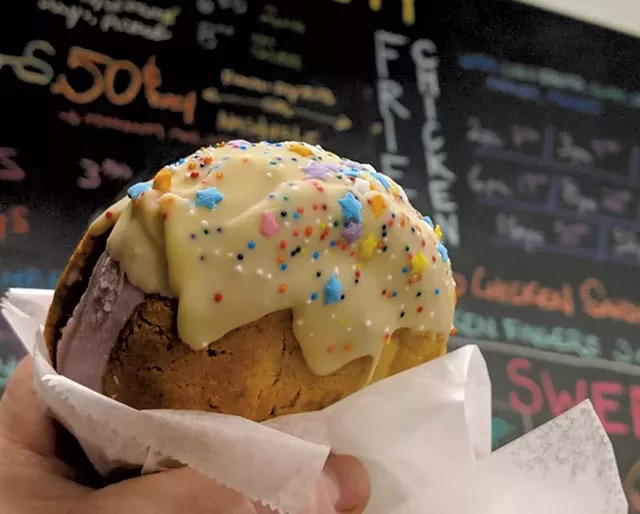 Courtesy Image
Canteen Creemee Company
2. Canteen Creemee Company
What do you call a mile-high creemee coated in granola and blueberries, drizzled with yogurt sauce and crowned with doughnut holes? Sundae Breakfast. That's just one of the creative confections that Canteen Creemee builds atop a cone. The "vertical sundaes" at this foodie-friendly snack bar are engineering feats sculpted from homemade ice cream and sauces. Somebody Else's Wedding Cake marries marshmallow and chocolate ice cream in a twist, coats it in white-chocolate-and-olive-oil dip, then garnishes it with fondant flowers. The menu changes every three weeks, but "we're totally nut-free," says owner Charlie Menard.
[location-3]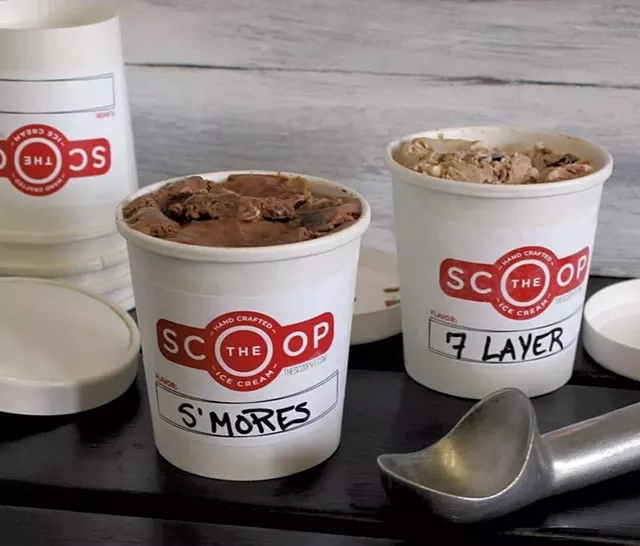 Courtesy Image
The Scoop
3. The Scoop
Made in small batches churned on-site, the Scoop's extensive menu ranges from chocolate and vanilla to Mocha Mud Pie, Almond Joy, Seven Layer (which is packed with coconut, walnuts, butterscotch, fudge swirl and graham crackers) and White Gold (vanilla ice cream mixed with white chocolate, butterscotch chips, cookie dough and a fudge swirl). Also on the menu are soft-serve ice cream, sorbet and a vegan frozen dessert. With burger joint Archie's Grill next door and a large green space where kids can turn cartwheels and play bean-bag toss, it's one stop for dinner, dessert and entertainment.
[location-4]
Courtesy Image
Lu•Lu Slumdog Millionaire
4. Lu•lu
Touting its "farm-to-spoon" business model, this small-batch artisan ice cream company — recently relocated from Bristol — aims to produce intensely flavored ice cream using local ingredients whenever possible. Elegant and eclectic, the flavor list includes basil, lavender, lemon curd, sweet corn, mimosa and tiramisu as well as more traditional vanilla bean and Seriously Chocolate. More S'mores has a dark chocolate base mixed with chopped homemade dark-chocolate-dipped graham crackers and artisan marshmallows. Pig Out is maple ice cream flecked with maple-candied bacon pieces. There are sorbets, too. And visitors can watch it all being made.
[location-8]
Courtesy Image
The Village Scoop
5. The Village Scoop
This shop, with a drive-through-window option, sells four flavors of creemees (vanilla, chocolate, black raspberry and maple) and more than 30 flavors of Gifford's hard ice cream in homemade waffle cones that come plain or chocolate-dipped. There are two barstools inside and bench seats, picnic tables and Adirondack chairs outside. A child-size water fountain on the deck is good for washing down the Peanut Butter Delight, the best-selling sundae.
[location-5]
Caleb Kenna
Vermont Cookie Love
6. Vermont Cookie Love
Don't let the name fool you. Cookies may be this roadside shop's first love, but it's got room in its heart for ice cream, too. The soft-serve comes from Kingdom Creamery in East Hardwick; the hard ice cream comes from Wilcox Ice Cream in East Arlington; and the whipped cream, hot fudge and salted caramel sauces are made in-house. Here's a glossary of the other terms you'll need to know — Crush: the crushed housemade cookies used as sprinkles; Lovewiches: ice cream sandwiches made with intact cookies; and Love Pops: chocolate-covered frozen cookie dough on a stick.
[location-1]
Courtesy Image
White Cottage Snack Bar
7. White Cottage Snack Bar
In business since 1957, this quintessential snack bar was rebuilt after Tropical Storm Irene sent floodwaters, mud and trees into the building in 2011. Still along the Ottauquechee River — just a few feet closer to the road now — White Cottage scoops Gifford's ice cream and swirls soft-serve. Sundaes, root beer floats, frappes and authentic banana splits are on the menu. Picnic tables overlook the river. "Moms, bring the towels and bathing suits," says owner John Hurley, "because the kids are going in!"
[location-2]
Courtesy Image
Chill Vermont Gelato
8. Chill Vermont Gelato
The heart of Vermont's capital city is home to this family business that makes Italian-style gelato from scratch in small batches. Similar to ice cream, gelato contains less cream and air and is served slightly warmer to bring out its flavor. Chill makes the Sicilian variation, which doesn't include eggs. Flavors include Belgian chocolate, chocolate-orange, espresso, frutti di bosco, salted caramel and Mintpelier.
[location-6]