In just a few short days, Montpelier will be crawling with politicos. The start of the legislative session heralds a crush of lawmakers, lobbyists, advocates and citizens who descend on Vermont's capital city and spend the next five months jockeying for position.
All eyes will be on a trio of Democrat men who decide what gets done — or doesn't — before the session ends and campaign season begins: Gov. Peter Shumlin, House Speaker Shap Smith and Senate President Pro Tem John Campbell. On the Republican side, House Minority Leader Don Turner will carry the GOP banner into battle — and into the fall election campaign.
All those guys get a lot of ink. But who else is worth watching? With hundreds of characters pushing agendas in committee rooms, at cafeteria tables and on barstools after hours, separating the power players from the pip-squeaks can be tricky.
Seven Days asked several political observers to nominate some less obvious contenders, and we threw in a few of our own suggestions. Warning: This list is by no means comprehensive, and we're sure dozens more will emerge as standouts in the months ahead. But each of the following seven is poised to do something big this year. Whether they prove worthy of our collective gaze remains to be seen.
file:
Josh Larkin/VTDigger.org
Sen. Randy Brock (R-Franklin)
Earlier this month, Republican state Sen. Randy Brock stepped forward to announce his candidacy for governor in 2012 — but he said his campaign won't begin until the legislative session wraps up in May. While he may not raise campaign cash or hire staff before spring, everything Brock does in the Senate this session will be viewed through a political lens — and with heightened scrutiny that could boost or sink his election prospects. A retired executive at Fidelity Investments, Brock served as state auditor from 2005 to 2007 before winning a Senate seat in 2008. In making his announcement, Brock proclaimed that Shumlin's health care and energy policies are "built on rosy assumptions and wishful thinking constructed over a foundation of quicksand." That's a lot of metaphors. As a candidate, Brock will be forced to elaborate on those shortcomings in the months ahead. As a senator who sits on committees with jurisdiction over taxes and energy, he'll be expected to do something to fix them.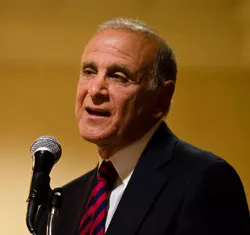 file:
Josh Larkin/VTDigger.org
Bruce Lisman
You may or may not see Bruce Lisman around the capital this year, but he'll be at work nonetheless. The former Wall Street executive made a splash in November when he told a gathering of the Associated Industries of Vermont that state government should put the brakes on health care and renewable energy — two of Shumlin's signature priorities — to focus exclusively on Irene recovery. Some speculated that Lisman, a native Vermonter who came home to retire, was gearing up to run for office against Shumlin, U.S. Sen. Bernie Sanders or someone else. Instead, he launched Campaign for Vermont to unite Vermonters of all political stripes around "economic security, better job opportunities and growing prosperity for Vermonters of every generation." Lisman, viewed in business circles as a sort of elder statesman, has cited generic goals of government accountability and transparency, but otherwise has given few clues about his group's agenda. Campaign For Vermont has already aired four separate radio ads and, at the governor's invitation, met with Shumlin and his top aides. Campaign for Vermont bills itself as nonpartisan, but it counts several high-rolling GOP donors among its founding partners, including Walt Freed and Angelo Pizzagalli. Lisman himself has donated to Democrats and Republicans, but in 2010 contributed $10,000 to the Vermont Republican Federal Elections Committee.
Jeb Wallace-Brodeur
Todd Bailey
Todd Bailey has been a fixture at the Statehouse for years — first as executive director of the Vermont League of Conservation Voters and now as a lobbyist for the Dem-friendly firm KSE Partners. Come January, Bailey will take on a new role as treasurer of a new "Super PAC" named Americans for a Better Tomorrow, Today, part of a new branch of KSE Campaigns. The PAC name is a reference to Stephen Colbert's Super PAC Americans For a Better Tomorrow, Tomorrow, but the purpose is dead serious. Bailey has said the Vermont-based political action committee will advocate for progressive tax policies, cleaner energy, economic security and collective bargaining rights for unions — channeling energy from the Occupy movement into fundraising for progressive causes. Bailey's partner in crime is Bob Stannard, a former lawmaker and longtime antinuclear lobbyist. What makes the PAC super? Under the Supreme Court's 2010 Citizens United ruling, Super PACs — officially known as "independent expenditure-only committees" — can raise and spend unlimited sums of cash from corporations, unions and individuals for federal election campaigns. Hey, if you can't beat 'em, join 'em. Right?
Josh Larkin/VTDigger.org
Anya Rader Wallack
Shumlin is staking a lot of political capital on his goal of making Vermont the first state to enact a universal, single-payer health care system. And he's looking to one person in particular to navigate the policy and politics required to get the job done. Post-election, Shumlin named Anya Rader Wallack his special assistant in charge of health care reform. This September, he appointed her chair of the five-member Green Mountain Care Board, the panel designing the single-payer system. Health care is a political minefield and attempts at comprehensive reform have vexed many a politician. Republican candidate Randy Brock is already taking swipes at Shumlin's health care plan — he called it "fundamentally antidemocratic" on Vermont Public Radio on December 13 — suggesting the issue could take center stage in the 2012 governor's race. Rader Wallack certainly has the policy chops for health reform: She was president of Arrowhead Health Analytics, a health care policy consulting firm, and served as executive director of the data analysis nonprofit Vermont Program for Quality in Health Care Inc. And she's a veteran of past health care battles. She worked for then-First Lady Hillary Rodham Clinton in the 1990s and later for former Vermont governor Howard Dean. The good news for Rader Wallack: The $122,866-a-year post allows seven years to get the job done.
Jeb Wallace-Brodeur
Anne Galloway/VTdigger.org
You may not read VT Digger often — or at all — but the Statehouse denizens who shape state policy read the nonprofit news website religiously. Since launching in 2009, Digger has become a must-read for Montpelier policy wonks, political junkies and, increasingly, lawmakers. Digger goes in-depth on topics most news outlets don't touch for fear of putting their audiences to sleep, such as health care and tax policy. It also posts verbatim press releases sent in by lobbyists, campaigns and special interest groups — and it attracts at least 3000 unique visitors a day. Editor Anne Galloway has single-handedly put Digger on the map as a self-described "one-woman reporting band," but now she's getting some much-needed help. Digger recently hired a full-time reporter, Alan Panebaker, to cover health care and energy, plus a part-time editor, part-time business manager and full-time sponsorship sales director. "Journalism is a team sport," says Galloway, a former Barre-Montpelier Times Argus editor. "It's been a scramble to cover the Statehouse and the big issues."
Josh Larkin/VTDigger.org
Vermont Public Service Board
The Vermont Public Service Board is the trio of state regulators — appointed by the governor and confirmed by the legislature — that decides utility cases. Often, those are routine and unremarkable matters, but in 2012 a few big utility cases will loom large over state politics. One is the fate of Vermont Yankee. Does the state have authority to shut down its sole nuclear power plant? As of December 19, U.S. District Judge J. Garvan Murtha had not ruled on Entergy's lawsuit against the state over its refusal to relicense the plant. But some legal scholars, including Vermont Law School professor Cheryl Hanna, have speculated that Murtha might kick the case back to the Public Service Board to decide. In February, the PSB will also take up the proposed merger of the state's two largest utilities, Central Vermont Public Service and Green Mountain Power. The perceived coziness between the Shumlin administration and Green Mountain Power has made the corporate marriage complicated, and the PSB will be in the unenviable position of officiating. No matter what the regulators decide, someone will likely end up feeling disempowered.
Josh Larkin/VTDigger.org
Rep. Chris Pearson (P-Burlington)
The Progressive Party won't exactly be celebrating when the 2012 legislature convenes. Its highest profile officeholder, Burlington Mayor Bob Kiss, is leaving office in March under a cloud of scandal. Their best choice to replace him, state Sen. Tim Ashe (D/P-Chittenden), lost in a Democratic caucus and won't run as a Prog. For the first time in three decades, the party faces the prospect of having no mayoral candidate. As chairman of the legislature's seven-member Progressive Caucus, state Rep. Chris Pearson has the job of rebuilding the Progressive brand and maintaining its relevance in 2012. Progressives have already called on Shumlin to tax the wealthy, rather than cutting state services, to pay for repairing flood-damaged roads and bridges — a perennial cause that could gain popularity with the Occupy movement behind it. When state Democrats rejected a labor-friendly resolution at its state organizational meeting this fall, Progressives reaffirmed their union support with an identical measure weeks later — and started hinting about a challenge to Shumlin in 2012. When the governor is challenged from the left next year — on politics or policy — look for it to come from Pearson and the Progs.