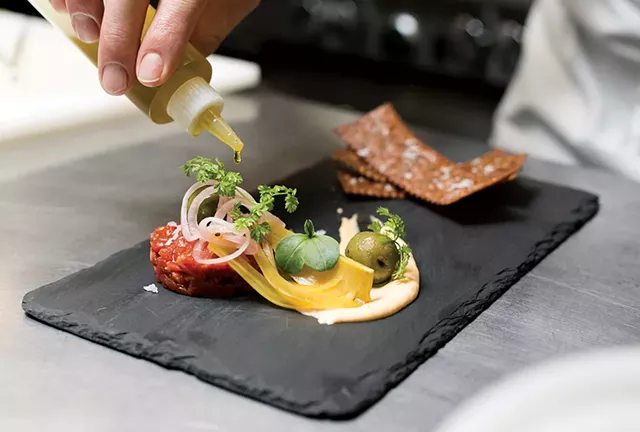 Brent Harrewyn
The Rabbit Hill Inn
Here in Vermont, farm-to-table is mainstream, and the state's unique flavor is largely attributed to its native crops. But ingredients are just one slice of the state's culinary character. The history of place is an important part of a plate, and the best chefs assemble dishes that reflect the lore of the land.
On the shores of Lake Bomoseen, the Lake House Pub & Grille fuels summertime fun with seafood, just as it has since the 1930s. In Bristol, Doug Mack of Mary's Restaurant tends kitchen gardens where homesteaders have lived off the land since 1797. And at the Falcon Bar in Manchester Village, guests sip aged Scotches on the same grounds where American revolutionaries plotted against the British in the 1770s. These are just a few of the remarkable restaurants 7 Nights will guide you to.
Vermont's robust food economy is breathing new life into spaces that once hosted other industries. At Worthy Burger in South Royalton, diners bite into juicy patties inside an 1850s railroad freight house. In Burlington, ArtsRiot's big-flavor, bombastic fare — served in an early 20th-century brush factory warehouse — has become a linchpin in the South End's transformation from postindustrial backwater to thriving arts and entertainment district.
And then there are the personal stories behind each memorable meal. In Windham County, Williamsville Eatery's Lauri Richardson serves the same birthday cake she made for her now-grown son. At Nepali Kitchen in Essex Junction, the chefs cook fragrant curries reminiscent of their homeland.
Who knew history — in all its forms — could be so delicious?