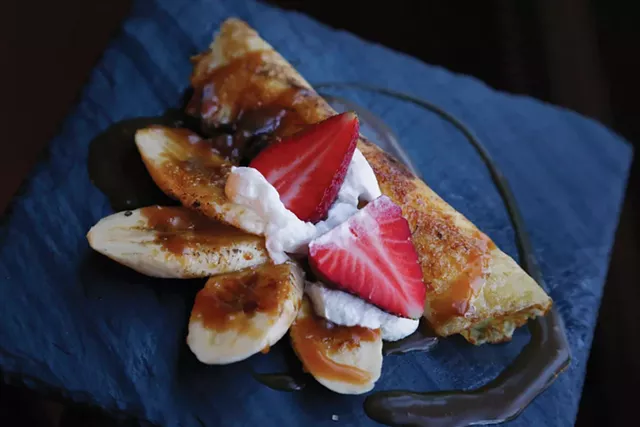 Sarah Priestap
Barrow's House in Dorset
Locavore cuisine is a trend that's still catching on in cities across America. Here in the Green Mountains, however, eating low-mileage meals is now the rule, rather than the exception. Savvy Vermont chefs have been working with local farmers and growers for years, sourcing everything from beef to beets to rice and beans.
Even greasy spoons have embraced the local fare. At the Parson's Corner in Barton, chef-owner David Rath cooks local eggs and stuffs sandwiches with house-smoked corned beef in the kitchen of an old parsonage. In suburban South Burlington, hungry crowds form lines out the door of the Parkway Diner, where burgers sizzle on the grill just miles from where the meats were raised and processed.
This fine, farm-fresh cuisine has been cropping up in even more unexpected places. In working-class South Barre, you can savor a taste of the East at Rickie's Indian Restaurant, housed inside a gas station. At South Burlington's Tilt Classic Arcade and Ale House, the organic, GMO-free wings are served in the company of dozens of vintage pinball machines. Local hops are beginning to make their presence felt amid the state's craft-brewing boom, and "forgotten" heirloom apple varieties are connecting the growing cider scene with local history.
We cover all that and more in 7 Nights, a guide to Vermont's vibrant dining scene. From house-stuffed bratwurst a stone's throw from the Canadian border to cheesecake drizzled with root-beer reduction served in a 19th-century mansion in southern Vermont, you won't have to dig deep into these pages to find a first-class, local, artisanal answer to your cravings.
That's a delicious state of affairs, indeed.