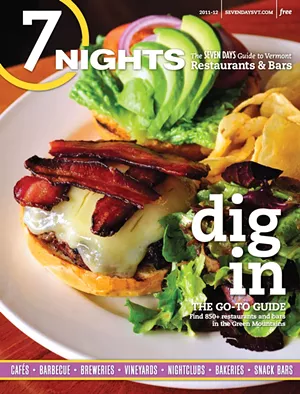 Jeb Wallace-Brodeur | Rev. Diane Sullivan
Vermont's food scene has exploded in the last decade, and the annual 7 Nights guide has grown right along with it. The 2011 edition is the biggest yet, with more restaurants and expanded spotlights that are sure to entice readers to try a new dining spot or two.
Driving around Vermont? This comprehensive restaurant guide is the perfect companion — as good as a GPS, in fact. Keep it in your glove box for quick reference when exploring unfamiliar towns.
Staying close to home? 7 Nights gently reminds you: There are lots of interesting eateries out there. Maybe it's time to try something new?
Vermont benefits from transplanted big-city chefs — Bluebird Tavern's Daniel Boulud protégé Michael Clauss, for example — and an enterprising immigrant and refugee population cooking up fare from Bosnia, Tanzania, Vietnam and the Caribbean. Consequently, the eating here is more varied — and sophisticated — than ever. Three Vermont chefs were nominated for James Beard awards this year.
Did we mention the farm-fresh localvore trend? It just gets hotter and hotter.
7 Nights is a year-round project of the food-writing team at Seven Days, Vermont's only alternative weekly. At the end of last year, food editor Suzanne Podhaizer left the paper to open a restaurant of her own: Salt in Montpelier. Her byline indicates the work she contributed to the magazine before she left.
Podhaizer's replacement, Corin Hirsch, hit the ground running. She and food writer Alice Levitt rose to the Herculean challenge of compiling and verifying all the listings in this guide.
7 Nights lives online, too. Diners are invited to write their own restaurant reviews on the 7 Nights website. Every other week, Levitt and videographer Elizabeth Rossano produce a multimedia look at Vermont's edibles in a tongue-in-cheek video series, "Bite Club TV." Episode topics have ranged from a boozy trip to the Vermont Brewers Festival to a squirrel-eating party. Each week in "Alice Eats," a feature on our staff blog, Blurt, Levitt reviews a restaurant that offers dinner for two for less than $35.
Speaking of great deals, Seven Days launched the first-ever Vermont Restaurant Week last year. More than 80 restaurants are participating in the 2011 event, which runs from April 29 to May 5. For $15, $25 and $35 — and a $10 lunch special — Greek diners, funky bistros and linen-tablecloth country inns are serving up their prix-fixed best.
Whatever it takes to get you out — and eating. Every year, Vermont tastes just a little better.