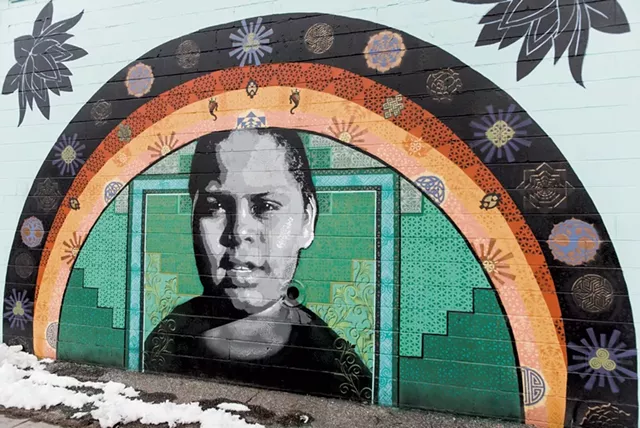 Sam Simon
Portrait Murals of Burlington by Mary Lacy and Sloan Collins
1. Murals of Burlington
From a mosaic-style hummingbird on the side of American Flatbread (115 St. Paul St.) to renderings of neighborhood kids by local artists Mary Lacy and Sloan Collins in the Old North End (above), B-town is home to an abundance of street art. Find a mural walking tour here. South End-based artist group Anthill Collective also offers a self-guided tour of its members' spray-painted creations at anthillcollective.com.
"Camp Iris" by Victoria Palermo at Helen Day Art Center "Exposed," Stowe
2. Helen Day Art Center's "Exposed", Stowe
More than two dozen diverse sculptures by local and national artists decorate the village of Stowe and its five-mile-long recreation path in this annual exhibition, which runs from July to October.
Courtesy Image
"Jitterbug" (foreground) by David Stromeyer at Cold Hollow Sculpture Park in Enosburg
3. Cold Hollow Sculpture Park, Enosburg
Opened in 2014, this 35-acre Franklin County property boasts more than 50 large-scale steel sculptures that span 45 years of work by artist David Stromeyer. Admission is free, bathrooms and guides are available at the welcome barn, and visitors are encouraged to bring a picnic to enjoy in the meadow.
Sarah Priestap
Path of Life Sculpture Garden
4. Path of Life Sculpture Garden, Windsor
Inspired by a Japanese garden in Ireland, this 14-acre field on the banks of the Connecticut River features 18 sculptures of different sizes and materials that represent the stages of life, including a small stone that stands for birth and a hemlock-tree maze that represents childhood. Visitors can also explore five miles of wildflower-lined walking trails; enjoy bratwurst, soft pretzels and beers at Harpoon Brewery (which shares a parking lot with the property); or rent tubes, canoes, kayaks and paddleboards from Great River Outfitters.
Pamela Polston
"Tiller" by John Clement at Lemon Fair Sculpture Park
5. Lemon Fair Sculpture Park, Shoreham
Art enthusiasts can take a one-mile, self-guided tour of 32 pieces of art — from abstract geometric shapes to animal sculptures — on this pastoral property that opened to the public in 2016. It's free to visit, and a box near the parking area includes information sheets about the artists and their works, some of which are for sale.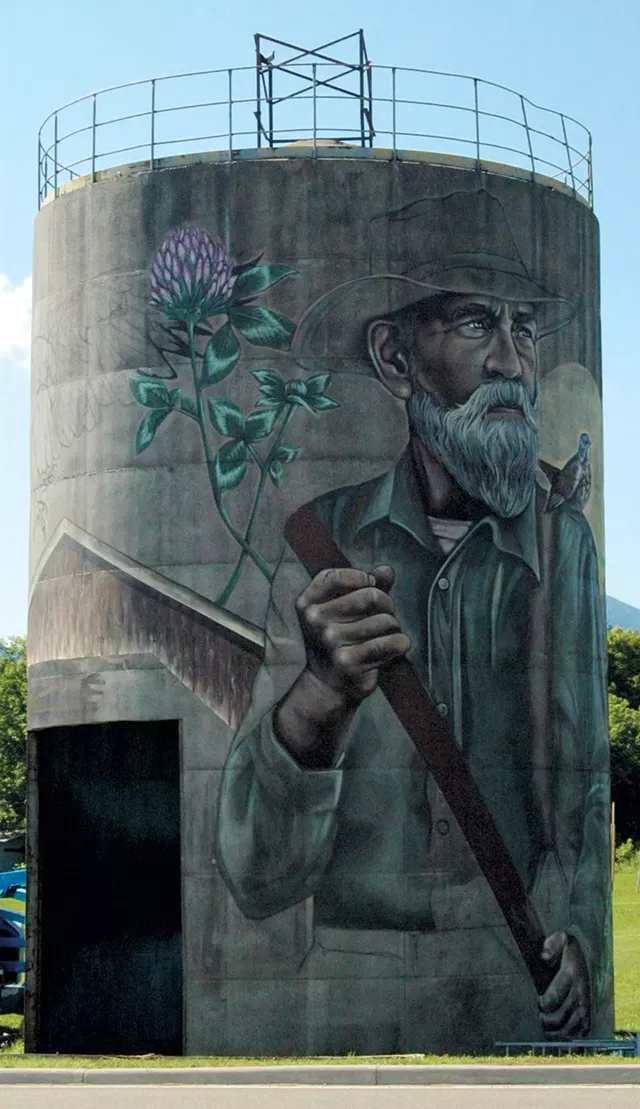 Molly Zapp
Silo mural by Sarah C. Rutherford
6. The Silo Project, Jeffersonville
Painter Sarah Rutherford transformed a pair of old 36-foot concrete silos into the largest outdoor mural in Vermont in 2016. The face of a bearded farmer adorns the north silo in honor of Vermont's past. The south silo shows an 8-year-old child wearing overalls, representing the state's future. Both feature a hermit thrush and a red clover, Vermont's state bird and flower.