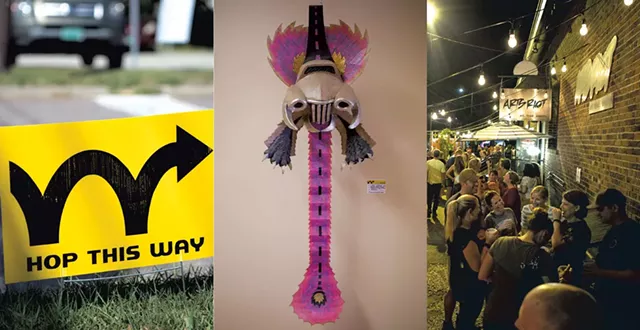 File Photos: Luke Awtry
The South End Art hop begins Friday
This has been a watershed year for Burlington's South End Arts and Business Association. In late 2018, executive director Adam Brooks stepped down after about seven years at the helm; assistant director and curator Sarah Drexler soon followed. Around the same time, the organization lost its lease — and its highly visible headquarters — at 404 Pine Street, accommodating an expansion of ArtsRiot. It downsized to a tiny space at Generator on Sears Lane. In May, SEABA hired Christy Mitchell, proprietor of the S.P.A.C.E. Gallery, to succeed Brooks as ED.
By that point, board members were already thinking about their flagship event, the South End Art Hop. Would they be able to pull it off?
They would and have: The 27th annual Hop takes place this Friday through Sunday, September 6 to 8, with no visible abatement in neighborhood excitement, artist participation or site registrations. There will, however, be some changes from previous years.
One of them is organizational. Mitchell has created color-coded zones for sections of the South End — which might make more sense when Hoppers refer to the 72-page program. "These are four distinct zones that will encourage people to keep hopping," she says. The signs at each site will correspond to the color of their zone.
Perhaps more motivational is a bingo-style game that is printed on the back of the program as well as separately, Mitchell says. Hoppers can get it stamped at each venue they visit and be entered into a raffle for South End-specific prizes.
This year's juried art show, a centerpiece of the Hop, is installed at the Amy E. Tarrant Gallery in the Flynn Center for the Performing Arts. The juror is Brent Beamon, director of the Flowers Gallery in New York City. Parallel South End nomenclature inspired a "Flynn to Flynn" motif — and a hashtag — suggesting Hop attendees should think about traversing the entire district, from the Main Street gallery to the venues on Flynn Avenue.
Two free shuttle buses will ease that distance: the "bunny bus" (disclosure: it's sponsored by Seven Days) on the north end and a school bus from Dealer.com at Howard and Pine streets south to Flynn Ave. As in previous years, Pine Street will be closed to traffic between Kilburn and Howard streets.
One significant change is that Strut!, the Saturday-night fashion show, will take place not under a ginormous tent behind the Maltex Building but in a much more intimate venue: the exhibition space at Generator. The move was clearly based on cost: Mitchell says the quote for the tent was about the same as projected revenue from the show. Strut! has always been the only ticketed event at the Hop, but if expense equals income, the fundraising potential is defeated.
It remains to be seen whether heretofore enthusiastic audiences for the fashion show can adapt to more constrained quarters. The teen designers, who have come to dominate the event in recent years, are very excited for the showcase, according to Mitchell. "It's a good jumping-off point for a lot of them," she observes.
Mitchell notes that Art Hop headquarters will be located in the VaultS, the brand-new Howard Street building which itself is filled with artist studios.
Friday night parties, officially registered or otherwise, have long been a staple of Art Hop. Mitchell says some are still popping up. Among those she cited are swing dancers performing at Kilburn and Pine; a concert featuring Rough Francis at Speaking Volumes; and live mural painting plus music at Tomgirl Juice in the Soda Plant, at the Dealer.com parking lot on Howard, and behind North Country Kettlebells at 696 Pine (near Eco Bean Café).
And then there are the dozens of open studios. The event, after all, is a big shout-out to art.
As always, there's a lot to Hop about.