Courtesy Of Seaba
Art Hop, Pine Street
In 1993, Burlington's South End could have been better described as gritty than up-and-coming. Pine Street was lined with postindustrial warehouses and a smattering of businesses. But after a trio of artists teamed up to put on a tiny art festival in the hood, things began to change.
Artists Melanie Putz Brotz, Jon Roberts and Ellen Lake organized the first-ever South End Art Hop on October 11, 1993. Businesses and studios from Union Station at the foot of Main Street to the Cheese Outlet — in the building that now houses ArtsRiot — became temporary galleries for the three-hour event. Thirty locations participated, exhibiting artists such as Katharine Montstream, Lars Fisk and Gina Carrera. And some 300 people hopped, meeting creative types and soaking up South End funkiness.
What started as a single evening of art appreciation organized by community members turned into a giant celebration coordinated by the South End Arts and Business Association, which took the reins in 1994. Now in its 25th year, Art Hop includes three days of open studios, a juried show, outdoor sculpture, a Kids Hop, the STRUT fashion show, live music, numerous food vendors and ancillary parties.
Since 2013, the festival attracts an estimated 30,000 visitors annually, who hop among 115 locations along the Pine Street corridor from Flynn Avenue to Main Street. This year's Art Hop, which runs Friday through Sunday, September 8 through 10, is likely to meet or exceed those numbers.
Clearly, much has changed in a quarter century. Until 1998, Art Hop's juried show was held in a train car parked in front of the Maltex Building. Though a charming visual reminder of the area's industrial past, the car was removed after that year because, as SEABA director Adam Brooks said, "[It obscured] the only good-looking building in the South End."
The Art Hop has always been a pedestrian affair. But from 2000 to 2004, some partygoers opted for limos. Growing crowds eventually made car traffic difficult, if not outright dangerous. Last year, the city finally acquiesced to years of lobbying from SEABA and closed a portion of Pine Street to vehicles on Friday night.
Like any growing phenomenon, Art Hop has experienced some pains. In 2007, Bread and Puppet Theater founder Peter Schumann made waves with his searing 80-foot mural, titled "Independence Painting: Inspired by Four Stories." The work interspersed images from the Palestinian West Bank with quotes from The Wall, John Hersey's account of the extermination of Warsaw Ghetto Jews by the Nazis.
Schumann's work, sponsored by what's now called Vermonters for Justice in Palestine, was immediately branded as "anti-Semitic," "anti-Israel" and "soft-core Holocaust denial." Schumann himself, remembered Burlington author and activist Marc Estrin, was accused of "hijacking Art Hop and turning it into a political event." Prominent business leaders threatened to withdraw funding and withhold use of exhibit space if SEABA allowed the work to be shown. The threats came, Estrin noted, before anyone had even seen the piece.
"The Art Hop was totally fabulous," he added. "Their line was, 'We do not censor art.'"
Weather and outdoor festivals in Vermont do not always get along, though Art Hop has generally lucked out. But in 2012, a violent storm nearly made off with the STRUT tent. "The whole tent, which was 160 by 80 feet, lifted in the air," recalled then-coordinator Anne-Marie Keppel. "We had to pack up all the chairs. Then, miraculously, the [clouds] parted, and the show went on."
Through it all, Art Hop has served to connect artists to laypeople, with the hope that at least some of the partygoers would become art patrons.
S.P.A.C.E. Gallery director and former SEABA assistant director Christy Mitchell said the event has landed her a few jobs. "During my first one in 2004, I walked into the Lamp Shop on Pine Street, and I knew I had found my element," she explained. "I went into lighting design and restoration and still do it 13 years later."
Sculptor and original Seven Days art director Fisk said Art Hop led him to a gig as Phish's art director. While hanging art in the Maltex, he connected with the band's management company, which was moving its offices into the building. "They were very interested in what was going on, so it was a friendship that started right there," Fisk said. Within the year, the band hired him. Fisk also is credited with designing the "sproing" Art Hop logo.
Art Hop also inspired Mark Waskow's long run as a SEABA board member — and eventually president — and his avid art collecting. He is arguably the foremost individual patron of contemporary artists in Vermont. But Waskow said he never had an interest in art until he attended the Art Hop in 1998.
"I had a blind date, and somehow [we] decided that we would have [it] around the Art Hop," he recalled. "The date was not good, but the art was wonderful."
By the end of that year, Waskow had amassed 300 to 400 works, which were just the beginning of a collection — he calls it the Waskowmium — that today numbers 33,000 pieces, many of which are by Vermont artists.
Matthew Thorsen
Mark Waskow with his collection in 2011
As Art Hop has grown, so has the South End — now known as the South End Arts District. Pine Street, along with Flynn Avenue, is a booming hub of creative economy. New restaurants, breweries, event spaces and businesses bring thousands of people to the area every day. According to the municipal project planBTV South End, 6,300 people are employed in the area.
Is Art Hop responsible for the South End's resurgence? Some say yes, at least in part. Bruce Seifer, who led SEABA at the time the Art Hop was formed, claimed the inaugural STRUT show in 2006 created 1,800 jobs in the South End. How? It was held at the then-vacant Specialty Filaments building at Howard and Pine. The founders of Dealer.com attended the show and got the idea to move into the building after seeing the space.
"That event, and SEABA, created what is now the South End," Waskow declared of the Art Hop's impact on the neighborhood. "It's a direct result of SEABA's efforts over 25 years to draw attention to this area. People stopped, people looked, people developed, and now it's the hottest area in Burlington."
That's an understatement. Last year, record crowds — and summer-like heat — gave Art Hop even more of a party vibe. Is the event getting too big? In other words, is the festival still serving its mission of connecting the community to thought-provoking art?
"I think it is," said Brotz, who is no longer involved with producing the Art Hop. "It functions to highlight so many artists."
Last week, Seven Days put out a call to some of those artists, as well as business owners, patrons and fans. We asked each to share a memory from one of the previous 24 Art Hops. Here's a selection.
— S.W.
Adam Brooks
executive director, SEABA
Matthew Thorsen
Adam Brooks
As the boss, my role during Art Hop is mostly risk management, putting out fires (sometimes literally), managing staff and making sure everything is running smoothly throughout the South End. It's not often that I have the opportunity to truly "enjoy" what SEABA and this community does each year.
And that's my favorite memory. It is a rare sight that one small organization can rally 100 businesses and 600 artists, along with the residents, city and sponsors, to all work together. The amount of collaboration, cross-promotion and "helping the other fellow" in order to show 35,000 people what the South End is all about is truly a remarkable memory for me — and one that I get to experience this time every year.
Sara Katz
artist, assistant director, Burlington City Arts
The events at 339 Pine Street stand out in my mind as really great times and the essence of the Art Hop.
I have memories of someone dressed up as a chicken riding around on a bike, a showcase of Rob Rock's pedal-based farm tools that he made there, the smell of Missy Bly's delicious soap. (That's more hazy than distinct. So goes memory.)
I also always think of Lars Fisk when I remember Art Hop at 339 Pine. He instigated a spirit of collaboration among artists and makers that has remained in that space even after he left, from John Marius' iron pours to Noah Lagle's steamroller-print workshops and Matt Penney's generosity with other artists about his knowledge of machines and the way things work.
Peter Clavelle
Burlington mayor 1989-2006 (except for one term)
Matthew Thorsen
File cabinet sculpture by Bren Alvarez
During an earlier Republican administration, a local artist (Ron Hernandez) painted on a city building a Buddha being overcome by a tsunami to depict the political mood of the day. That art/political statement created a bit of controversy. Twelve years later, the political tsunami has only grown in size.
I've always chuckled at the "world's highest file cabinet" created by Bren Alvarez in 2002. The sculpture was built in the path of the proposed Southern Connector and consists of 38 file drawers to depict the 38-year legacy of that ill-fated project. If updated to fit the current reality, the sculpture would be much higher.
It will be fun to attend the 25th Art Hop to reconnect with the founders and artists, some who have been exhibiting for all 25 years.
Sage Tucker-Ketcham
artist
[In 2010 or '11], I had my studio at S.P.A.C.E. Gallery. I cleaned it, painted the walls white, put on a nice dress, made labels and presented my work as if my studio was a mini-gallery. Friday night was packed, with nonstop visitors to my small space.
That night, two different people from my childhood asked, "Sage, is that you?" That is the best part of Art Hop for me: bringing people together and seeing people from the past, all under the common thread of seeing art. Christy [Mitchell] enabled me to present my work the way I wanted to, and by doing that I could share who I am to new people and people from my past alike.
Bonnie Kelley
fan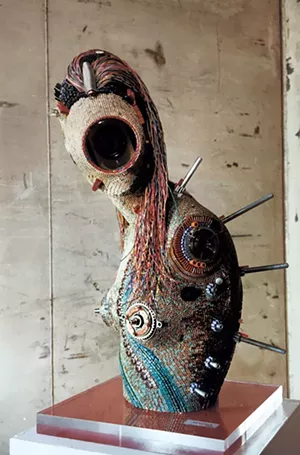 Courtesy Of Seaba
David Huber sculpture
The Art Hop always brings the art demons out. People share their dark, whimsical side with costumes, art displays and live performances. One of these that will always stick with me is "Baby Fingers."
One night at the Art Hop several years back, there was a gathering of people around him as he brought to life a mobile of bird bones. I watched in wonder as he stowed away his puppet and proceeded to put a diaper on his head, followed by a gas mask. He then took out two plastic baby doll feet, two plastic baby doll hands, and a plastic baby doll head. He stuck them on his fingers and, again, infused life into this character. It crawled along the tarmac in the dimly lit alley and jumped onto one of the audience members. He would from then on be known to me as Baby Fingers.
Kristen L'Esperance
artist
In approximately 2005, Paige Russell and I both apprenticed for Andy Arp and Liz Segal at the Lamp Shop. We also shared studio space in what was formerly the autobody shop in the alley behind the store. That year, Paige and I were featured in [Seven Days] with a photo of us in our studio as part of an Art Hop [story]. Later that fall, I received my first love letter in the mail at the Lamp Shop ... from a state correctional facility.
I probably should have been worried about having a convicted admirer. Instead, as a budding artist (narcissist), I remember feeling flattered that said inmate had written to me and not my beautiful colleague, Paige. I believe Liz still has the letter in the shop somewhere. Good times.
Norbert Ender
Speaking Volumes
courtesy of Wylie Sofia Garcia
"Chameleon, 2009" by Wylie Sofia Garcia
[Radio Bean owner] Lee Anderson has been involved in a few of our shows over the years. The energy this guy puts in boggles the mind. One year, he had this light globe, suspended from a tree. It was a mace of inverted umbrellas, which was part of the whole [Art Hop] theme that year. There was cloth draped over the whole building and the trailers. I was finding glitter shit all over the place for another two years.
Wylie Sofia Garcia
artist
My favorite memory is walking through the Soda Plant and seeing a James Turrell hologram hanging at eye level in the middle of the hallway. I almost walked right into it. It was a literal brush with greatness!
Growth Industry
Courtesy Of Stephen Mease
Abby Manock's "Noodle Family" at Art Hop 2013
As Art Hop festivities wind down on Sunday, September 10, many of the South End's original movers and shakers will convene at Union Station at Main Street Landing in Burlington for a special presentation: a roundtable discussion considering the area's next 30 years, informed by its past. The event comes in conjunction with the 25th South End Art Hop Founder's Exhibit, "Crunch + Funk."
Longtime Burlington economic adviser Bruce Seifer has taken the reins on organizing the event. To get the ball rolling, he said, he and co-organizers sent a survey to 100 folks who were active as artists and/or entrepreneurs in the South End of the 1980s and early '90s. The mailing consisted of eight questions, which Seifer said were even reviewed by an anthropologist. More than 60 people responded.
"The best way to help the city and SEABA figure out what the future should look like is to ask," Seifer said. "The goal is to find out what motivated [the "founders"] to be active in the South End in the arts and business community, what lessons they learned over the last 30 years, and what principles and values drove them over that time frame."
A wide net was cast for the event. David Griffin, who co-owned Perez Griffin Graphics with Peter Perez, is driving up from Florida to participate; Perez is coming in from California. Others are converging on Burlington from New York, Washington, D.C., North Carolina and the Virgin Islands.
Of course, artists and business people who remain active in the South End are involved, as well. Among these are Champlain Chocolates' founder Jim Lampman, artist Bruce MacDonald of Havoc Gallery and glass artist Larry Ribbecke.
Visitors to Union Station will be privy not only to lively discussion and reminiscing, but will also be able to see, in poster form, some of the data that was submitted. QR codes will help direct guests to a website, which Seifer said will be updated continually to reflect the ongoing dialog.
"This is going to be a fun event — we're having a good time," Seifer said. "We're celebrating the past ... [and] my hope is to spawn other opportunities in the future — that people will be motivated and inspired to do other things based on this."
What does Seifer himself have in mind for the South End in 30 years? Big things. He hopes, he said, to foster "a supportive environment for the creators to continue to create, to remake and invigorate the economy and the community and the environment — and that [Burlington] becomes a national destination for that."
— R.E.J.
Correction, September 6, 2017: An earlier version of this story misstated the year Lake Champlain Chocolates moved to the South End. The company has been located there since 1993.