Oliver Parini
Foie gras torchon at Bistro de Margot
Food writers want every restaurant to be exceptional. We crave exquisite, thoughtfully prepared food sourced from the best local farms and fishermen. We swoon for service that's charming and professional but casual and fun, and for friendly bartenders who know what we're drinking before we do. We yearn for chefs who honor their own heritage and this glorious green place we live in, who pair creativity with ambition and have a skill set to match. We applaud those who aren't afraid to take risks.
Restaurants that achieve even half of these things with any consistency offer far more than just a decent supper. They supply an escape from the daily grind, swaddling us in pleasure for a few short hours before gently releasing us, happy and full.
A cheap neighborhood joint can fulfill those aims as well as — sometimes better than — a three-star shrine to gastronomy. Many restaurants could get to this level with a little polishing, but don't. That leaves food writers disappointed and often a bit cranky about the local dining scene, whether they live in New York City or San Francisco or Burlington. And, yes, I know this is a first-world problem and mine is a dream job.
But, glancing back over 2015, I'm kind of amazed by all the wonderful things that happened. Even though I spent untold hours seeking out the latest and greatest in Vermont food and drink, I know I missed many palate-teasing delights. So, based on what I did see and taste, I offer this song of thanks to some of the restaurants, chefs and food artisans who made 2015 a sweet year to dine and drink in Vermont.
Best New Restaurant
Bistro de Margot
Oliver Parini
Pan-roasted cod
I reviewed this place a couple of weeks ago, and every meal — every dish, drink and amuse bouche — I had at chef-owner Herve Mahe's new Burlington bistro was composed, restrained, classic and modern.
I could start by telling you about a crisp-seared filet of cod, gingerly set on a bed of melty duck-fat beans with wilted chard, which pulled away in clean flakes with just the nick of a fork. Or I could recall an amber-skinned breast of chicken perched on mashed potatoes in a shallow bowl, surrounded by a pool of deeply caramelized, fork-coating jus. Or maybe a cocktail? Normally I'd argue that one can't improve on a well-made manhattan, but Paul Gibson's Vieux Carré — enhanced by a splash of Benedictine — was better than the classic.
I could also mention the service — many of Mahe's waitstaff have worked at this address for years, when it was L'Amante. One night, a server treated my table to an impromptu wine tasting (a perk of eating in an empty restaurant at 5 p.m.) when we wavered over our wine pairings.
Mahe brings a formidable background to the kitchen. Trained in France from an early age, he graduated from one of that country's leading culinary academies, then spent 20 years serving haute cuisine across Europe and America.
But what I appreciate most about the new bistro is that Mahe's cooking is as unpretentious as it is soulful. He seems to understand that sometimes the best restaurants succeed exactly because they do something tried and true very, very well.
Best New Chef
Marc Provencher, Taverna Khione, Shelburne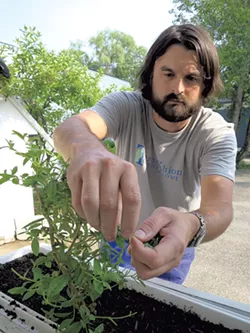 Matthew Thorsen
Marc Provencher
Locals were sad when Café Shelburne closed after dinner on December 31, 2014. But by April, Maine chef Marc Provencher had installed a new Greek restaurant in the space. His cooking is rugged and traditional — no street-style falafel or gyro here.
Instead, Provencher's menu proceeds in degrees of approachability. A sizzling feta dip, stained red with tomato and pepper, is fairly friendly, while taramosalata — the über-fishy carp roe purée traditional on Grecian tables — might be risky business for folks who didn't grow up on anchovies or gefilte fish.
Across the menu, elegant details enhance the base proteins. During a midsummer meal, stewed sour cherries from Shelburne Orchards punctuated a jammy, red-wine-braised leg of rabbit. Another night, Provencher's handmade Greek spaghetti was salted with nutty, brown-butter-fried Cretan goat cheese and accented with floral, fresh-picked verbena. His fire-grilled lamb chops were magnificent in their funky, fork-tender simplicity.
While not every Taverna dish is perfect, most are fantastic. What's most exciting is the young chef's audacity in bringing something totally new to the area — and his ability to execute each meal with style to spare.
Best Menu Reinvention
ArtsRiot, Burlington
Oliver Parini
400 Burger at ArtsRiot
Technically, chef George Lambertson took over for ArtsRiot's wonky "kitchen collective" in November 2014. At that point, his menu was brief — a handful of fun twists on classic pub fare, such as popcorn chicken, a "mystery" patty on homemade brioche, and lots of housemade pickles and preserves. But by this past summer, he'd expanded the menu to include dishes such as plump seared scallops over a tangle of roasted heirloom carrots soaked in pan jus, and pan-roasted pheasant with confit potato and fennel.
The sweetest part? The prices. Two people can grab a filling meal — with drinks — for around $25 each. Which means that ArtsRiot's signature 400 Burger — topped with pickle, "'Merican" cheese and a secret, fast-food-esque "special sauce" — is easily one of my favorites in town. Even more so at $10.50.
Best Meal
Butch + Babe's, Burlington
Matthew Thorsen
Narin Phanthakhot at Butch + Babe's
At first, I wasn't sold on Butch + Babe's, which opened in Burlington's Old North End in January 2015. The concept was fuzzy — a beer-forward "neighborhood pub" with a Thai chef? It smacked of Could be good — maybe. But people kept saying nice things about the place, and when I finally got over there earlier this month, I was hooked from the first bite. It didn't let up until the plates were cleared.
The meal began with a huge bowl of glassy noodles swimming in cilantro-tinged broth. Corn cakes studded with sweet, ripe whole kernels were served over a schmear of spicy aioli and zingy Napa kimchi.
Then, juices streamed from a fat, meaty local-beef burger tucked into springy focaccia. Don't get me started on the spicy ranch dipping sauce for the fries. And I could probably eat chef Narin Phanthakhot's pepper-tinged pork patties, with their perfect white rice and more kimchi, every day. Or chomp into a Chicago-style hot dog and call it good.
Is the menu all over the place? Kind of, but it reaches a state of cohesion somewhere between the Pacific Rim and Middle America. There's truly something for everyone — like, who could resist mac-and-cheese pancakes? The result is very Burlington and very much its own, and I totally dig it.
Best Pizza
Pizza on Main, Morrisville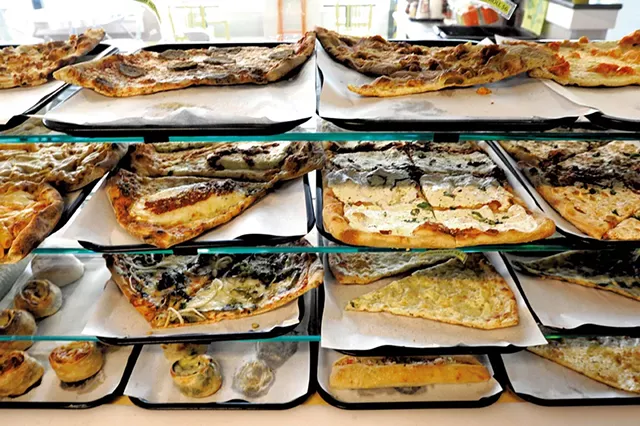 Jeb Wallace Brodeur
Slice case at Pizza on Main
Vermont has plenty of gorgeous blistered, Neapolitan-style rounds, and I enjoy those very much. But the best pizzeria in the state opened early last spring — in Morrisville — and its owners are New York metro transplants. They're so crazy about their native flatbreads that they spent a year apprenticing in a benchmark Westchester pizza joint, learning the ins and outs of making a perfect pie.
At Pizza on Main, the micro-thin rounds are 18 inches across, crisp and tangy with orange-red marinara and a barely there skim of salty blended cheese.
Main's foldable slices are bigger than your face (cut from 20-inch pies) — for $2.50 to $4 each. Toppings? Add whatever you want — anchovies, pepperoni, spinach — and you'll find it super fresh, crisp and good. The shop also serves Italian and deli-style "wedges" (aka subs) and fun regional specialties such as fried ravioli and stromboli. But I'm there for the pizza. Go, and be converted.
Emergent Dining Destination
Stowe
In recent decades, Stowe hasn't wanted for restaurants. Owing to its tourist economy, it's long offered more places to eat per capita than most Vermont towns.
But in 2015, Stowe's dining scene went from decent to great. In January, new owners revamped the inn at Edson Hill with chef Chad Hanley in the kitchen and Don Horrigan behind the bar. (Horrigan has since moved on, but many of his cocktails remain.) The restaurant marries old New England fare (clambakes, crab cakes) to modern New American cuisine with subtle Asian twists that Hanley gleaned from time spent working under Roy Yamaguchi and Masaharu Morimoto. It's a dining experience in which the food matches the setting.
On Mountain Road, the Hen of the Wood team opened super-cool new beer bar Doc Ponds in August. It joined the Bench — opened in late 2014 by the folks behind Waterbury's Reservoir Restaurant & Tap Room — in serving inspired gastropub fare and a river of local craft suds.
This summer, Michael and Laura Kloeti of Michael's on the Hill took over flailing Crop Bistro & Brewery. In November, they renamed the place Idletyme Brewing, buffed up the menu and empowered brewmaster Will Gilson to get even more creative in the brewery.
Meanwhile, Sauce Italian Specialties opened in June, offering long-simmered Sunday Gravy; fluffy, fist-size meatballs; and eggplant rollatini for takeout or sit-down service, as well as imported Italian meats, cheeses, antipasti and wines.
Then, two wine bars materialized nearby. Stowe Wine & Cheese began offering glasses and snacks at Swirl Wine Bar in July, while Waterbury's Cork Wine Bar & Market opened its natural wine-focused Stowe location this fall. Both offer light snacks, gorgeous cheese boards and dozens of wines by the glass.
And there's more to come. The new year will bring Stowe Bowl, a new "boutique bowling lounge" with gourmet snacks, craft beer and cocktails. Elsewhere in town, the owners of the Trapp Family Lodge (whose brewery, von Trapp Brewing, doubled its production capacity this year) plan to open a Bavarian-style beer hall before fall foliage kicks in.
Troubling Trend
Original farm-to-table restaurants close
The ugly underbelly of all this shiny greatness is that we saw too many of Vermont's locavore pioneers quit the business in 2015.
Former Seven Days senior food writer Alice Levitt wrote about the phenomenon at length in September, just after Burlington's Bluebird Tavern closed, but more restaurants continued to fold through the end of the year. In November, Seven Days food contributor Suzanne Podhaizer closed her Montpelier tasting-menu spot, Salt — though she continues to host occasional meals, including one scheduled for New Year's Eve. Podhaizer's reasons were many and complex, but in short, she told Levitt: "I'm not sure the way I want to be in the restaurant business is the most viable way to be in the restaurant business." By "the way I want to be," she meant using exclusively local, ethically sourced products in her cuisine. Ouch.
Silver Lining
Flip-flopping at the Innovation Center of Vermont
It was a disappointment when Bluebird Coffee Stop closed in the South End. But yay! — Scout & Co. took over the place in October. It brought Owen Hoppe's gooey, chorizo-studded breakfast tacos, superlative coffee from Brio Coffeeworks and baked goods by Josh Lemieux of Williston Coffee Shop.
Bonus points to Scout owners Andrew Burke and Tom Green for opening two fantastic new cafés in one year. And for sharing the second of those spaces, at the top of the Winooski traffic circle, with Vivid Coffee roaster Ian Bailey, who toasts some of the shop's beans on-site.
Which brings me to...
Best Beverage Trend
Micro-batch coffee
It seems like every time I turn around, I notice another brand-new tiny coffee roastery. In the fall of 2014, Magdalena Van Dusen started roasting single-source beans at Brio Coffeeworks on Burlington's Pine Street, and this year those fruity, nutty, terroir-specific beans started turning up everywhere. It's the best.
In addition to those, Scott Kerner (of Three Penny Taproom, Mad Taco and Mule Bar) and Ross Evans launched Carrier Roasting last spring. And the guys behind brand-new Upper Pass Beer in Tunbridge toast their own beans as First Branch Coffee, while the folks at Bohemian Bakery in East Calais roast as Bohemian Coffee Roasters. And I'm sure there are others I haven't discovered yet!
What's more: Cold brew has been a thing for a while, but you could only get it at a few places in Vermont — until now. In 2015, Death Before Decaf joined Northern Bayou Cold Brew in selling its bottled brew at retailers around Chittenden County. And many local restaurants started making cold brew in-house, using the fantastic fresh beans noted above.
Biggest Bummer
Death of a restaurateur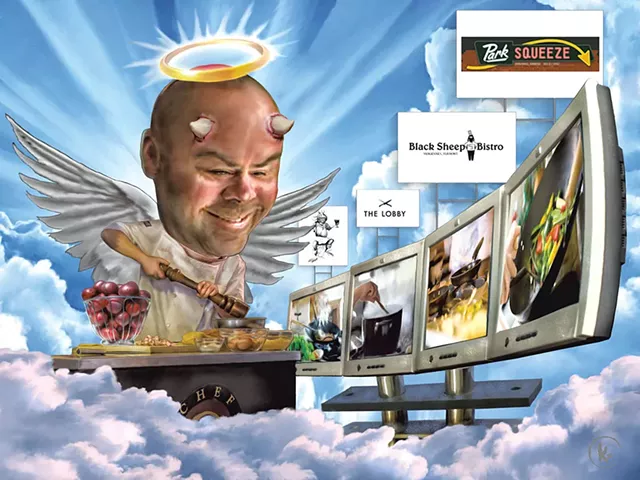 Kym Balthazar
Michel Mahe
While 2015 was a good year for dining overall, it wasn't without setbacks. In July, Vergennes Restaurant Group chef-owner Michel Mahe dropped dead of a heart attack, leaving his many restaurants without a clear path forward. The chef's staff — many of whom had been with him for years — picked up the pieces with surprising grace. Still, the loss continues to echo, leaving regrets for what could have been: Mahe planned to continue opening new restaurants at a breakneck pace, and we all would have been better (fed) for it.
Natural Boon
Tree fruits
Any Vermont fruit grower will tell you: 2015 was a historic year for tree fruits. The summer was wet and warm, with weeks of sun between showers, and the trees responded with plump, crisp apples, pears, peaches, cherries and plums in remarkable abundance. Vermont's growing flock of cider makers spent the fall busily gathering the bounty for their ferments — from feral trees along back roads and the increasing number of orchards growing heirloom and "rediscovered" fruit statewide. Which means 2016 is already shaping up to be a great year for drinking, as those ciders start hitting the market next fall.
Weirdness
A Cuisine, Burlington
John James
Conveyor belt sushi at A Cuisine
In September, Asiana Noodle Shop owners Sandy and Grace Kong started loading sushi and Taiwanese specialties onto a conveyor belt in the Burlington Town Center mall. Patrons grab dishes that look appealing and eat them. I still can't quite wrap my head around it.
Fastest Flop
Green Mountain Diner
Green Mountain Diner opened in Bradford on August 21. The idea was nice — family-friendly breakfast food made with local products and served at affordable prices. These are laudable goals in a working-class town. But the restaurant was located in the former Bradford House of Pizza space, where beloved owner Christian "Clue" Cameron had committed suicide in January 2014. The place had been empty ever since. Townies were reluctant to enter, and those who did reported poor service and cold, sub-par food and coffee. On October 13, owner-cook Ed Morrison announced on Facebook that the diner was closed owing to "plumbing issues." It hasn't reopened.
Pop-up Pleasures
Secret feasts and adventure dinners
On Labor Day weekend, Hotel Vermont chef Doug Paine teamed up with Stonecutter Spirits, Shacksbury Cider, Vermont Creamery and the Basin Harbor Club to offer a special, one-night-only adventure meal. Patrons met at a location that wasn't named until the day of. Their hosts handed them cocktails made with Stonecutter's phenomenal barrel-aged gin (easily the year's best new Vermont-made spirit); then they all boarded a boat ride to a remote, candlelit cove on Lake Champlain. There, Paine treated everyone to a sunset picnic of oysters on the half shell and grilled delights.
In a similarly celebratory vein: This fall, Colchester's Groennfell Meadery launched a series of "feasts," hosted at its owners' property in Swanton. Massive consumption of slow-roasted meat beside bonfires ensued.
We May Never Write About This Again
Bove's Café
Matthew Thorsen
Bove's Café
One of Chittenden County's biggest ongoing food stories of 2015 began with the news that, after 75 years of serving pasta on Pearl Street, the Bove family was exiting the restaurant business.
First, word came — in early September — that Bove's old-school Italian joint would close on December 23. A month later, this paper published a news feature on owner Dick Bove's role in Bernie Sanders' rise to political prominence. A month after that, we reported on local architect Louis Mannie Lionni's hopes to lift the restaurant building off its foundation and move it to a museum location.
In December, Bove's announced that it would construct a plant in Milton to produce its line of sauces. Just last week, I interviewed Martha Snyder, who waited tables at Bove's for almost 40 years.
She'll miss the place, and so will its patrons — the Queen City has lost yet another restaurant where cocktails are $4 and pasta plates are cheap and heaping. And that's all I have to say about that.
Looking Forward
Dreams for 2016
Jeb Wallace Brodeur
Down Home Kitchen owner Mary Alice Proffitt, left, with staff members Louisa Franco and Lindsey Brownson
We can make a few predictions for next year — assuming things go as planned. And we can hope.
At a minimum, we know that longtime Hen of the Wood pastry chef Andrew LeStourgeon and Rob Downey are planning a swanky new dinette, Monarch & the Milkweed, for downtown Burlington. Will LeStourgeon serve his famous opera cake? Dunno. But my best guess is that whatever he does serve will be fabulous.
Will some ángel de Dios start making authentic — like really authentic — Mexican food in this state? A girl can dream, but I'm not holding my breath.
However, I am looking forward to stocking my fridge with fresh Vermont corn tortillas nixtamalized in Waitsfield by All Souls Tortilleria. And I have it on good authority that All Souls partners Joe Bossen (of Vermont Bean Crafters), Sam Fuller and Hubert d'Autremont — two of whom hail from Arizona, which is basically tortilla heaven — will make that happen someday soon.
In Montpelier, Down Home Kitchen owner Mary Alice Proffitt says she hopes to launch dinner service soon. Expect Southern specialties that build on the restaurant's simple-but-baller opening menu of Dixie-style breakfasts, fried chicken and catfish, and stay tuned for updates.
Finally, before year's end we may start seeing fresh suds from White River Junction's River Roost Brewery, as Mark Babson has fired up the kettle for his first official ferments. Babson learned the ropes at Magic Hat Brewing under Matt Cohen (now of Fiddlehead Brewing), working his way up from keg cleaning to brewing before he shipped off to oversee production at Woodstock Inn Station & Brewery in North Woodstock, N.H.