The same thing happens at Seven Days every year: When the brochures from arts presenters begin to arrive, we feel (a) bummed that summer is coming to an end; and (b) excited to find out what's coming to local stages. Time has a way of hurrying along, and so this week the Earth's rotation gives you autumn; we give you our annual performing arts preview.
The arts staff has pored over brochures and websites and chosen to highlight a dozen-ish shows that represent nearly every type of performing art, as well as most presenting organizations in the area. In addition, we give you our own version of Pandora: a selection of "if you like this, try these" performances (though some are so unusual that nothing else compares). We hope these lists will help fans of classical, Americana, dance, world music, comedy, multimedia works, etc., plan their time and budgets for the coming season.
Those of you who are on the fence, or prefer the convenient entertainment of Netflix in your living room, might ask: Why bother with live performance, anyway?
"It's a really strong human need to gather together in a group and hear something performed live and, to a degree, spontaneously," offers Lane Series executive director Natalie Neuert. "Ultimately, no matter how much a performance is planned, something unplanned always happens and that, to me, is the really magical part."
Neuert is so passionate about onstage "magic" that she's teaching a class about it at the University of Vermont. Titled "From Aeschylus to Lady Gaga: The Aesthetics of Live Performance," the course is designed to help students "understand the historical context of human performance," she says, noting that it has been, and remains, a part of every single culture. "When you're watching Lady Gaga," she adds, "you're watching a connection to Greek drama. It's the interpretation of our world."
Flynn Center artistic director Steve MacQueen agrees. "There's something between artists and audiences that simply can't be replicated," he says. He gives his own example: When he was a young "new-wave guy," MacQueen says he went to see a Marvin Gaye show "on a whim." Given his job now, it's not hyperbole to say that show influenced not just his taste in music but his career path. "It totally changed my view of everything," MacQueen says. "There was a story, the outfits, the 12-piece band. I realized in about five minutes that I'd been totally tunnel-visioned. It was a life-changing moment."
Clearly, key to being a programming director is having one's eyes open to the wealth and variety of human performance. And MacQueen has delivered just that to the Flynn this year. "You got your funny nuns and you got your naked people in the basement," he quips, referring to the Broadway musical Sister Act on the MainStage and the 18-plus "very provocative" cabaret, The Freak and the Showgirl, in the FlynnSpace.
But if you think it doesn't get more diverse than that, take a gander at all those season schedules. And don't let us catch you saying there's nothing to do around here.
From the Flynn to Dartmouth's Hopkins Center, from the state's historic opera houses to college concert halls, there is so much more live performance than we can represent at once (and please note, local theater will be addressed in coming issues). So keep an eye on the Seven Days arts pages and calendar every week, and choose your own life-changing moments.
Pamela Polston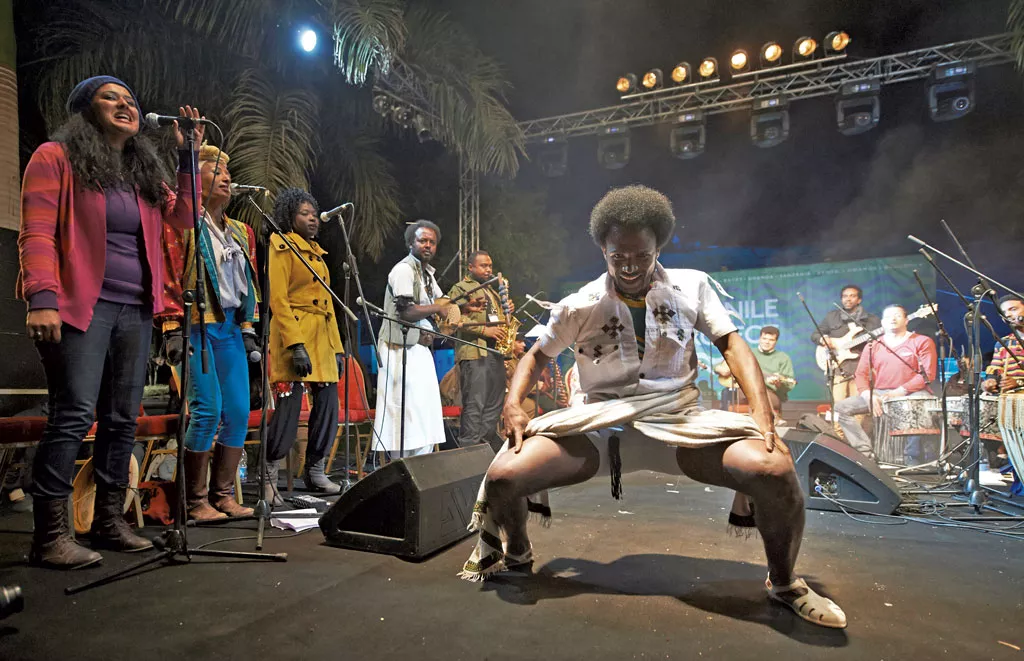 Courtesy of Matjaz Kacicnik
The Nile is the world's longest river, sustaining more than 437 million people in 11 countries. For much of history, inhabitants of the Nile Basin, who are among the world's poorest, have had few avenues to connect or communicate with each other. Too often, the north-flowing river has been a source of conflict rather than communion among people of different nationalities, languages, religions and cultures.
In August 2011, Egyptian ethnomusicologist Mina Girgis and Ethiopian American singer Meklit Hadero were having a beer in Oakland, Calif., when they conceived the idea of bringing together musicians from the culturally diverse and Nile Basin. Together they launched the Nile Project, a pan-African musical ensemble (see here) whose goal is to "educate, inspire and empower citizens of the Nile" to protect the river ecosystem and keep it sustainable.
The 13 musicians from the Nile Project who will tour the U.S. from January through May 2015 — making stops in Burlington, Middlebury and Hanover, N.H. — have a unique collaborative process. They don't just speak different languages, which makes verbal communication laborious and time-consuming. They also use different instruments, rhythms, tunings and even tonal systems.
Despite such obstacles, they weave together compositions that are aesthetically complex and emotionally evocative. National Public Radio described the Nile Project's 2013 debut recording, Aswan, as a "must-hear international album."
"To me, the most surprising aspect of the Nile Project is how the river narrative can inspire musicians, leaders and university students to collaborate," says Girgis in an email. "The citizens of the 11 Nile countries know little about each other and are excited for any opportunity to explore their connections. Yet these opportunities are rare."
Nearly every stop on the U.S. tour will be accompanied by workshops and symposia involving Nile Project musicians, complemented by faculty and student involvement on each college campus they visit.
"Music is a language," says Ethiopian sax player Jorga Mesfin, "and in the Nile Project, the conversation is about love."
Ken Picard
Saturday, March 28, 8 p.m., Flynn MainStage, $15-36; Thursday, April 2, 8 p.m., McCullough Social Space, Middlebury College, $6-25; Friday, April 17, 8 p.m., Spaulding Auditorium, Hopkins Center, $17­-40.
If you like this, try these:
Howard Fishman, "The Basement Tapes Project"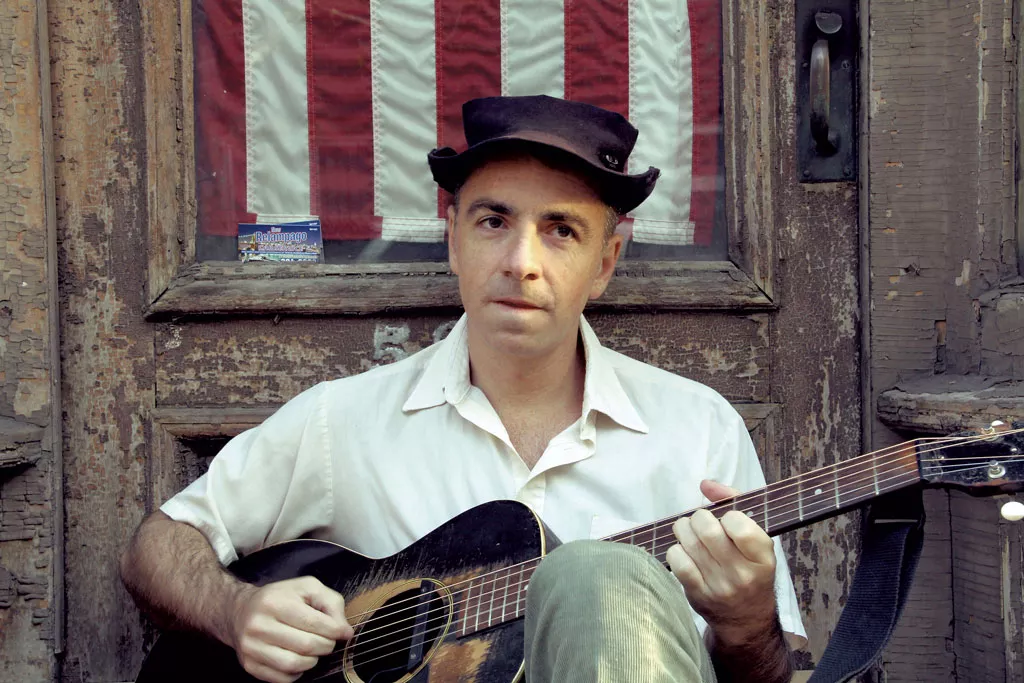 Courtesy of Flynn Center for Performing Arts
Guitarist and composer Howard Fishman lives in Brooklyn, but he's long been inspired by the music of the South — gospel, blues, country, New Orleans jazz. His career even commenced by busking on the streets of the Crescent City — and then in the subways of New York City. It's hard to imagine him now playing for spare change; Fishman and his eponymous quartet have become something akin to the house band of the Big Apple.
Their unprecedented nine-month residency at the Algonquin Oak Room in 1999 was followed by a tour to Paris, France, and then by regular stints back home, at downtown hotspots such as Joe's Pub and hipster haunts in Brooklyn including Galapagos. The Howard Fishman Quartet's second album, I Like You a Lot, landed on many a year-end top-10 list in 2001.
Since then, Fishman and a revolving cast of bandmates have released several more albums in different guises: His funky, New Orleans-style Big Fish Brass band pays homage to Louisiana musical greats, while the quartet put out an album of Hoagy Carmichael music. Fishman also created an original theater work featuring music, text and dialogue and titled we are destroyed, based on a dark chapter in American pioneering history. And he has composed an original score for the Buster Keaton silent film The Frozen North, among other works. The New York Times has written that Fishman's music — his own or his covers — "transcends time and idiom."
One of his forays into quintessential American music, "The Basement Tapes Project," had its debut at Joe's Pub in 2006: Over three nights, he and his quartet performed the 70-some songs recorded by Bob Dylan and the Band. Both a CD and a DVD were released the following year containing excerpts from these shows.
The 1967 recordings are shrouded in mystery, particularly as some of the songs from those sessions were never released. "Fishman's performance is more than a tribute," says the Flynn of his show. "It's a trip back through 'old, weird America' to get to the very source of Dylan's material." Whether the songs are melancholic or bright, critics generally agree with the New Yorker's assessment that Fishman's interpretations are "haunting and affecting."
Pamela Polston
Friday, November 7, 8 p.m., FlynnSpace, $25.
If you like this, try these:
Anyone who enjoyed making dioramas or playing with dollhouses as a child will be fascinated by the works of Dutch theater ensemble Hotel Modern. The group, founded in 1997 by actors Arlène Hoornweg and Pauline Kalker, and later joined by performer Herman Helle and sound composers Arthur Sauer and Ruud van der Pluijm, uses miniatures to tell animated stories before a live audience (see here).
Hotel Modern's productions, which blend puppetry, music, film and performance, are sometimes light and whimsical. Shrimp Tales is an absurdist portrayal of humanity as seen through the eyes of 350 actual dried shrimp, which play the roles of humans going to church, performing surgery and landing on the moon. Other productions are bleaker — notably, Kamp, a portrayal of the horrors of Auschwitz told using 3,000 three-inch-tall figurines.
In a similar vein, The Great War captures the nightmares of trench warfare in World War I — it's one of several events "looking at the anniversary of American involvement" this year at the Hopkins Center, according to programming director Margaret Lawrence.
In it, audiences watch the performers/puppeteers as they rearrange scenery, move toy soldiers, operate miniature tanks, recreate grenade explosions with sparklers and spread mustard gas using dry ice, as video cameras project the images on a large screen. Sound-concept artist Sauer uses more than 50 instruments — including coconuts for horse hooves and marbles in tin cans for machine-gun fire — to create the "soundtrack."
The script is adapted from actual letters written by a French soldier to his mother, discovered several years ago in an antiquarian bookshop in Marseilles, France.
Though the performance unfolds entirely within the audiences' sight, the chasm between illusion and reality fades quickly, making more tangible the immensity of a war that claimed tens of millions of lives.
"It's never a nice experience to look at a real dead body," Kalker told CNN Asia recently. "We show puppets dying, and then you can look at it in a more deep way. You don't have to be afraid or shocked by it. You can just reflect on it."
Ken Picard
Tuesday and Wednesday, April 7 and 8, 7 p.m., Moore Theater, Hopkins Center, $17-35.
Sam Green, The Love Song of R. Buckminster Fuller, with Yo La Tengo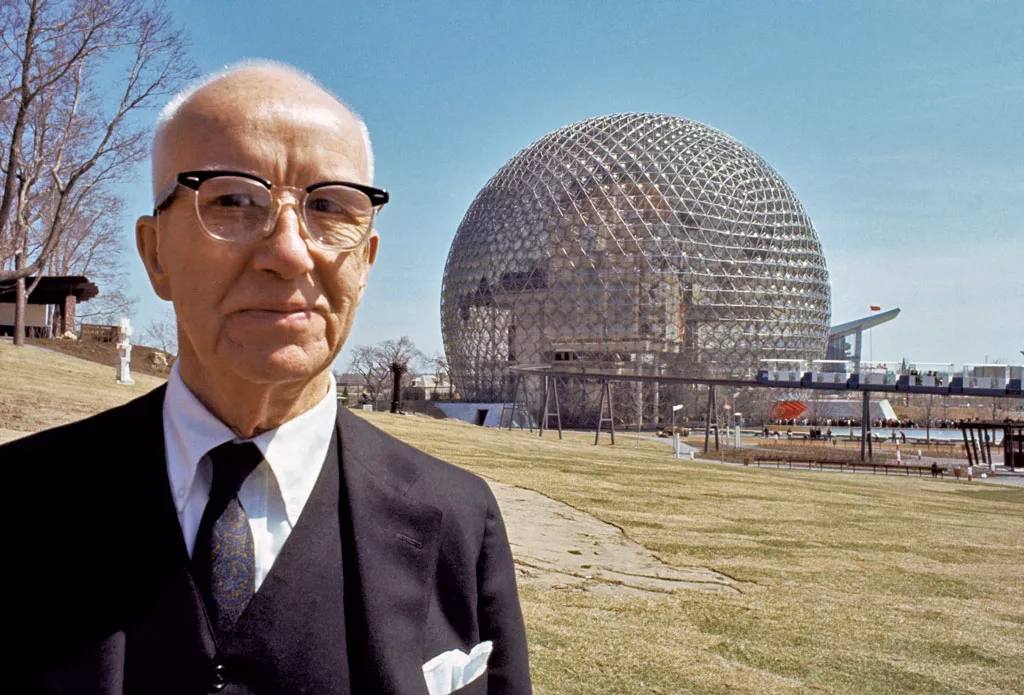 Courtesy of Jean-Pierre Dodel
Just when it has become possible to see movies anytime and anywhere, filmmaker Sam Green has devised a film-performance hybrid he calls the "live documentary." When Green comes to the Flynn with his latest film, The Love Song of R. Buckminster Fuller, he'll stand beside the screen narrating the documentary about the architect as it plays. Indie-rock band Yo La Tengo will share the stage, playing an original soundtrack written for the film (see here).
Part TED Talk, part throwback to the silent movies, the event is boundary blurring, says Lane Series director Natalie Neuert. (As is its provenance: The show is a collaboration of the Lane, the Flynn Center and the University of Vermont College of Engineering and Mathematical Sciences.) "I think it hits a lot of chords: large-scale visual events, music and storytelling," she says.
As such, it will appeal to all sorts of fans: of Yo La Tengo (Neuert calls them "legendary"); of "The Moth Radio Hour" storytelling format; of T.S. Eliot (the film title recalls the poet's "The Lovesong of J. Alfred Prufrock"); and of Buckminster Fuller. The forward-thinking architect-inventor patented the geodosic dome, an early example of which he erected on the Bennington College campus in 1945. He was also an early proponent of ecological building practices.
Still others will come to see Green himself. The filmmaker's work has been shown at the Whitney Biennial, the Barbican in London and many other major art venues; Love Song was commissioned by the San Francisco Museum of Modern Art. In Burlington, only the Flynn could host it, says Neuert: "It's a big, fat show — a lot of sound and a lot of tech."
Amy Lilly
Thursday, October 30, 7:30 p.m., at Flynn MainStage, $15-36.
If you like this, try these:
Fans of Gustav Mahler's dramatically sweeping orchestral symphonies will have a rare chance to hear the German composer's only extant chamber work in February at a Lane Series concert by the Fauré Quartett. The piece is only the first movement of an apparently incomplete piano quartet that Mahler composed at about age 16. But it already contains themes he would develop for the opening movement of Symphony No. 6.
And who better to play it than the German ensemble Fauré? Pianist Dirk Mommertz, violinist Erika Geldsetzer, violist Sascha Frömbling and cellist Konstantin Heidrich met playing Gabriel Fauré's compositions during the 150th anniversary of the French composer's birth (see here)— hence their name — but, as Lane Series director Natalie Neuert points out, "These are German people playing Mahler and Brahms." (Brahms and Fauré, two of the major composers in the piano-quartet genre, are also on the program.)
The Fauré is one of four instrumental ensembles on the Lane's schedule this year. Neuert, who has shifted the series' emphasis from primarily classical to world, folk and jazz music during her four years as director, says she brings in one young European ensemble each year. "Europeans have a very different sound," she explains, a result of their "strong conservatory tradition and deep commitment to the classical repertoire." The concert will highlight both.
Amy Lilly
Friday, February 20, 7:30 p.m., Lane Series at UVM Recital Hall, $25.
If you like this, try these:
Raphael Xavier, The Unofficial Guide to Audience Watching Performance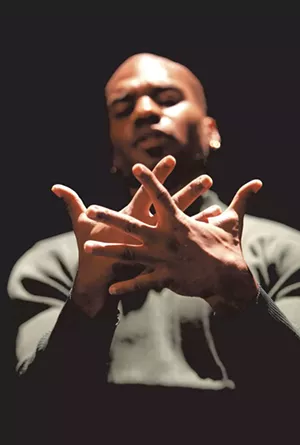 At 13, Raphael Xavier's world was rocked when he got his first glimpse of New York City break dancers while watching the hit TV show "Soul Train."
"That's what did it for me," says the award-winning hip-hop artist, musician and dancer/choreographer. "I was blown away by what they were doing."
Today, Xavier is blowing away audiences himself with raps, beats and bravado break moves (click here for video). He is credited with, among other things, resurrecting break dancing in Philadelphia. Also a member of the world-renowned hip-hop dance company Rennie Harris Puremovement, he visited Vermont several years ago with a hip-hop version of Romeo and Juliet, titled Rome & Jewel.
This time around, Xavier performs at Burlington's FlynnSpace in a show called The Unofficial Guide to Audience Watching Performance. The autobiographical piece traces his life from a teenager to present-day "hip-hop practitioner," deconstructing his songs, rap lyrics and the evolving dance form of breaking.
Though Xavier characterizes the show as a solo performance, it also includes two younger dancers who play 13- and 20-year-old versions of himself. Xavier narrates, raps and dances throughout, engaging the audience much the way a classroom teacher would on a field trip.
"It's like storytelling," he explains in a phone interview. "There's some unexpected things I ask of the audience. They don't know if they should respond or not, but they're always awake and alert, so that's how I keep them on their toes."
Indeed, the energized repeat performances will certainly keep Xavier on his toes. At 44, he says, he's strategically choreographed the hourlong show so he can remain onstage nearly the entire time.
"I know my limits," he admits, "but I've actually been pretty fortunate. I'm still pretty fast and powerful."
Ken Picard
Friday and Saturday, November 14 and 15, 8 p.m., FlynnSpace, $30.
Come spring, Vermonters will get their chance to test the worthiness of an ancient Hawaiian proverb: To be happy, one needs only a ukulele. To spread happiness, find more ukuleles.
OK, we made up that proverb, but come on: No instrument is more insanely enjoyable than the uke. Put a bunch of ukulele players in a concert hall and just try not to have a good time. When they visit the Flynn and the Hop in April, the 10-member Ukulele Orchestra of Great Britain will show why their instrument is both jollier and more complex than you might think (watch here).
Formed in 1985 "as a bit of fun," according to their website, the orchestra has evolved into a cherished national institution. It's attracted popular approval, critical acclaim and a host of top-tier collaborators including Brit bands Madness and the Kaiser Chiefs.
"The Ukes" are committed to a single artistic ideal: "that all genres of music are available for reinterpretation, as long as they are played on the ukulele." Expect an evening of everything from pop songs to Tchaikovsky to familiar film scores, performed solely with dime-store ukuleles, the human voice and "a bit of whistling."
It's hard to resist calling this talented and unusual group "plucky," so we won't.
Ethan de Seife
Tuesday, April 21, 7:30 p.m., Flynn MainStage, $15-40; and Wednesday, April 22, 7 p.m., Spaulding Auditorium, Hopkins Center, $17-50.
The work of Los Angeles multimedia artist Miwa Matreyek has something in common with live theater, animation and Balinese shadow puppetry. If you find that hard to imagine, you're not alone. Matreyek's one-of-a-kind performances must be seen to be believed.
She has developed an unusual artistic signature: In her live shows, which are set to live music, Matreyek stands behind a screen and projects her own silhouette atop her animations, which twist and twirl fantastically. But those shadows don't simply overlap with her animated creations; they interact in complex and unexpected ways. The effect is evocative of Penn & Teller's famous "Shadows" illusion. Matreyek's moving-image/performance collages have earned her awards, residencies and invitations from all over the world (watch ted talk here).
In This World Made Itself, her current live performance, Matreyek uses her signature technique to take on the biggest story of all: the creation of the universe. And hers may be the perfect art form in which to depict such a gigantic tale. Watching one of her performances, it's not hard to imagine you're seeing a new expressive medium being created right before your eyes.
Ethan de Seife
Courtesy of Diego El Cigala
If there were a Mount Rushmore of female jazz vocalists, it would surely include the faces of Ella Fitzgerald, Sarah Vaughan and Billie Holiday. But that leaves space for one more iconic lady songbird's visage to be carved in stone. The question is, who?
While many would justifiably argue for the likes of Nina Simone, Dinah Washington or Lena Horne, we'd hope a few more contemporary singers might be considered, too. And if they were, Cécile McLorin Salvant would top our list (watch her perform here).
While it's too early to suggest the 25-year-old Miami native is in league with icons such as Fitzgerald and Holiday, there's reason to believe she may one day get there. Salvant won the prestigious Thelonious Monk International Jazz Competition in 2010. Her most recent album, WomanChild, was nominated for 2014 Grammy Award for Best Jazz Vocal Album. But accolades only tell part of the story.
Blessed with a deeply expressive voice and phenomenal range, the multilingual Salvant sings with skill and grace beyond her years. Her elegance evokes the greats of the genre, but she also infuses her performances with a unique charisma that makes her one of the best vocal talents of this or any era.
As New York Times music critic Ben Ratliff puts it, "Her voice clamps into each song, performing careful variations on pitch, stretching words but generally not scatting; her face conveys meaning, representing sorrow or serenity like a silent-movie actor."
Dan Bolles
Wednesday, February 25, 7 p.m, at Spaulding Auditorium, Hopkins Center, $17-30.
If you like this, try these: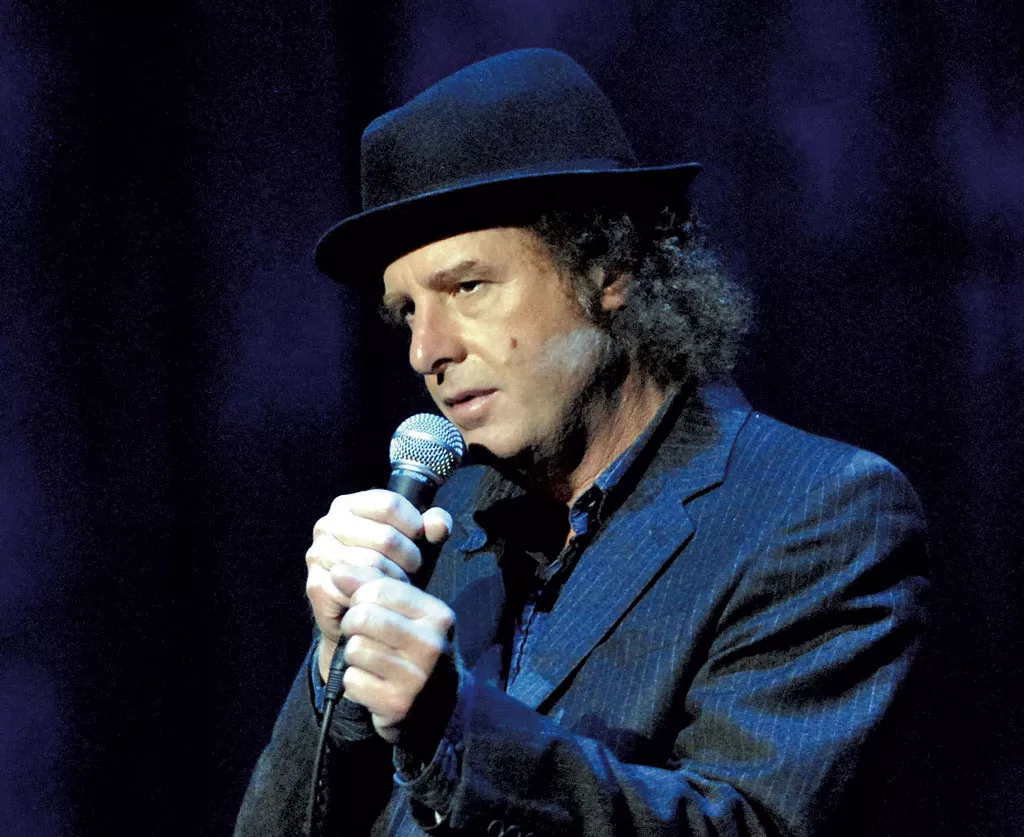 Describing the bizarre comedy of Steven Wright is next to impossible. The 58-year-old, Academy Award-winning standup comic from Burlington, Mass., has a deader-than-deadpan delivery; his arid, philosophical wit is simply incomparable. So we'll spare you the reasons why you should go see him and simply let some of Wright's brilliantly offbeat one-liners speak for themselves. Steve?
"You can't have everything. Where would you put it?"
"When I first read the dictionary, I thought it was a big, long poem about everything."
"I wish the first word I ever said was the word 'quote,' so right before I die I could say 'unquote.'"
"I have a paper cut from writing my suicide note. It's a start."
"I'm addicted to placebos. I could quit, but it wouldn't matter."
"I have a large seashell collection, which I keep scattered on beaches all over the world. Maybe you've seen it?"
"I have an existential map. It has 'You Are Here' written all over it."
"Everywhere is walking distance if you have the time."
"What's another word for thesaurus?"
"Curiosity killed the cat, but for a while I was a suspect."
Dan Bolles
Saturday, November 8, 8 p.m., Barre Opera House, $26-39.50.
If you like this, try these: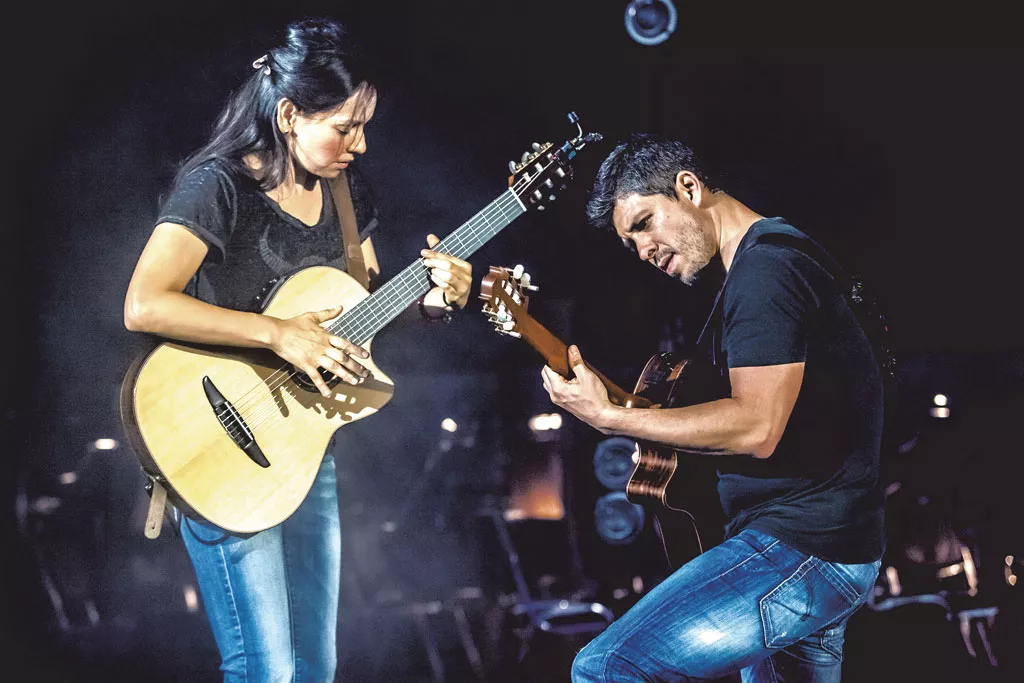 Courtesy of Joost Van den Broek
Rodrigo Sanchez and Gabriela Quintero met in the thrash-metal scene of their native Mexico City. Later, they were discovered busking as an acoustic duo on the streets of Dublin by Irish songwriter Damien Rice. Now, as Rodrigo y Gabriela, they are global superstars whose appeal crosses just about every dividing line you could think of.
The duo is adored by new-age fans who swoon to their lushly serene acoustic suites. But world-music fans love them, too, owing to their breadth of multicultural musical influences. And they are equally admired by metal heads, who get off on their fiery riffage and virtuosic technical precision (watch here).
Rodrigo y Gabriela's latest record, 9 Dead Alive, their first studio record in five years, is alternately calming and explosive. Like their 2009 album 11:11, the album is a tribute to those who have inspired the duo in some way. But unlike that earlier album, which honored the pair's musical heroes from Jimi Hendrix to Ástor Piazolla, the new record recognizes a broader spectrum of important figures. These include musicians, such as Spanish guitarist Antonio de Torres Jurado, but also American abolitionist Harriet Tubman, Russian novelist Fyodor Dostoyevsky and Austrian neurologist, psychiatrist and Holocaust survivor Viktor Frankl, among others.
As Rodrigo y Gabriela recently explained on Twitter, each track "is a personal celebration of individuals who have passed on, but through their deeds and words still resonate in the 21st century."
Dan Bolles
Monday, October 27, 7:30 p.m., Higher Ground at Flynn MainStage, $43-61.75.
Courtesy of Flynn Center for The Performing Arts
Internationally acclaimed Kuchipudi dancer Shantala Shivalingappa embodies numerous characters in mythologies that span centuries in Akasha, a show of five solo dances that comes to the Hopkins Center and the Flynn this winter. Critics and audiences around the world have lauded Shivalingappa for her technical precision and her evocative storytelling and emotional sensitivity. In a 2013 review, the New York Times called Akasha "remarkable" and Shivalingappa herself "exquisite."
In the evening-length performance, Shivalingappa's limbs move lithely to complex, rhythmic music by a four-piece live band, as her face changes expressions (click here for video).
Born in India and raised in Paris, Shivalingappa grew up with both classical Indian and contemporary Western dance influences. Her mother, Savitry Nair, was a traditional Bharata Natyam dancer and friend of famed German choreographer Pina Bausch. As a young woman, Shivalingappa became enamored of Kuchipudi — a millennia-old Indian dance form — yet part of her appeal is her modern sensibility. "[My master] believed in letting the classical style be influenced by beautiful things," she told Dance Magazine in an interview last year. "And my approach is also very much marked by the artistic journeys I've had the chance to experience, with Pina Bausch and living in the West and being exposed to a lot of different influences."
Xian Chiang-Waren
Wednesday and Thursday, January 7 AND 8, 7 p.m., Moore Theater, Hopkins Center, $17-40; and February 21, 8 p.m., Flynn MainStage, $15-40.
If you like this, also try: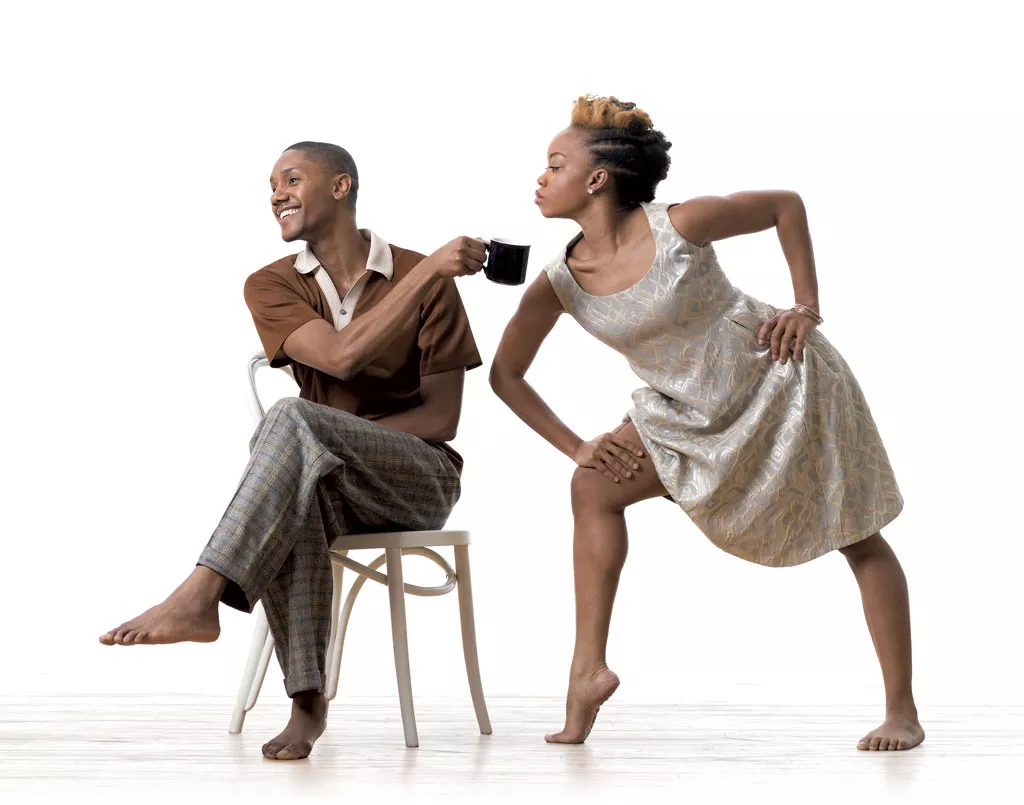 "I feel like I just had some orange juice, some Sprite, and ... some milk," said the discussion moderator after a 2012 performance of Camille A. Brown & Dancers' Mr. TOL E. RAncE in Portland, Ore.
Sound uncomfortable? Maybe. But if Brown's critically acclaimed performance doesn't sit well with some audiences, there's a good reason for it: Mr. TOL E. RAncE is her reaction to the history of black humor and performance in popular culture. It's an assiduously researched and tightly choreographed show that Brown, 35, writes was "born from a personal feeling of restriction" as she rose through the ranks of New York City's contemporary dance world.
Mr. TOL E. RAncE, along with Brown's newest work, Black Girl, will be performed at the Flynn and Middlebury College this winter. During the 50-minute show — in which dance is accompanied by multimedia elements such as animation, live music and comedic interludes — Brown and her dancers embody gestures and affectations from minstrel performers in blackface to the contemporary caricatures of African Americans in film, television and music. Brown knows it might push some buttons — hence the "mandatory" discussions with the dancers following their performances.
While Brown's work is provocative and personal, it's also simply good dancing. She's twice won the prestigious Princess Grace Award for choreography; and world-renowned companies, including Alvin Ailey American Dance Theater and Hubbard Street 2, among many others, have commissioned her work. In 2012, Brown choreographed an African American version of A Streetcar Named Desire on Broadway.
Brown is a captivating, energetic and technically accomplished performer. In the words of a Boston Globe writer, "Watching Camille A. Brown dance in person for the first time is like observing a hummingbird in nature for the first time."
Xian Chiang-Waren
Saturday, January 17, 8 p.m., Flynn MainStage, $15-36; Tuesday and Wednesday, March 17 and 18, 7:30 p.m., Mahaney Center for the Arts Dance Theatre, $20.
If you like this, also try: