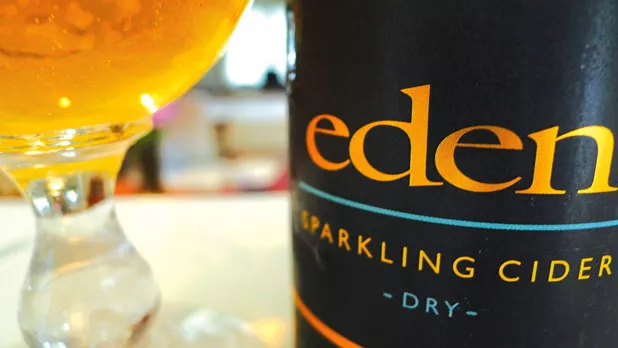 I spend as much time thinking about and trying liquids as I do solids, and Vermont always has a flood of superlative drinks to choose from. Here are some of the highlights of the past year.
Best Cocktail
I came to Burlington's Sotto Enoteca in search of an amazing glass of wine. Instead, I got lost in this wine bar's beguiling cocktail list. Intrigued by the miniature barrel behind the bar, I ordered the barrel-aged Negroni. The barkeep broke one perfect, oversize ice cube into a shiny brass mule cup and then filled it with bittersweet Negroni. I sipped it slowly over the next 45 minutes, tripping out on its smooth, bittersweet flavors.
Best Beer
Married partners Erin Donovan and Matt Baumgart tuned in to Belgian-style beers during a two-year stint in that country. Once they returned stateside, the couple began trying to pin down the styles they'd enjoyed abroad. In Vermont, they gathered wort from area breweries and fermented it in oak barrels, using a blend of wild and domesticated yeasts, before putting the ale through a secondary bottle fermentation.
And so Backacre Beermakers was born. The sour golden ale that emerges from the Weston barn of Erin's dad, John Donovan, tastes less like beer than like a hybrid of beer, cider and wine. When I popped open a large bottle of blend No. 1, it frothed like a living thing, tart and dry and rich and round all at once, with apple, apricot and maybe even wet-wool flavors. Though the ale was first released late last year, it only became widely available in 2013. Each new batch released (right now, blend No. 2 is out) offers a new tasting adventure.
Best Cider
Eleanor and Albert Leger of Eden Ice Cider Company have long made exquisite ice ciders from a mélange of apples they source in the Northeast Kingdom. This year, they moved their production and tasting room to a much larger space inside the Northeast Kingdom Tasting Center in Newport. There the Legers released Eden Sparkling Cider, an exquisite dry, effervescent cider aged in oak barrels that tastes kind of like Champagne kissed by apples. It's sold out for now, but more should be on the shelves by next year.
Best Wine
There's this rare, beautiful thing called orange wine, usually made from white grapes that have been left to macerate with their skins. Not many producers make it — especially in the U.S. But Vermont is home to a wine iconoclast and visionary who has not only been growing grapes and making wine in this cold climate, but making an orange wine to boot, using the La Crescent grape. I had only a taste of Deirdre Heekin's 2011 La Garagista Vinu Jancu during a wine dinner at Burlington's Pistou this past fall. But its unusual combination of succulence and grippiness is hard to forget.
Best Spirit/Liqueur
I blame Black Snake Whiskey, the slightly sweet but crisp, corn-based whiskey that Quechee's Vermont Spirits released earlier this year, for getting me hooked on moonshine. This stuff is made from organic corn sourced at Jack Lazor's Butterworks Farm in Westfield, and produced inside a gleaming copper still. White whiskey sours? Yes, please.
It may be overkill to mention the same people twice, but Eleanor Leger (of Eden Ice Cider) and Deirdre Heekin (of La Garagista) are two über-talented women who have collaborated once again to create Orleans Bitter, a companion to their Orleans Herbal. This apple-based aperitif can sort of be compared to Campari — it has the same jewel-like color and a similar bitter kick, and it can be used similarly. But Orleans is drier and more herbaceous. I've gone through three bottles this year and happily just received another as a Christmas gift. Come December 24, I'll be turning my family on to Orleans spritzes.