Thanks to Seven Days readers and pet lovers for their entries into this year's photo competition. While all the critters are winners, as their humans would agree, only one picture in each category can be. These are the result of online voting via Survey Monkey — 4433 votes from 736 people. Voters were allowed to check as many pets in each category as they wished and, clearly, many found it impossible to choose just one.
» Click here for a slideshow of all this year's photo submissions...
Before we get to the winners, though, here are a few noteworthy facts about the contest:
We had more than 220 entries for "Paws for the Camera" alone, so we decided to create three sub-categories: Cats, Dogs and Best Dressed.
In the dogs group of "Paws for the Camera," we had 10 finalists, and two of them were named Ollie (a Boston terrier and a Jack Russell terrier); one was Oliver (a dachshund); and two were Oscar (a pug and a chocolate Lab)! What's with the "O" names? We have no idea, but at least there weren't any Oprahs.
The photos submitted inspired us to add two new categories to next year's contest: "Sleeping Beauty" for pets in slumber; and "Oh, Pretty Baby" for puppies, kittens and other adorable infants.
Goma, the cat from Sachie Tani's www.mycatgoma.com, was a finalist in the video category and the cat portrait category (as a kitten in a rice cooker). Tani and her playful, much-recorded feline were the subjects of both a "Stuck in Vermont" video (#55) by Eva Sollberger, in November 2007, and a Seven Days article in December 2008, about Goma's stardom on YouTube. Obviously, Tani has not grown tired of documenting her fuzzy, blue-eyed Himalayan, and if you watch his video, you'll see why.
And now, to the Best of the Beasts 2010...
"Paws for the Camera" Dog Portraits
Winner: Strummer (244 votes) Submitted by Jill Viggiani of Huntington
"Our Boxer Strummer (age 2) enjoying some downtime from a day hike at a shelter along the Long Trail."
Runner-up: Oscar/chocolate Lab (222 votes) Submitted by Amy Heinz of Burlington
"Paws for the Camera" Cat Portraits
Winner: Goma (196 votes) Submitted by Sachie Tani of Burlington
"I think my rice cooker is broken. It cooked a kitten!!!!"
Runner-up: Ruby (174 votes) Submitted by Delia Gillen of Plainfield
"Paws for the Camera" Best Dressed
Winner: Jojo and Abbey (248 votes) Submitted by Katherine Taylor-McBroom of Essex Junction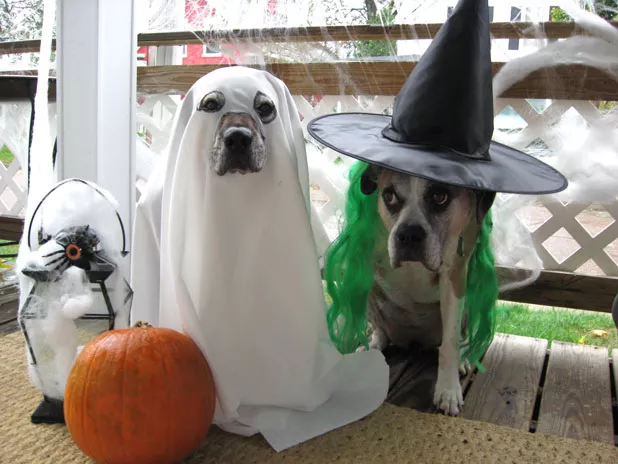 "Jojo (10 years old) and Abbey (9 years old) dressed up in their Halloween costumes."
Runner-up: Douglas (158 votes) Submitted by Kristen Rajewski of South Burlington
The Fat Cats
Winner: Andy and Mr. Chubbers (193 votes) Submitted by Julie Wiener of Colchester
"Sisters with cats. These two separate photos of my sister and I were taken three months apart at different locations by different people with no idea of their similarities. It's kind of like one of those 'Find the Difference' pictures. To the left, we have Julie holding the massive 4-year-old ragdoll cat, Andy. To the right, we have Jamie holding the monstrous Mickey, aka Mister Chubbers, a 6-year-old Maine coon cat."
Close runner-up: Elihu (191 votes) Submitted by Natalie Miller of Burlington
Off the Chain (Sporty Pets)
Winner: Stuart (300 votes - Grand Prize Winner) Submitted by Sarah Davitt of Jeffersonville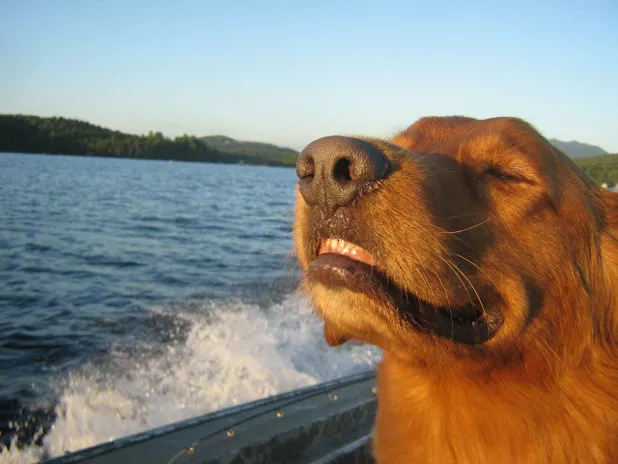 "Stuart, golden retriever, 5 years old, on our annual family camping trip in Saranac Lake. Stu just loves the boat and the wind through his hair. He jumps right in and is ready for any water adventure."
Runner-up: Truckie (211 votes) Submitted by Brooke Kaltsas of Stowe
Lady and the Tramp (Pet Lovers/Best Pals)
Winner: Jake, Rover and Jax (263 votes) Submitted by Adam Pray of Burlington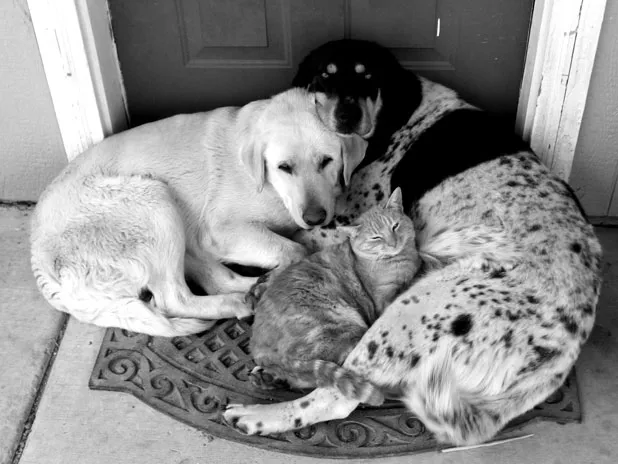 "Jake, Rover and Jax, two dogs and a cat, various ages. These are my dentist's pets and I caught them snoozing in the sun last time I was by."
Runner-up: Luna and Apollo (219 votes) Submitted by Britton Keeshan of Burlington
Wild Card
Winner: Lilac (225 votes) Submitted by Brooke Kaltsas of Stowe
"Lilac (alpine goat, age 1), trying to see what's going on over the fence at Stepping Stone Farm in Moscow, Vt."
Runner-up: Squirrel (189 votes) Submitted by Karen J. Lloyd of Winooski
Pet Videos
Winner: Nose for the Hose (206 votes) Submitted by David Orgain of Hinesburg
Runner-up: Sliding Cat Goma (152 votes) Submitted by Sachie Tani of Burlington