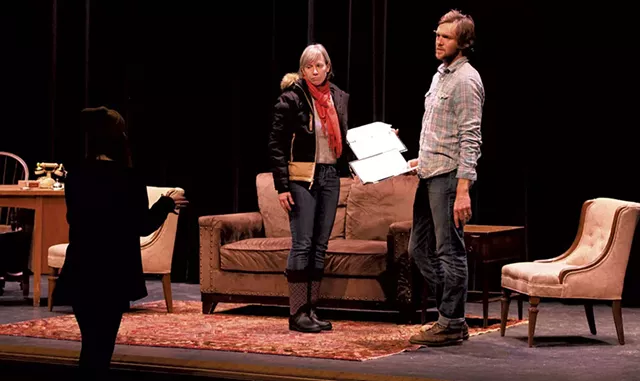 Courtesy Of Vermont Pride Theater
The Drag in rehearsal
When it debuted in Connecticut in January 1927, Mae West's play The Drag lasted all of 10 performances before it was banned. The play's subtitle, A Homosexual Comedy in Three Acts, explains why the prudish powers of the day deemed it too titillating for public eyes.
But here's the thing: That was probably only the second most controversial thing that West endured in the early part of 1927. In February, she and the cast of her Broadway hit Sex were arrested on indecency charges. West was fined $500 and sentenced to 10 days in jail.
Those twin acts of moral turpitude helped set the course of West's career, not only as an entertainer and sex symbol but as an enduring champion of sex positivity long before that term entered the lexicon. On Saturday, January 25, local audiences will get a taste of just how ahead of her time West was when the Vermont Pride Theater presents a staged reading of The Drag at the Chandler Center for the Arts in Randolph.
The play, which West wrote under the pen name Jane Mast, orbits Rolly Kingsbury, a closeted New York City socialite whose father is a homophobic judge and whose father-in-law, Dr. James Richmond, is a psychotherapist specializing in gay conversion therapy. Over the course of three acts, a tangle of increasingly thorny love triangles is revealed, most stemming from Kingsbury's sham marriage to Dr. Richmond's daughter, Clair.
"And then it all turns into a murder mystery," said Tess Holbrook, who directs the reading.
Courtesy Photo
Tess Holbrook
"The Drag is about exploring one's own sexuality," she continued. "It resonates today for the same reason it was banned in the 1920s: It was a celebration of these gay characters' sexuality." Holbrook added, "It's fun; it's a comedy. It's colorful and loud and unapologetic."
Holbrook believes that celebratory aspect of the play still appeals to audiences more than 90 years later because it's a welcome counterpoint to how modern films such as Brokeback Mountain and Carol have told the stories of gay characters.
"Those are tragedies," she said. "The LGBTQ community hasn't really had a lot of just fun stories with characters that reflect them."
The Drag is most certainly a fun story — the climactic act is set at a lavish drag ball, for starters. But it's also an important work, and one in which West addressed issues — not only sexuality but the corrupting power of wealth — that few other playwrights at the time would approach.
"In the end, the show shines light (in a black Vaudevillian comedic way) on sexual identities, how they evolve due to societal pressures and that wealth can hide corruption," actor Mark Rosalbo wrote in an email. Rosalbo plays Judge Kingsbury, a character he says represents "the predominant 1920s view of homosexuality ... that it was as pernicious as cancer.
"My character, Judge Kingsbury, at least outwardly, concludes, much like all of society at the time, that if left unchecked, those with 'inverted sexual desires' would destroy the strong moral foundations of any society," Rosalbo continued.
Courtesy Photo
Mae West
West, of course, disagreed that homosexuality would destroy the fabric of civilization. But she didn't necessarily hold a grudge against those who tried to silence her for expressing that viewpoint in her work.
"I believe in censorship," she once famously said. "I made a fortune out of it."
Other characters in the 13-member cast represent views aligning more with West's philosophy of acceptance and understanding. The director conceded that certain elements of The Drag don't hold up to evolved modern views on sexuality and gender. But she said much of the play was well ahead of its time.
Specifically, Holbrook cited a scene in which a straight character, Allen Greyson, chastises Rolly Kingsbury for hiding his sexuality behind his wife. It's not Kingsbury's sexuality that's despicable, argues Greyson — who, by the way, is in love with Clair — but the act of using someone else to hide who he really is.
"That's something that we're only now discovering," Holbrook said. "That you shouldn't hide behind someone, because you're hurting them."
As for those more progressive present-day attitudes toward sexuality, she believes West would approve.
"I think one of her main things was accepting one's sexuality, embracing it and being more open about sex in general," Holbrook said. "I see that in the dialogue in this play."