The Vermont Association of Hospitals and Health Systems
is composed of all of the state's nonprofit hospitals. Our role is to support these hospitals in their efforts to preserve access to care in our rural state and deliver the very best care every day. That mission is even more important as we continue to respond to the global COVID-19 pandemic. With cases in Vermont on the rise, Gov. Phil Scott has ordered that we celebrate only with members of our own households this year. But that doesn't mean we can't make the 2020 holiday season special and fun. It just takes a little more creativity!
Here are some ways to connect safely with friends and family without being in person:
---
If you miss the fun of cooking for others, drop a favorite
holiday potluck dish
to a friend or family member's front porch. (Let them know it's there, of course!)
---
Bake your family's
favorite cookies
and pop them in the mail. Or hold a virtual/drive-by cookie swap. A few friends can each make a batch or two of goodies (maybe Zoom while you're baking). Then mail or deliver cookies to the others.
---
Dress up for your Zoom.
If your family likes to don your finest during the holidays, put on the glam. If you're happier in jammies, by all means Zoom in them, especially if they're silly matching pajamas!
---
Rediscover the mail.
Surprise someone you love with little gifts throughout the holidays — maybe without confessing who you are until after they receive them all.
---
Do your usual
gift exchange
via the mail. And if you usually make it a rollicking Yankee swap, do it online! It will be just as funny.
---

Send another household the
"12 Days of Christmas."
Be creative. Pears can stand in for the partridge; five golden bagels will be just as welcome as rings.
---
Plan a remote — yet special —
story time
. Have a grandparent, aunt or uncle read a holiday story to the children in your family.
---

Light your Hanukkah candles
using a virtual platform. Rotate which household says the blessing each night, then end with a dreidel tournament. You can use an online tool or just keep track of who has what gelt. (Face it, you usually split it among all the kiddos at the end of the game anyway.)
---
Watch the ball drop
on New Year's Eve on your TV with Zoom to loop others in, then raise a toast together.
---
Do you usually travel during the holidays? Enjoy yourselves as if you were in the other place. Crank up the heat or make a fire and
have a
beach night
, for example. Fruity drinks, beach chairs and beachy music can cheer you up even when it's definitely Vermont outside!
---
Embrace the fact that your
holiday dinner
is small. Enjoy dishes that don't work as well for a larger crowd — something intimate like fondue, extravagant like crab or too-challenging-for-company international cuisine.
---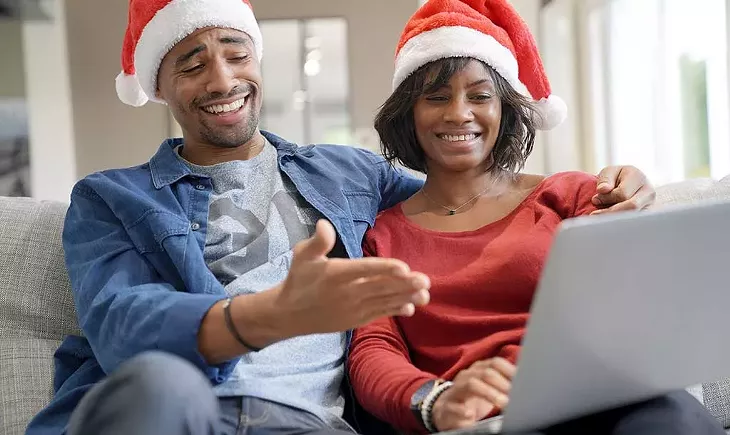 Surprise family with a festive Zoom background or do a
family photo booth
, where each household is tasked with finding fun holiday props. Then screen-grab away!
---
Look to those with expertise. Global companies have been sharing
virtual holiday parties
with employees for years. Google up some of their great ideas—there are even team building companies that can help you do cyber-parties.
---
So many December holidays involve light.
Take a drive and check out the
neighbors' lights
. Join the "Vermont Lights the Way" effort. Or challenge your family and friends to light up the area where they'll chat online with you.
---
Loop in people you normally don't see during a typical holiday. This may be the year to
reconnect with family
across the country or around the world.
---
Give back in a new way,
maybe to your local food pantry or fire department. Drop a meal for an elderly or homebound neighbor. No gift is too small.
---
Whatever way you find to keep up the cheer during the 2020 holiday season, be sure to be safe. If you must travel (which is not advised), quarantining is required when you return to keep your neighbors safe. And if you host people from other states (again, not consistent with the governor's order), know guidelines for their quarantine in advance. To learn more about how we can all stick together and get through this safely, visit
vahhs.org/safe-holidays
.
Be well. Be safe. But, by all means, connect with those you love!