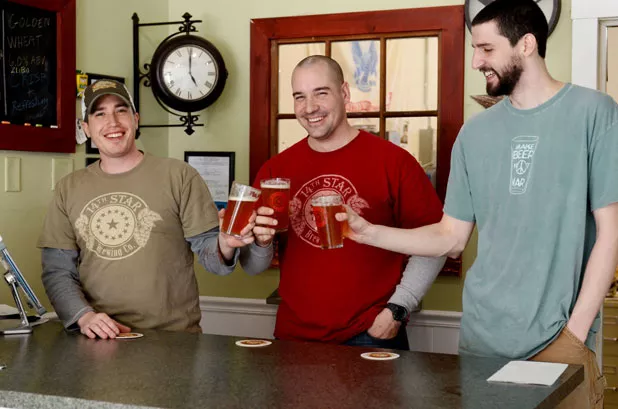 Matt Kehaya, Steve Gagner and Dan Sartwell
Steve Gagner pulls a tap jutting from the wall of his tasting room at 14th Star Brewing, and golden beer fills a tulip-shaped glass. "I came up with this one night while sitting on the couch watching '[The] Big Bang Theory,'" Gagner says earnestly.
His vision was an ale with grapefruit, orange and lemon flavors, "a citrusy beer that wasn't dank. It had to be refreshing," Gagner continues. That same night, he drove to the supermarket and picked up 20 pounds of citrus fruit, which he zested at home. The next day, Gagner combined that oven-dried zest, Columbus hops and a handful of coriander seed into a brew that matched the one of his imagination: a tangy pale ale with a hoppy backbone and faint hint of sweetness. "That first batch was pretty close," Gagner says. With minor tweaks, it became 1493, one of the signature brews at 14th Star Brewing, St. Albans' only craft brew house.
Not quite a year old, 14th Star has already seen such wild success that it's spilling out of its cozy space, even though Gagner sells most of his beer to just a handful of local restaurants. "We never expected to grow this fast. We've already reached our fourth-year sales projections," says Gagner, a muscular Army vet with a shaved head and tattoos of maple leaves and the Stars and Stripes on his arms. He's on the hunt for a new location.
Unlike 1493, 14th Star did not come about in a flash. This nanobrewery has been a long time in gestation, ever since Gagner began home brewing eight years ago. The idea for the business took shape over a long year he spent in the desert of Afghanistan, and it finally took root last fall in St. Albans — Gagner's home turf.
Gagner, 34, enlisted in the Army when he was 17. His father, Gaston, served for 36 years as a recruiter and eventually a retention officer, so it seemed like a natural route, he recalls. About six years into his tenure, the younger Gagner was sent on his first tour — to Iraq.
When he returned in December 2005, Gagner was a new dad; his wife, Nicole, had given birth to their first child. The Army gave him an assignment in Rutland, a long drive from his home in Swanton, so he rented an apartment to save on gas. There, to kill the time away from his family, Gagner started making soap and cheese — and brewing beer. "I was bored. And I like making things that people like," he says.
Like many creative people, Gagner taught himself the craft via imitation. His first home-brewed beer was a Magic Hat Brewing Company #9 clone. "It tasted like peaches and dish soap. I had no idea what I was doing," he says.
Gagner kept at it, brewing almost every night he was away from home and giving away most of what he made. Gradually, the beers improved. The first brew he perfected, he recalls, was a malty, spicy ale that eventually became Victory Harvest Brown Ale, one of 14th Star's staples. "It was the first beer [where] I really dialed in as a home brewer," he says.
He also worked on the brew that eventually became the hoppy Valor. "It started about six years ago as a Switchback clone," Gagner says, but he couldn't get it exactly right because he didn't know the specifics of Switchback's key ingredient: its yeast. Still, the beer "took on a life of its own."
When Gagner and his troop were sent to Afghanistan's Andar district in 2010, he and an Army buddy, Matt Kehaya, had a lot of time on their hands to think about starting a business — an entire year. "We were in the middle of nowhere. It was completely spartan, but we loved it," Gagner says.
He won't say much about his time in Afghanistan — there were attacks — but he speaks freely about his remote research into the Vermont beer market, which involved digging up statistics such as Franklin County's status as the third-largest consumer of beer in the state. "We made a business plan [based] on a lot of assumptions," Gagner says, referring to his gut sense that a craft brewery would be well received on his home turf, and maybe offer him sustenance after his eventual retirement from the Army.
He chose the name 14th Star to mark Vermont's entry into the Union as the 14th state in 1791. Because Kentucky joined the Union a little over a year later, American flags with 14 stars are rare. The configuration eventually became 14th Star's logo.
When Gagner returned to the States, he rented one side of a building on St. Albans' Lower Newton Street that also houses a transmission shop. With a brewing space not much larger than a garage and little to no budget, Gagner and Kehaya — who helped him set up shop and still assists in the tasting room — relied on ingenuity, welding and carpentry skills, and donated equipment to make the plan work.
Gagner calls 14th Star's brew house "the MacGyver of Vermont brewing." Most of the equipment in the room is recycled, donated or repurposed. The brewers grind their malted grains on a knee-high mill atop a makeshift frame that Gagner built. To its left are the unconventional heating, mashing and brewing tanks, which are actually open-topped maple-sap collection vats donated by Gagner's father. "Matt did the welding, and I did the cladding," Gagner says, referring to the vertical wooden slats that edge each piece. "There's no other brew house like it. We're pretty proud of it."
Inside the tiny fermenting room are a few cherry-red English-style fermenters that look like flying saucers — on loan from Paul Sayler of Burlington's Zero Gravity Craft Brewery. "I can't imagine another industry being like this," marvels Gagner, who has been bowled over by the generosity of fellow brewers.
To wit: Gagner received his brewing license only a month before last year's Vermont Brewers Festival. "I thought, No way are we going to be able to brew enough beer," he recalls. But Sayler loaned Gagner conditioning tanks to expand his capacity, and Magic Hat donated a few kegs. That July weekend, Gagner poured his golden pale ale for thousands of people at the festival — his commercial debut.
Ten months on, 14th Star brews 440 gallons of beer twice a month, but that isn't enough to sate its fans; Gagner never has beer on hand for more than 10 days at a time. In March, he hired his first full-time employee, brewer Dan Sartwell, who had put in time at the Shed, Rock Art and Trapp Family Lodge breweries.
When 14th Star's sunny tasting room is open, on Thursdays, Fridays and Sundays, it's mobbed with visitors getting their growlers filled — 120 to 150 a week, Gagner reckons — or tasting samples from one of the four taps.
On a recent visit, those taps are hooked up to kegs of 1493, Valor — a coppery, nutty ale with powerful hoppiness — and Victory Harvest Brown Ale, a malty beer with caramel undertones. On other days, there might be an IPA made with local honey, or a porter brewed with local maple sap.
Gagner attributes 14th Star's success to the flocks of locals and friends who show up at his tasting room — and to the fact that it's St. Albans' first, and only, brewery. "People have long underestimated the craft-beer scene up here. There's a lot of educated people, but not a huge beer presence," Gagner says. Still, he admits, "Sometimes we need to pull people out of their comfort zone" — from Bud Light, for instance, to one of his eight signature brews.
At Mimmo's Pizzeria Restaurant in St. Albans, 14th Star beers consistently flow from two of the six taps; they're the second- and third-highest sellers behind Switchback Brewing Company ale, according to server Crystal Lafferty. "Mimmo [owner Domenico Spano] went down and asked for this himself," she says. "The demand is high. We get people in here all of the time that ask for local beer."
With this promising start, Gagner ponders the legacy he'll leave to his kids. He sees 14th Star as "something I can build and grow and pass on." Last month, he was asked to become a member of the board of the Vermont Brewers Association.
The future is rife with plans. Sartwell and Gagner have begun bottling 14th Star beers, which are sold at the brewery and may eventually land on retail shelves. Soon they'll undertake a brewing project in tandem with the Trapp Family Lodge; both breweries will use the same lager yeast, but 14th Star will make an IPA and Trapp will turn out an "IPL," or imperial pale lager. Then they'll serve the beers side by side at this year's Vermont Brewers Festival in July. The resulting two beers "will show people how a yeast behaves in different styles," Gagner says.
Gagner and Sartwell will also keep dipping into the gallons of maple sap they acquired from a friend of the family — for maple porter, maple stout, "maple you name it," Gagner says.
As 14th Star's website points out, the state's founding father was a "beer enthusiast." Perhaps Ethan Allen's legacy is the reason beer is becoming as quintessential a Vermont product as the syrup Gagner swirls into some of his brews. And, with an expansion in 14th Star's future, beer lovers across the state may soon be able to taste what's brewing up north.
14th Star Brewing Company, 41 Lower Newton Street, St. Albans. 393-1459, 14thstarbrewing.com.
The original print version of this article was headlined "Star-Spangled Suds"