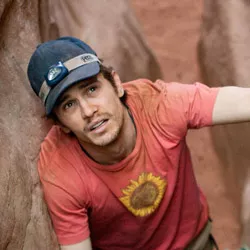 James Franco stars in the latest from director Danny Boyle, a film that gives a whole new meaning to yelling "Cut!"
My guess is that James Franco will snag a Best Actor nomination for his magnetic, multidimensional performance in Danny Boyle's follow-up to the Oscar-winning Slumdog Millionaire. What I can tell you with certainty is that no screen performer demonstrated more jaw-dropping range in the past year.
Let's forgive him his involvement with the misguided Eat Pray Love. He's more than earned the pardon by convincingly playing, in the same season, Allen Ginsberg — in the overlooked obscenity-trial drama Howl, directed by Rob Epstein and Jeffrey Friedman — and real-life rock climber, adventurer and charismatic goofball Aron Ralston, who had his own reasons to howl when he found himself trapped in a Utah crevasse on a hike in April 2003.
Yup, this is the guy who spent five days with his right arm pinned by a dislodged boulder and eventually realized there was no way both he and the limb were going to make it out of there in one piece. The obvious challenge: How does a director alchemize so static a predicament into a freewheeling, breathlessly kinetic triumph of cinema? Well, for starters, it helps if you're Danny Boyle, and you've got the visionary chops that produced stylistic milestones such as Slumdog, Sunshine, 28 Days Later and Trainspotting.
Employing an often rapid-fire mix of split screens, flashbacks, dreams, fantasy sequences, hallucinations and pans across the strikingly beautiful — almost lunar — canyon terrain shot at various film speeds, Boyle conjures the illusion of constant movement. He's aided by his brilliant use of music. It's not every big-screen saga of life and death that finds places of honor for works as diverse as the infectious 1977 punk ditty "Ça Plane Pour Moi" and the theme from "Scooby-Doo."
And, of course, there's the amazing tale of survival that unfolds in real time. The early stages of Ralston's ordeal are mesmerizing owing to the very fact of his immobility. Rather than panicking, he lays out everything he's brought on the rock surface before him like an accountant organizing his desktop. He has a little water and food, various lengths of rope, assorted climbing hardware, a camcorder and a cheap multipurpose tool with a small, dull blade.
Ingeniously, Ralston devises a sort of harness to sit in. He turns the camera on himself. At first, he intends simply to identify himself to whoever may find his remains and ask them to deliver the videotape to his parents. As dehydration and starvation kick in, however, so do the fantasy sequences. The most inventive one has our protagonist hosting a talk show (complete with audience track) in which he interviews himself and admits he was too cocky to tell anyone where he was going. "Oops."
Of course, everything leads up to the Scene. Some audience members have fainted during it, according to published accounts. Others have lost their lunch. All I'll say about it is this: I was surprised to find that the real gag-reflex moments involved sound rather than the sight of sawed flesh. There's the snapping of bone to allow the knife its path. There's a sound you have never heard before but will recognize instantly. How does it feel to sever a nerve? No one can put it in words, but Boyle has devised a sonic vocabulary every viewer will understand. It's a virtuoso feat of moviemaking.
127 Hours tells a story that's more than simply inspirational. It's surreal. When Ralston hosted his fantasy broadcast back in 2003, what were the odds that, just a few years hence, he would find himself on a real-life movie set in the capacity of technical adviser, playing that tape to Franco and reenacting his ordeal in the very spot where it took place? If that's not a Hollywood ending, I don't know what is.