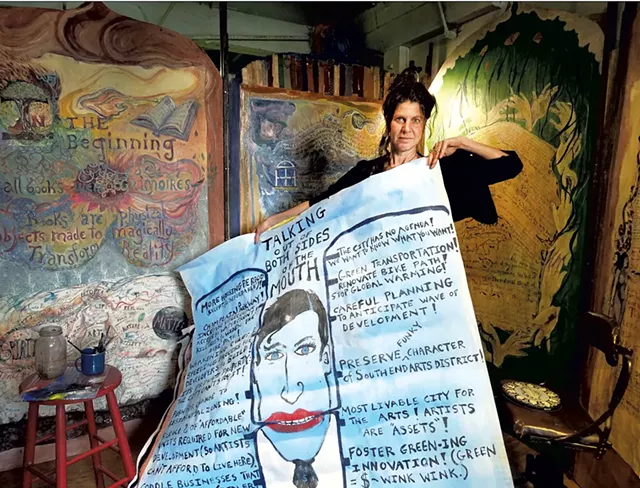 Dan Higgins
Genese Grill in her studio
Earlier this month, political newcomer Genese Grill attempted to unseat Burlington City Council President Jane Knodell (P-Central District), a University of Vermont economics professor. Back in January, the independent activist, artist and writer told Seven Days that she intended to "try to run her campaign like a work of art."
Though her quest was unsuccessful, Grill, 51, remains a cultural force in Burlington's Old North End. She's planted herself at the nexus of art, politics and philosophy through her role as editor of 05401PLUS, a monthly publication that launched last June. Published and bankrolled by retired architect and longtime Burlington resident Louis Mannie Lionni, 84, the free magazine goes by mail to some 750 people, Lionni estimated in a phone interview, and is distributed at local businesses.
Both the title and stark, text-heavy aesthetic signal that 05401PLUS is an offshoot of 05401, a magazine that Lionni has published periodically since 1995. According to its masthead, 05401PLUS is "synthesizing the problematics of utility and beauty" in the Lake Champlain bioregion.
In practice, that means its content runs the gamut. Features have included poetry by Rainer Maria Rilke and Turkish writer Cemâl Süreya, a Grill-penned eulogy for Burlington artist Darshana Bolt, and comic illustrations by cartoonist and activist Michelle Sayles. There's also a polemic of sorts against tax increment financing in Burlington by former Seven Days political columnist Shay Totten. Infinite Culcleasure of Parents and Youth for Change authored a commentary on the lack of transportation for students in the Winooski School District. Artist Marie Davis contributed grainy photos of busted cars in the woods.
Despite this eclectic range, the themes of PLUS heavily skew toward urban development and the politics of the built environment, in Burlington and at large. Indeed, a primary mission of Grill, Lionni and their various contributors seems to be placing local development in broader contexts of historical and philosophical shifts — with a decidedly progressive slant.
"[Burlington] is becoming more sterile, more cold," Grill said. Prior to her city council campaign, she was a core member of the South End Alliance, a group that actively — and successfully — opposed the city's proposed rezoning of the arts district. "So much was happening so fast since [Miro] Weinberger [became mayor]," Grill said. "Nobody could really keep up."
Grill and Lionni have known each other since their respective involvement with now-defunct Burlington College, where she was on the faculty and he was a board member. The seed of 05401PLUS was planted in their minds, Lionni suggested, by the 2015 Save Open Space-Burlington efforts to keep land previously owned by the college open to the public.
"I saw a tremendous growth in people's consciousness," Lionni said. "[There was] a startling amount of intelligence that was blossoming that would be good to capture in hard copy. That was part of what moved us to act on 05401PLUS."
Among PLUS' frequent contributors are retired sociology professor and Progressive activist Charles Simpson, who lost his own run for a city council seat (South District); architect and Vermont Design Institute principal Diane Elliott Gayer; and playwright and librarian Emer Pond Feeney. Simpson, Gayer and Grill have all been involved with the Coalition for a Livable City. The activist group formally coalesced in 2015, and most recently opposed the proposed development of the Burlington Town Center. CLC received attention this past January when Mayor Weinberger referred to the organization as a "reactionary fringe."
PLUS maintains no pretense of journalistic objectivity. "We're very biased," Grill admitted. "[But] we try to have different kinds of biases."
The December issue features a less-than-glowing letter to the editor from Jeffersonville resident Diane Wood. She writes, "At first I was intrigued by the possibility of your publication to provide profound and unique creative writings, until I realized that it is only pretentious intellectualism trying to disguise your propaganda platform."
Asked about Wood's statement, Lionni said, "We're always grateful for [any] response, whether it's critical or laudatory." He continued, "It's not a propaganda magazine, so I thought it was important to include that person's letter."
Lionni also conceded, "You could characterize the magazine as having a sociopolitical intent — but I think that's true of every magazine, whether it's explicit or not."
Though some may, like Wood, dismiss PLUS as too intellectual, too lofty or too politically motivated, it undeniably fills a niche in the hyper-local media landscape — albeit one that's hard to categorize. It seems to be part op-ed collection, part creative writing and art zine, and part ongoing treatise on alternative urbanism and community building.
For his part, Lionni hopes that both 05401 and 05401PLUS will "give people a sense of how real problems have not only socioeconomic dimensions but also an artistic dimension.
"Certainly Genese's strength is that she combines an artistic vision with a social commitment," he added. "That's why she's the editor."