Frigid winter mornings call for a hot, comforting breakfast. This baked oatmeal will warm you up and keep your stomach from grumbling until lunch.
I found a recipe for strawberry baked oatmeal at Inspired Taste and have been making different versions of it ever since. It's delicious with strawberries, but our favorite so far has been the banana and cranberry variation below.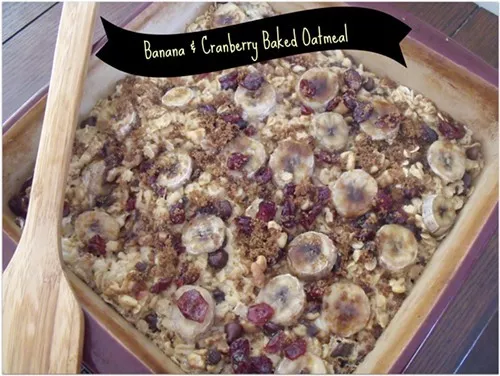 [jump]

Banana & Cranberry Baked Oatmeal
Ingredients:
2 cups old-fashioned oats
1/3 cup packed brown sugar
1 teaspoon baking powder
1 teaspoon cinnamon
1/4 teaspoon salt
1/2 cup chopped walnuts
1/2 cup dried cranberries
1/3 cup chopped dark chocolate (or semi-sweet chocolate chips)
1 ripe banana, sliced
2 cups milk (I used almond milk; it was fantastic)
1 large egg
3 tablespoons melted butter
2 teaspoons vanilla extract

Heat oven to 375 degrees. Spray the inside of an 8-by-8-inch square baking dish with cooking spray and place on a baking sheet to avoid spills. For a large crowd, double the recipe and bake it in a 13-by-9-inch dish.

In a large bowl, mix together the oats, sugar, baking powder, cinnamon, salt, half the walnuts, half the cranberries and half the chocolate. Add to prepared baking dish. Sprinkle banana slices and remaining walnuts and cranberries over the top.
Whisk together the milk, egg, butter and vanilla extract. Pour over the oat mixture. Gently shake the baking dish to help the milk mixture settle throughout the pan.
Bake for about 30 minutes or until the oatmeal is set. For a crunchy and sweet topping, sprinkle a little extra brown sugar on top and put under the broiler for 30 seconds.