Jay Peak's Pump House Indoor Water Park
An indoor water park isn't the most logical destination on a gorgeous summer day. But last Sunday, spurred by my 6-year-old's incessant begging, my family made the hour-and-a-half trek north to the
Pump House Indoor Waterpark at Jay Peak Resort
for a day of wet-and-wild fun.
We'd been to the Pump House several times, but only as an antidote to cabin fever in the dead of winter. Without a blanket of thick snow, the resort was easier to navigate. And the mild weather meant no jarring transition from winter boots and coats to bathing suits.
It also meant fewer crowds, as we happily discovered upon entering the building around 11 a.m. After quickly suiting up in the locker room, my daughter Mira, 6, practiced her swimming skills in the pool in the middle of the park. Then she moved on to the Double Barrel Flowrider (Pumphouse-speak for a surf-wave machine) for some boogie boarding.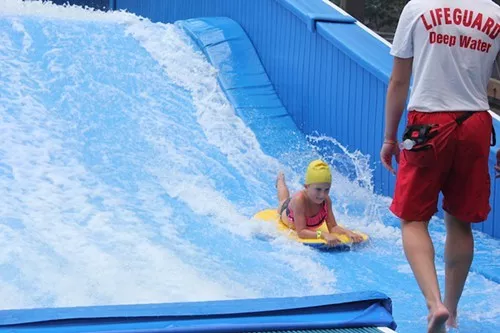 Mira Novak on the Double Barrel Flowrider
Theo, 3, was all about the Lazy River that snakes around the perimeter of the park. There are one- or two-person tubes to sink into if you're looking for a truly lazy experience, but our energy-filled boy preferred to walk bouncy laps around the river. My husband, Jeff, and I took turns accompanying him, getting a water-aerobics workout in the process.
And, of course, there are the waterslides. Three of the four slides at the park are kiddie-appropriate, but still provide a thrill factor for adults. Mira alternated between the blue, green and orange slides, insisting on climbing the stairs up to the slides several paces ahead of me and riding solo, even though parents can accompany their children on the blue and green slides. It was a brief glimpse into what the teenage years may bring.
Lest the kids have all the fun, Jeff and I took turns on La Chute, an extreme waterslide that begins with a 60-foot free-fall drop at 45 miles per hour, then flips you upside down and coughs you back out in six seconds. I think I now know what falling off a high-rise building might feel like. It was terrifying and exhilarating at the same time.
On the drive home, the kids slumped down in their car seats, as tired as if they had played outside for a whole day, minus the sunburn and bug bites. Jeff and I shared a laugh, realizing our throats were both sore from all the screaming we'd done on La Chute.
We'll return to the Pump House soon … hopefully before the snow does.
If you go:
The Pump House is open Sundays through Fridays, 10 a.m. to 8 p.m., and Saturdays, 10 a.m. to 9 p.m. Admission is $35 for ages 15 and up, $25 for ages 4 to 14, and free for children 3 and under. Locker rentals are $4 for a standard size and $9 for a larger family size.
You must be at least 48 inches tall and 88 pounds to ride La Chute. For the other slides, kids must be at least 42 inches tall to ride with an adult, and at least 48 inches tall to ride solo.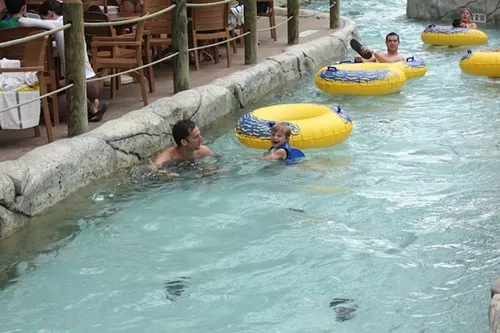 Theo and Jeff Novak in the Lazy River
Where to eat:
Within the water park, the Warming Shelter Snack Bar serves up burgers, fries and chicken fingers. There is also a Dippin' Dots stand for those who like the "ice cream of the future." (My kids certainly do.) For lunch, we took a short walk to Mountain Dick's, a pretty decent pizzeria within the resort.
For updated information and to buy your tickets online, visit jaypeakresort.com/pumphouse/waterpark.

This post was written by Kids VT contributor Alison Novak, who lives in Shelburne with her husband and two kids.