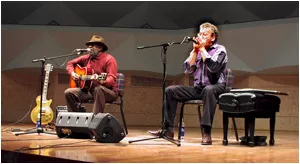 Local harmonica master Mark LaVoie is a pretty happy guy this week. And with good reason. A track from his latest collaboration with Delta blues legend
Bill Sims Jr.
,
American Roots Duo
, was recently picked up by Dan "Elwood" Akroyd's "
House of Blues Radio Hour
." The duo's version of the Henry Whitter classic "Going Down That Road Feeling Bad" is the featured song on the nationally syndicated radio show's weekly "Blues Break" segment. Below is the clip of Elwood Blues himself introducing the cut — which he correctly points out is "as rich as maple syrup" — followed by a quick commercial interlude, and then the song. The program originally aired over the weekend all across the country and is currently streaming on the HOBRH website.