I'm not usually one for product endorsement. Mostly because I can't afford any products. But last week I stumbled across a little gem that I thought I should share.
Did you know that there's a pair of headphones that your iPod Shuffle can snap right into so you don't have to use earbuds!?
You do? Oh yeah. I forgot that you're all way more tech-savvy than myself.
You don't use an iPod Shuffle? Oh yeah. I forgot that the new hip is to hate Apple.
In any case, I have an iPod Shuffle. I lose it regularly due to its size. But it is perfect for the gym, where my crazy elliptical running technique has on more than one occasion been known to send a disc-man flying across the room.
Recently my workouts have shifted from running on the elliptical to using the gym's studio space to practice Irish Step Dancing. Yeah, I know. But my sister and I are training to become certified teachers, and with the test only offered once a year and costing a butt-load of money, I better damn well get ready.
When I first started using the studio, I hauled my stereo there with me. You know, because I needed another reason to attract the racquet ballers up from the courts below to see what the hell was going on. A reason other than the tapping feet, squeaking floorboards, and panting of a girl who's wife-beater is soaked through with sweat. Let's call a spade a spade, Woolen Mill. That 'studio' is really just an over-sized sauna.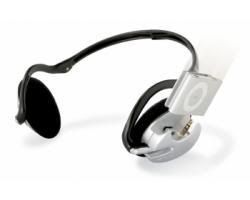 Anyway, it soon dawned on me that HELLO, why not just program all my Irish Dance music onto my shuffle and avoid piquing the interest of passers by with, you know, bagpipes and stuff? BRILLIANT!
And then, while searching for the perfect Father's Day present for my Dad (who, by the way, is the most awesome of all dads), I found this:
PERFECT!
Now not only can I dance in "silence", but I can also eliminate the risk of strangling myself with my earbud chord on some over-zealous high kicking!
The headphones are available at Small Dog, where I picked up a pair for my Dad, and where you can pick up a pair for me! After all, I'm always up for anything vaguely similar to holding an old school boom box on my shoulder and rocking out.
OK, it's not similar at all.
I'm just still trying to raise the cool factor on that whole Irish Step Dancing thing.
I'll stop now.