I know all you hip kids are probably more up on this than I am, but in case you have not yet seen it, here's the official poster for this year's Coachella!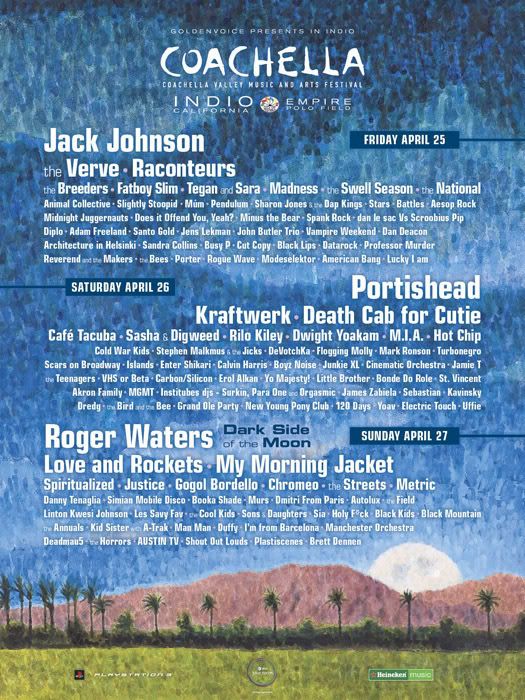 As usual there are some bands I'd like to see, namely Tegan and Sara, Animal Collective, Cold War Kids, Death Cab for Cutie, and Akron/Family. But like every other year I will choose to pass on the cost of plane tickets plus concert tickets plus food, and lodging only to bask in a heatstroke-filled weekend.
Festivals really aren't my thing.
Still I find it kind of inspiring that out of my choice bands from the lineup, three have spun through Burlington in the past year. And some others that I'm less familiar with, I'm sure. Kind of makes you feel all warm and fuzzy about our little corner of the scene, don't it?
And for those of you who are festival people (i.e. in favor of heatstroke and opposed to showers), but just can't make the cross country trip, don't worry. Apparently the genius minds behind Coachella will be putting on an East Coast festival as well, later on in the summer.
Unfortunately for everyone, it is slated for Jersey.