Sasha Goldstein
A sign in a window at the Hinesburg Community School
This post is no longer being updated. For the latest, please click here.

The spread of the coronavirus known as COVID-19 is prompting Vermonters to take precautionary measures to reduce the risk of exposure. It's affecting how courts and hospitals run, how Catholic mass is conducted, and how public events are carried out.
As officials continued to announce more
positive cases
in Vermont, changes are coming quickly. This post will be updated as they're announced.
Sunday, March 29, 2020:


Vermont National Guard Opens COVID-19 Testing Site in Putney
The Vermont National Guard is opening a new drive-up coronavirus testing site at Landmark College in Putney.
The Vermont Department of Health announced the new site in a press conference on Saturday. The National Guard Civil Support Team's medical division will run the southern Vermont location, beginning Sunday morning at 8 a.m. Hours and days of operation are subject to the availability of test kits, the health department said. The site will operate until 3 p.m. on its first day open.
Patients must have a doctor's referral and cannot show up to get tested without one, the health department said.
The testing expansion comes as the state has attempted to make it easier for those with mild and moderate COVID-19 symptoms to get tested for the disease. The state has been aggressive in acquiring test kits to aid the effort, Health Commissioner Mark Levine announced during a press conference on Friday.
"The steady increase in positive cases in Vermont, along with the growing number of people who are ill and who, tragically, have died from the virus, mean that while we will draw on our supplies more quickly, the benefit of 'more testing now' significantly outweighs the risk that we may have to slow these efforts again later," Levine said in a statement.
He continued: "Our overall strategy is to test, to counsel and isolate those who test positive, conduct contact tracing, and quarantine as clinically appropriate. We are all counting on each other to do everything we can to meet this public health crisis head on."
Students at Landmark College have been on two weeks of spring break and will begin remote learning classes on Monday.
Wednesday, March 25, 2020

Burlington Library Suspends Pickup Program
Fletcher Free Library in Burlington will suspend its outside pickup and book drop service at 5 p.m. Wednesday to comply with Gov. Phil Scott's "Stay Home, Stay Safe" order for the state.
"We were pleased to be able to offer these services for as long as possible, but now it is important for everyone to stay home," library director Mary Danko said in a statement. "During these challenging times, FFL is working hard to serve our community."
Fletcher Free has added virtual programs and boosted its streaming service and ebook platform, hoopla, for patrons during the crisis. The public can chat with library staff on the library website,
fletcherfree.org
, for help navigating the digital resources.
The library will also suspend book returns and won't collect fines during this period.
---
All Catholic Churches, Chapels and Shrines to Close
The Roman Catholic Diocese of Burlington is directing all Catholic churches, chapels and shrines to close at 5 p.m. Wednesday to comply with Gov. Phil Scott's latest executive order.
Worshippers can participate in services on the
diocese website
at 12:05 p.m. Monday through Friday and at 10 a.m. on Sundays.
A schedule of activities
is available here
.
All "nonessential" employees of the Catholic community can continue working remotely, according to Ellen Kane, executive director of the Vermont Catholic Community Foundation.
Tuesday, March 24, 2020

U.S. Attorney's Office Will 'Aggressively' Pursue COVID-19 Scammers
The U.S. Attorney for the District of Vermont is warning state residents of scams related to the outbreak of COVID-19. And Christina Nolan says she'll prioritize, and aggressively pursue, the cases "that seek to exploit the public or harm the vulnerable during this national health emergency."
"We will respond with criminal accountability to those who would sell fake cures online, send phishing emails from entities posing as the World Health Organization or Centers for Disease Control and Prevention, or engage in other types of criminal conduct related to COVID-19," she said in a statement Monday.
Her office detailed some of the scams currently in circulation:
Testing scams: Scammers are selling fake at-home test kits or going door-to-door performing fake tests for money.
Treatment scams: Scammers are offering to sell fake cures, vaccines, pills, and advice on unproven treatments for COVID-19.
Supply scams: Scammers are creating fake shops, websites, social media accounts, and email addresses claiming to sell medical supplies currently in high demand, such as surgical masks. When consumers attempt to purchase supplies through these channels, fraudsters pocket the money and never provide the promised supplies.
Provider scams: Scammers are contacting people by phone and email, pretending to be doctors and hospitals that have treated a friend or relative for COVID-19, and demanding payment for that treatment. Medical providers are also obtaining patient information for COVID-19 testing and then using that information to fraudulently bill for other tests and procedures.
Charity scams: Scammers are soliciting donations for individuals, groups, and areas affected by COVID-19.
Phishing scams: Scammers posing as national and global health authorities, including the World Health Organization (WHO) and the Centers for Disease Control and Prevention (CDC), are sending phishing emails designed to trick recipients into downloading malware or providing personal identifying and financial information.
App scams: Scammers are creating and manipulating mobile apps designed to track the spread of COVID-19 to insert malware that will compromise users' devices and personal information.
Investment scams: Scammers are offering online promotions on various platforms, including social media, claiming that the products or services of publicly traded companies can prevent, detect, or cure COVID-19, and that the stock of these companies will dramatically increase in value as a result. These promotions are often styled as "research reports," make predictions of a specific "target price," and relate to microcap stocks, or low-priced stocks issued by the smallest of companies with limited publicly available information.
Assistant U.S. Attorney Eugenia Cowles will work as the office's COVID-19 fraud coordinator. Report the schemes by calling the National Center for Disaster Fraud hotline at 1-866-720-5721 or emailing the center at
disaster@leo.gov
.
Monday, March 23, 2020

Scott Orders Vermont Business to Allow Remote Work
Gov. Phil Scott on Monday ordered all Vermont businesses and nonprofits to take every step possible to allow employees to work remotely — his latest attempt to keep more people home and prevent further spread of the coronavirus.

The telecommuting measures were to be in place by 8 p.m. Monday and should remain in effect until at least April 15, according to the order.

"We're now entering a new phase in this fight to flatten the curve," Scott said at a press conference Monday. "Vermonters should also expect additional steps very, very soon that will further reduce contact and direct more to stay at home in order to slow the spread."

Many businesses had already allowed employees to work from home well before Scott's order.

One thing that could help connectivity: The state launched a map earlier Monday of public Wi-Fi hotspots, which includes dozens of spots that can be accessed from outside a building or from a parked car.

Officials have issued frequent warnings that the number of cases will continue to rise due to both increased testing and continued community spread. With that in mind, Scott warned further measures were inevitable.

"It's not a question any more of if," he said Monday. "It's a question of when."
---
Feds Waive Standardized Testing for Vermont Students
The U.S. Education Department granted the Vermont Agency of Education a waiver to annual testing and accountability provisions of the federal Every Student Succeeds Act, the successor to the No Child Left Behind Act.
That means no standardized testing this spring for Vermont students.
Due to the COVID-19 outbreak, the feds allowed states to ask for exemptions, and Vermont quickly did so. With schools statewide closed until at least April 6, administration of the state testing program would have been challenging, officials said.
"I am pleased our waiver request was processed so quickly," Vermont Secretary of Education Dan French said in a statement. "This waiver will allow us to prioritize our efforts for providing continued support, education and wellbeing of our students during this challenging time."
The waiver means Vermont does not have to administer the Smarter Balanced Assessments this spring. Nor will 2019-2020 test data be used toward ratings under the federal accountability system. More information
is available here
.
---
Vermont Launches Public W-Fi Map
The state has launched a map of public Wi-Fi hotspots so Vermonters can stay connected during the coronavirus crisis.
The map shows dozens of spots, which can be accessed from outside a building or from a parked car to encourage social distancing. Some spots are password-protected, but the map provides the credentials to log in.
"Internet connectivity is an important resource for Vermonters during this crisis, which is keeping us physically distanced from one another," Gov. Phil Scott said in a statement. "As we're asking many to work and learn remotely, these public Wi-Fi points are especially critical to keeping workers and students connected if they do not have access at home."
The project is a collaboration between state and local governments, schools, and libraries.
Find the map here
, and read up on
other connectivity resources here
. Vermonters can submit information about other hot spots to
psd.telecom@vermont.gov
.
Saturday, March 21, 2020:

Craftsbury Closes Cross-Country Ski Trails
Craftsbury Outdoor Center closed its nordic trails Sunday because the nonprofit said skiers weren't practicing social distancing.
The center had intended to remain open through the end of the season but felt compelled to close "in the best interest of the health of the COC community."
The rationale was posted
in an online update Saturday
. The post said skiers "are not keeping 'social distance' (6 ft) from each other ... are gathering in groups to socialize" and are traveling to the trails "from outside our VT community."
"This does not seem like a good idea at this time," the post stated.
Trails will no longer be groomed, and the center asked that skiers avoid them.
---
Sanders Raises $2 Million for Charities Responding to Coronavirus Outbreak

Sen. Bernie Sanders (I-Vt.) has harnessed his massive fundraising list to support nonprofits addressing the coronavirus outbreak.

His presidential campaign announced Saturday morning that over the previous 48 hours it had raised $2 million from emails and texts messages sent to supporters. The money will go to five organizations: Meals on Wheels, No Kid Hungry, the Restaurant Workers' Community Foundation COVID-19 Emergency Relief Fund, the One Fair Wage Emergency Fund and the National Domestic Workers Alliance.

"What we've seen in the last two days is the definition of fighting for someone you don't know," Sanders' digital fundraising director, Robin Curran, said in a written statement.

The senator made the move as his own campaign plans remain up in the air. After suffering a third week of disappointing election results on Tuesday, his campaign manager said Wednesday that Sanders was planning to "assess" his role in the race.

Sanders returned to his Burlington home late this week and held an online roundtable Friday night from his campaign office.

"In this extraordinary moment in American and world history, we have got to think outside the box in a way that we have never done," he said during the roundtable. "This is an unprecedented moment, and we have got to think in an unprecedented way."
Friday, March 20, 2020:

Diocese Limits Funerals to 25 People, Suspends Public Mass

The Roman Catholic Diocese of Burlington will limit the size of all funerals to 25 people, Bishop Christopher Coyne announced Friday.

All public masses are suspended effective Friday, March 20, as well.

The statewide diocese had already announced that funerals could only be attended by immediate family, but it realized a more specific limit needed to be implemented to adhere to Gov. Phil Scott's ban on gatherings of more than 50 people.

"Initially, we had immediate family only in our statement and heard from other dioceses that there were well over 100 people that all claimed they were immediate family at a recent funeral. We changed our statement to 25 so it is well below Gov Scott's no more than 50," Ellen Kane, a Burlington diocesan spokesperson wrote in an email to Seven Days. "The Catholic Community is being vigilant about promoting social distancing for the well-being of everyone in the community but also understands that things like funerals cannot be avoided."


Baptisms and weddings may still take place but will also be limited to immediate family and no more than 25 people.

---
Vermont City Marathon Rescheduled for October 25
The People's United Bank Vermont City Marathon & Relay has been postponed until October 25.
Normally held on Memorial Day weekend and originally scheduled for May 24, the marathon draws 7,500 runners and 20,000 spectators to the Burlington area.
"Unfortunately, due to the nature of the Coronavirus, the health risks to our community will not allow us to proceed with the event as scheduled," event organizers said in a statement.
Runners have four options to consider: They can participate on October 25, defer until 2021 or 2022, donate their registration fee to RunVermont's youth programs or run a self-timed virtual marathon anytime between May 24 and October 25.
For the latter, runners need only "take a selfie or two" at the end and submit the photos, along with a picture of their GPS watch, to show their distance and time. Race organizers will mail them a shirt and medal.
---
UVM Will Host Virtual Campus Tours for Admitted Students
Normally at this time of year, the University of Vermont would play host to groups of admitted students for a campus visit. But in the age of COVID-19, UVM is going digital.
President Suresh Garimella announced this week that would-be Catamounts are invited on a virtual tour.
"You will hear from our faculty and current students, and we'll be ready to answer your questions and show you your classrooms, labs, and other facilities that set a UVM education apart,"
Garimella wrote in a statement
. "But your safety, and that of our community, is our main priority, and given current circumstances, doing this online makes the most sense."
UVM is offering five days in April for students to choose from. The March 30 date is already booked.
Thursday, March 19, 2020:

Takeout Booze and Deliveries Get Gubernatorial Approval
Now you can have an alcoholic beverage with your takeout meal.
Gov. Phil Scott
signed an executive order Thursday
that allows restaurants to provide "to-go" orders of cocktails, beer and wine. Restaurants can also deliver those drinks.
The order also allows licensed retail stores to deliver beer, wine and liquor. The directive takes effect immediately and will continue through April 15, at which point the governor and state officials will "assess the emergency and determine whether to amend or extend this Directive."
Wednesday, March 18, 2020:

No Visitors Allowed at UVM Medical Center
No visitors allowed. That's the message from the University of Vermont Medical Center, which has changed its visitation policy twice in less than a week to respond to the COVID-19 pandemic.

Last week, the hospital reduced its policy from small groups to just two visitors per patient. Now, no visitors are allowed except for patients in labor and delivery or same-day surgery, for children, and for people with disabilities, according to a press release issued Wednesday evening.

Visitors will be asked if they have a fever, cough or difficulty breathing and must wash their hands before entering the hospital. In addition, only ADA service animals are allowed; therapy and support animals are not.

"Each day we are taking the necessary steps to provide safe, high quality health care and to reduce the spread of COVID-19, with guidance from the Centers for Disease Control and Prevention and the Vermont Department of Health," UVM Medical Center president Steven Leffler said in a statement. "We understand these changes are unsettling for some, however they are critical given the seriousness of this pandemic."

The policy goes into effect at 9 p.m. Wednesday.
---
PUC Issues Moratorium on Utility Disconnections Through April 30
Vermonters will be spared disconnection of electricity, natural gas, cable TV and internet by any of the state's regulated utilities until at least April 30.

The Vermont Public Utility Commission directed utilities on Wednesday to halt disconnections as the economic impact of the COVID-19 virus grows under state restrictions that have closed workplaces, curtailed gatherings and led to a spike in unemployment claims.

"Given that many Vermonters will experience a loss of income as a result of these restrictions and will spend considerable time at home for the foreseeable future, the Commission decided it was imperative to protect the public good by halting utility disconnections that might place Vermonters at risk," the commission announcement stated.

The order noted that some utilities have already agreed to freeze disconnections for nonpayment. It expanded on the voluntary steps and came after Vermont Legal Aid filed a petition Monday on behalf of elderly, low-income and disabled Vermonters.
---
DCF Preparing to Move Foster Children as Coronavirus Spreads
As the coronavirus outbreak continues in Vermont, the state's Department for Children and Families is preparing for disruptions to its foster programs.

Commissioner Ken Schatz told lawmakers Wednesday afternoon that his department is concerned about the health of foster parents who are older or have underlying medical conditions, making them more susceptible to COVID-19.

"We are aware that we may need to move children to make sure we both protect the children and foster parents or residential providers," he told members of the Senate Judiciary Committee during a meeting by phone. "To that end — I'll be straightforward with you — we are asking our staff to look at the placement of children and think about who really needs to be in [foster] care and who can safely be returned to their biological parent."

Schatz said he was unaware of any situations thus far requiring the relocation of children in DCF custody, but he said he was seeking "capacity for some flexibility" in the event that it's necessary.
---
Dentists Urged to Postpone Nonurgent Appointments
The Vermont State Dental Society has recommended that dental practices only perform emergency procedures until at least March 30 as the coronavirus continues to spread.

The society, which represents most of the 400-plus licensed dentists in the state, issued the notice on March 16, encouraging providers to cancel appointments for nonurgent procedures.

"Dental offices are not required by law or by us to close," executive director Vaughn Collins said Wednesday. "It's a voluntary decision, but it's driven by the abundance of caution and safety to prevent the spread of disease."

Collins said he believes most practices are heeding the advice. He said if a patient has a dental emergency — such as an abscess or pain — they should call their dental office. Patients should not go to the emergency room, Collins added.

Though his recommendation was issued to limit person-to-person contact, Collins said the nationwide shortage of N95 surgical masks only complicates matters.

The American Dental Association, which issued its recommendations after the Vermont society did, says dentists should curtail nonessential operations until at least April 6. Collins expects the Vermont society will likely follow suit.

"This is an evolving challenge right now," he said. "We're all on unstable ground."
---
Department of Labor Puts Unemployment Form Online
Amid mass layoffs due to the coronavirus, the Vermont Department of Labor
has published a new intake form
so that people can establish an initial claim online. The department has also tripled its staff at its Unemployment Insurance Claims Center and has added an additional phone line.
The state says people should first try 1-877-214-3330. They can then try calling 1-888-807-7072.
"During these increasingly uncertain times, it is the responsibility of our State to assist those Vermonters impacted," said Gov. Phil Scott in a press release announcing the changes Wednesday. "As the situation continues to develop, it will be imperative upon our state's Government to seek any and all methods to help Vermonters through this crisis."
Seven Days
reported Tuesday that phone lines at the call center
had been jammed in recent days as people temporarily or permanently laid off from Vermont businesses — especially restaurants — tried to call.
---
Canadian Border Closed to Nonessential Travel
The United States' border with Canada will be closed for nonessential travel to stem the spread of coronavirus, President Donald Trump tweeted Wednesday morning.

"We will be, by mutual consent, temporarily closing our Northern Border with Canada to non-essential traffic. Trade will not be affected. Details to follow!" the president wrote.

Canadian Prime Minister Justin Trudeau announced on Monday that the country's borders would be closed to non-Canadian citizens or permanent residents, but open for American citizens. That appears to have changed with Trump's tweet.

At a press conference Wednesday morning, Gov. Phil Scott said that he hadn't heard any details about Trump's directive. The governor said he hopes that Vermont health care workers who live in Canada would be considered essential and be permitted to cross the border.

"I would assume that, in conjunction with Canada, this is the right step to take, understanding that we have a lot of trade and we still rely on a lot of employees from there," Scott said.

Last year, nearly 2.5 million people crossed into Vermont from Canada, according to the Bureau of Transportation Statistics.
Tuesday, March 17, 2020:
Mehuron's Market Gives Vulnerable Shoppers Some Alone Time
Mehuron's Market in Waistfield is doing its bit to encourage social distancing.

The grocery store has invited patrons more vulnerable to coronavirus to shop as soon as the doors open, from 8 a.m. to 9 a.m. In messages sent on Instagram and Front Porch Forum on Monday, the market asked other shoppers to come after 9 a.m.

The system allows older patrons or those with underlying health conditions time to shop the market when it's the cleanest and fully stocked.

"We've just been trying to figure out how to be as responsible as we can," Mehuron's co-owner Bruce Hyde said in an interview.

It's "an ask" and not an attempt to regulate who comes into the store, he added.

"It's not something that's really enforceable," Hyde said. "Basically, the idea was to encourage folks that are maybe not in the high-risk group to wait until after that first hour."

It appeared to be working Tuesday morning, Hyde said, and traffic in the store during the first hour was "much more sparse" than it had been.

"I'm optimistic it's making a difference," he said.

The market has been slammed, like most grocery stores, but has been able to keep up with demand, Hyde said.

"We're good at getting food on the shelves, that's our business," he said. "We know how to satisfy demand. It's all this other stuff that's really difficult to wrestle with."
---
University of Vermont Health Suspends Elective Surgeries
The University of Vermont Health Network has suspended elective surgeries and procedures to free up hospital resources during the COVID-19 outbreak.

The plan will limit person-to-person interactions and free up much-needed acute-care beds and supplies, the health system said in a press release Tuesday.

"Extraordinary times call for extraordinary measures, especially when it comes to protecting the health and safety of our patients and our staff," health network CEO John Brumsted said in the statement. "While temporarily suspending elective procedures is disruptive, this decision is absolutely critical to reduce the spread of COVID-19, and it allows our health care providers more time and space to respond to this pandemic."

Health providers will contact patients who have appointments "that can be safely delayed or deferred, without threat to the immediate health and safety of the patient," the statement says.

Otherwise, patients should assume their appointment stands. The network will reassess the protocol in the coming weeks.
---
Green Mountain Transit Offering Free Bus Rides

Green Mountain Transit is offering fare-free bus service until April 1 to ease the financial burden caused by COVID-19.

In a statement Tuesday, the company urged passengers who can stay home to do so.

"We're here to get nurses, doctors, child care workers, first responders, transit workers, and anyone else who needs us where they need to go, safely," the company wrote.

The free rides are intended to prevent passenger interactions with bus drivers to keep everyone healthy, the company explained. To that end, drivers will allow passengers to use the rear bus door whenever possible.

"GMT's goal is to maintain service for passengers who need it most," interim general manager Jon Moore said in the statement. "The goal is to prevent the spread of COVID-19, and GMT is putting strategies in place to sanitize buses and our facilities. As a community, we all have a responsibility to take care of one another."

GMT also announced Tuesday that it will suspend the Mad River Valley service and the Neighborhood Special route in Chittenden County. The Stowe Mountain Road Shuttle will run hourly from 6:30 a.m. to 5:30 p.m. and will end March 31 for the season. The Capitol Shuttle will not operate this week.
Monday, March 16, 2020:
Burlington Won't Disconnect Utilities, Mayor Calls for Halt to Evictions

At a press conference Monday, Burlington Mayor Miro Weinberger said that the city will pause disconnections for customers who can't pay their utility bills, and he called on landlords to halt evictions for people "who can supply documentation of COVID-related economic hardship."

The Burlington Housing Authority, Champlain Housing Trust and Cathedral Square have already agreed to this goal, Weinberger said.

Members of the Burlington Tenants Union, through organizer Charles Winkleman, said in a statement that the mayor's order didn't go far enough.

"Mayor Weinberger's response today made it clear he does not have the courage to lead through this crisis nor the empathy to alleviate fears of evictions and protect tenants and unsheltered residents, the two most vulnerable populations," the statement says.

The tenants union is calling for a moratorium on evictions and is asking the city to requisition empty dwelling units and hotels rooms "so that homeless folks can be kept safe, along with providing food and other necessities," the statement says.

The city has canceled all in-person programming at Fletcher Free Library, Burlington City Arts, and the Parks, Recreation & Waterfront Department.

Beginning Wednesday, Burlington will close or restrict access to city buildings until at least April 6, the mayor said. In addition, all city board and commission meetings are canceled through March except City Council and Board of Finance meetings, which will be held virtually.

The city will post detailed updates on its COVID-19 page.

Weinberger said he is "deeply thankful" for how Burlingtonians have organized to help their neighbors. "We will need much more of this ethic of personal responsibility and sacrifice in days ahead," he said. "While government actions are critical, we also need all of us taking personal responsibility for getting through this crisis."
---
Pop-Up COVID-19 Testing Available at Champlain Valley Expo

The University of Vermont Medical Center is now offering pop-up testing at the Champlain Valley Exposition in Essex for patients who may have the coronavirus.

The facility is only open to patients with a referral from their physician or the Vermont Department of Health.

"All others will be asked to leave," a hospital press release said. "It is important that members of the public understand that this testing is not on-demand."

Twenty patients were tested during a pilot project on Monday. The program, which will be open for four hours every weekday, aims to decrease visits to the hospital emergency department, the press release said.
---
Porter Medical Center Offers 'Drive-Through' Coronavirus Tests

Porter Medical Center in Middlebury is offering drive-up testing for the coronavirus,
the Addison County Independent reported on Monday
.
The facility is located in a parking lot at the hospital's South Street campus. It's open Monday through Friday from 11 a.m. to 2 p.m., but people who feel sick should still call their doctor before showing up in person, the newspaper reported.
The hospital is also setting up a COVID-19 triage phone line to direct coronavirus-related calls from the hospital's clinical offices.
---
Greater Burlington YMCA Close Facilities, Childcare Programs

The Greater Burlington YMCA is suspending its operations with the exception of one early childhood education program, its executive director announced Monday.

The Y's new facility on College Street is closed until at least April 1, and its early education programs in Burlington and St. Albans will close on March 17 until April 1. The early education program in Winooski will remain open to serve the children of health workers at the University of Vermont Medical Center, president and CEO Kyle Dodson wrote in a statement.

Before- and after-school programs will be suspended until April 6, which aligns with the school closures Gov. Phil Scott ordered on Sunday.

The Burlington Y will continue to collect membership fees to cover ongoing expenses until at least April 1, when the center will reevaluate its payment policies.

"These are unprecedented times, but it is our collective work and our shared commitment to one another that will see us through," Dodson said in the statement.
Sunday, March 15, 2020:
Shelburne Community School Closed Monday, Tuesday

The Shelburne Community School will be closed Monday and Tuesday — and will close along with the rest of Vermont schools on Wednesday — after "a community member in Shelburne with connections to the school" tested positive for coronavirus, the Champlain Valley School District said in a press release Sunday evening.
The school serves kids in prekindergarten through eighth grade.
"We are aware that this news is unsettling," the release said. "The Department of Health does not recommend closure of any other Champlain Valley School District schools, and therefore CVSD will move ahead with the plans outlined in the message shared earlier today."
Earlier Sunday, Gov. Phil Scott announced that all Vermont schools would close on Wednesday, March 18.
---
Bolton Valley Closing for 'Undefined Period of Time'
Bolton Valley has become the latest Vermont ski early to shut for the season.
"At the close of operations today at 4pm on Sunday March 15, 2020, we intend to suspend resort wide operations for an undefined period of time,"
a spokesperson wrote in a statement
. "We will continuously re-evaluate when we can re-open and will do so as soon as we determine we can operate without putting our employees or the public at risk."
Saturday, March 14, 2020:
Ludlow-Area Schools Close Due to COVID-19 Case
Six schools in the Two Rivers Supervisory Union will be closed beginning Monday after someone from Ludlow tested presumptive positive for coronavirus.
"Given what I know about this situation, and after being in conversation with a nurse from the Vermont Department of Health and Secretary [Dan] French of the Agency of Education, I have decided to close our schools until further notice,"
superintendent Meg Alison Powden said in a statement Saturday.
The statement continued:
Black River High School Middle School, Cavendish Town Elementary School, Chester-Andover Elementary School, Green Mountain Union School, Ludlow Elementary School and Mount Holly School are closed to students, teachers and most of our staff. Only the administration, school nurses and maintenance personnel are allowed in our buildings at this time.
While some school districts around the country have closed to prevent the spread of coronavirus, Gov. Phil Scott said Friday that Vermont schools would remain open.
---
Stratton and Sugarbush Resort to Close Sunday
Alterra Mountain Company, owner of Vermont's Stratton and Sugarbush resorts, is the latest to close its ski slopes, shutting down its 15 North American resorts on Sunday.
---
Stowe Mountain Resort, Okemo to Close Sunday
Vail Resorts, owner of Vermont's Stowe Mountain Resort and Okemo, will close all of its North American ski areas on Sunday.
An announcement released on Saturday
describes a weeklong closure, until March 22, during which company execs will "reassess our approach for the rest of the season," CEO Rob Katz said. "We will be providing updated information on the remainder of the season by Friday, March 20, 2020."
---
Dartmouth-Hitchcock Health Announces New Visitor Rules

All visitors entering any of Dartmouth-Hitchcock Health's six locations "will be asked screening questions about symptoms of respiratory illness and travel history," the health system said in a statement Saturday.
The measures go into effect immediately.
Patients at Dartmouth-Hitchcock Medical Center in Lebanon, N.H., will be limited to hosting one visitor at a time. The visitor must be older than 14.
"Exceptions will be made for people visiting pediatrics, neonatal ICU, obstetrics, or psychiatric care, and for those visiting patients receiving end-of-life care," the statement says.

Further, "visitors exhibiting symptoms, or who have traveled recently, will be asked to return home and contact their primary care provider (PCP) for additional assessment. Patients presenting symptoms will be given a mask and will be risk assessed for further testing. While the same screening questions will be asked at each location, the actions following screening may vary slightly from location to location."
Friday, March 13, 2020:
Jay Peak Slopes to Close on Saturday until May

Skiers and snowboarders have just one more day to hit the slopes at Jay Peak.
Winter operations at the mountain will cease at 4 p.m. on Saturday, March 14,
according to a statement
from resort president Steve Wright.
Jay's indoor waterpark, climbing gym and spa will close Friday, March 13. The resort had planned to stay open and use stringent cleaning protocols but switched gears after the Québec government decided to limit entry into the U.S. and Ontario introduced similar restrictions, Wright wrote in his statement.
"Saying we are disappointed feels like the understatement of the century," he wrote. "It goes without saying that we will be offering either full refunds or we will push vacations to next year and lock in this year's rate."
Janitorial staff will perform "a deep clean of the entire campus" before reopening on May 1.
---
No In-Person Visits at Vermont Prisons
Prisoners at Vermont's six jails won't be able to receive visitors for at least two weeks, the Department of Corrections said in a press release late Friday.
Inmates will be able to receive visitations by video; the vendor used by the state, GTL, is offering one free video visitation per inmate weekly during the upcoming period. Otherwise, 25-minute sessions will cost $6.25, according to DOC facilities executive Al Cormier.
"The sessions are scheduled by friends and family online and are done from the home," Cormier said in an email.
The department said it will also offer "enhanced recreation opportunities."
About 1,800 people were jailed in Vermont on any given day during fiscal year 2018, according to state data.
During a press conference in Waterbury on Friday evening
, Agency of Human Services Secretary Mike Smith said prisons had begun asking screening questions about coronavirus to incoming inmates.
---
Vermont Jury Trials Are Postponed
The state judiciary postponed most jury trials until at least April 15, the Vermont Supreme Court announced Friday.
The order delays trials across the state, except in cases where a defendant is incarcerated. Superior court judges may choose to delay trials that are covered by the exemptions.
The court wrote that compulsory jury service could be "particularly burdensome to certain Vermonters during the coronavirus outbreak, especially those with heightened vulnerability to the virus."
The change does not apply to federal courts. The chief judge for U.S. District Court in Vermont, Geoffrey Crawford, issued a separate order Friday limiting courthouse access. The restriction applies those who recently traveled to certain countries affected by coronavirus or who have been in close contact with a traveler, as well as anyone who has been asked to self-quarantine by a health official.
---
New Fund to Help Nonprofits

The Vermont Community Foundation is creating a new fund to support nonprofits that will "address community impacts of the novel coronavirus," both immediate and long-term, the organization said in a press release Friday.

"This new fund will increase the ability of key organizations to provide core services that ensure Vermonters have what they need at this uncertain time, and we are calling on partners to join us," president and CEO Dan Smith said in the statement. "Private philanthropy will play an important role in helping the most vulnerable Vermonters navigate the weeks and months ahead."
Donors can contribute to the VT COVID-19 Response Fund by visiting
www.vermontcf.org/vtcovid19response
.
---
Norwich University Moves to Remote Learning, Cancels Events

Norwich University became the latest institution of higher learning in Vermont to move to remote instruction and cancel campus events in the wake of the coronavirus crisis.
The Northfield college has also suspended all winter and spring athletics, including practices and games. Group gatherings on campus will be limited "to facilitate the social distancing recommended to slow the spread of COVID-19," according to a press release. Campus buildings — including the library, museum and field house — are closed to the public.
Norwich said it would provide an update about commencement plans no later than April 15.
---
Vermont Maple Festival Is Canceled
Another iconic Vermont event has been canceled because of coronavirus.
The 54th annual Vermont Maple Festival, scheduled for the end of April in St. Albans, will not go on this year.
"Please continue to support your Vermont Maple Sugar makers," the group's board of trustees said in a statement announcing the cancellation.
---
Ben & Jerry's Shuts Its Waterbury Plant to the Public
First Free Cone Day, now the Ben & Jerry's plant.
The Vermont ice cream company
has closed its Waterbury gift shop
, scoop shop and factory tour "due to health and safety concerns related to COVID-19." The company headquarters is one of Vermont's top tourist hotspots.
The news comes days after B&J's canceled its popular Free Cone Day, which was scheduled for April.
Thursday, March 12, 2020:

UVM Cancels All Athletics for Remainder of School Year

The University of Vermont has canceled all athletics for the rest of the 2019-2020 school year.
The announcement Thursday
came after the America East Conference cancelled Saturday's championship basketball game
, which was to be hosted by UVM.
The later decision for
all
team activities includes practices, games, and organized training.
As always, the health and well-being of student-athletes, coaches and staff remain our top priority," director of athletics Jeff Schulman said in a statement. "While I know this is difficult news for our dedicated student-athletes, coaches and staff, this is clearly a time for sports to take a back seat to the responsibility that we all have to keep each other safe."
---
Vermont State Colleges, Dartmouth College Turn to Remote Learning
Vermont State College Chancellor Jeb Spaulding announced on Thursday that all four state colleges will transition to online learning on Friday. In New Hampshire, Dartmouth College officials announced a similar step.
Each Vermont state college — Castleton University, Northern Vermont University, Community College of Vermont and Vermont Technical College — will post their individual plans on their websites. Spaulding said remote instruction is expected to continue, system-wide, through April 3.
"I recognize this is a difficult time for students and staff, but one in which we can all pull together with the common goal of protecting our communities' health and safety, and also ensuring that our students continue to receive the valuable education we provide through the successful completion of the semester," Spaulding wrote.
Dartmouth, meantime,
announced plans to run a remote format
at least until May 1.
---
Democrats Move Sunday's Debate from Arizona to Washington, D.C.
The head-to-head debate between Sen. Bernie Sanders (I-Vt.) and former vice president Joe Biden on Sunday night has been moved from Arizona to Washington, D.C., the Democratic National Committee
announced in a statement Wednesday
.
"Out of an abundance of caution and in order to reduce cross-country travel, all parties have decided that the best path forward is to hold Sunday's debate at CNN's studio in Washington, D.C., with no live audience," DNC communications director Xochitl Hinojosa said in the statement.
The statement continues:
In addition, the DNC, CNN and Univision recently learned that Univision anchor and moderator Jorge Ramos was in proximity with someone who was in direct contact with a person that tested positive for coronavirus. Both Mr. Ramos and the person he was in contact with are in good health and symptom free. Despite being cleared by medical professionals and out of an abundance of caution, Jorge has decided to step aside from participating in the upcoming March 15 democratic debate. Univision's News Anchor Ilia Calderón will moderate the debate in his place.

Our number one priority has and will continue to be the safety of our staff, campaigns, and all those involved in the debate.
---
UPDATE: GAMES POSTPONED No Fans Allowed at High School Girls' Basketball Games

The games have now been postponed.
The Vermont Principals' Association announced Thursday that Division 1 and 3 semifinal girls' basketball games scheduled for this evening will be played — but not open to fans. The games are to be held at UVM's Patrick Gym and the Barre Auditorium.


"Players, staff, and immediate family members are eligible but must be on the given school's master list to be admitted," the organization said in a statement.

No decision has been made yet but similar precautions will likely be in place for Saturday and Sunday's championship game, the organization said. All of the games will be streamed online.
---
Burlington Farmers Market Cancels Saturday's Winter Market

The Burlington Farmers Market won't happen this Saturday, March 14. The event is usually held every two weeks in the University of Vermont's Davis Center. But UVM announced this week that it'll begin limiting on-campus gatherings to no more than 25 people.
The market said it
will hold the April 11 event as planned.
Wednesday, March 11, 2020
CVSD Employee's COVID-19 Test Comes Back Negative
Williston schools reopened Wednesday as the district said an employee under monitoring tested negative for the coronavirus.
The buildings were closed Monday and Tuesday after the Champlain Valley School District learned that a Williston school employee may have been exposed to the virus. Workers subsequently cleaned the facilities.
In a letter Wednesday, the district said that the employee had consented to disclosure of certain details about their situation. It went on to explain that the individual stayed at a hotel in February where a large corporate meeting was also held.
"Upon their return, the staff member became ill with symptoms consistent with COVID-19, only then becoming aware that more than 70 cases of confirmed COVID-19 would be tied to the meeting at that hotel," the letter continued.
The "large corporate meeting" appears to be a reference to a Biogen company meeting held last month in Boston,
which has been linked to 70
of the more than 90 confirmed cases in Massachusetts.
"After consulting with their physician and testing negative for the flu, the employee followed the direction of their physician and contacted the Vermont Department of Health as soon as they could," the letter explained. "Our employee was subsequently tested for the COVID-19 virus. We were notified today that the test was negative."
---
Vermont Statehouse Signs Warn At-Risk Visitors to Stay Out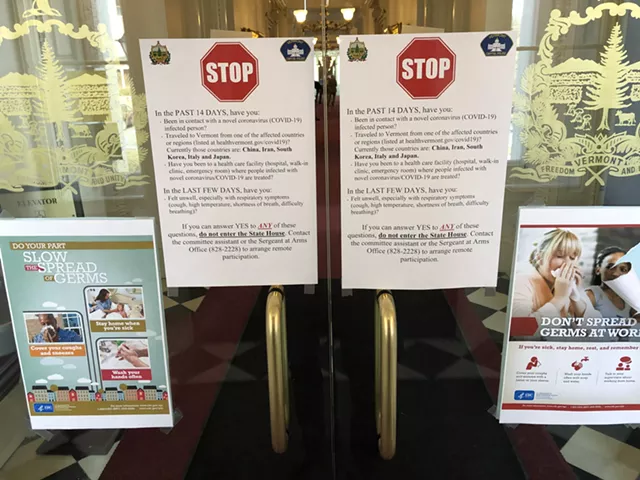 Colin Flanders
The signs on the door
The Vermont Statehouse is taking steps to prevent the spread of the coronavirus within the Golden Dome.
Signs posted outside of the Montpelier building on Wednesday morning urged people who meet specific risk factors to stay away. That includes people showing symptoms, those who have visited a health care facility where people are being treated for the virus, and anyone who has visited one of five affected countries — China, Iran, South Korea, Italy and Japan.
Still, House Speaker Mitzi Johnson (D-South Hero) said she has told her members to "not dilly-dally" on the big bills still up for debate, particularly the ones that are required to keep the state running. She added that lawmakers themselves can take their own precautionary measures.
"Y'all know what I'm going to say," she said on Tuesday during a Joint Rules Committee meeting, referring to washing hands. "You've just got to do it."
---
Special Olympics Cancels Winter Games
The Special Olympics of Vermont has canceled two upcoming events and is altering a third amid concerns about the coronavirus.
The Winter Games, scheduled for March 22 through 24 at Pico Mountain ski resort, have been canceled, as has the Unified Champion Schools Snowshoe Tournament, which was on the calendar for March 25. The Southern Vermont Penguin Plunge at Bromley Mountain on March 21 "will be restructured to allow both a physical and virtual event." More details are expected later.
The decision was made with "the understanding that many Special Olympics athletes, as well as some coaches and volunteers, are a higher risk population due to underlying health conditions that contribute to suppressed immune systems," the organization said in a statement Wednesday.
"SOVT also consulted with the Vermont Department of Health and various health professionals, and determined that the close quarters of interior spaces and lodging at these events would make it difficult to enforce social distancing as recommended by the [Centers for Disease Control and Prevention]," the statement said.
"Those who would like to send positive, uplifting messages to Winter Games athletes who are no longer able to compete, are encouraged to share their support via social media by tagging SOVT and using the hashtag #cheer4SOVT, or by emailing info@vtso.org," the statement says.
Tuesday, March 10, 2020:
Captive Insurance Mission Capsizes
A state-sponsored trade mission to Mexico to showcase Vermont's captive insurance industry was postponed Tuesday after major speakers pulled out.
The delegation of government, regulatory and industry representatives was set to promote the industry to Mexican multinational corporations later this month. It was state's first foray into Latin America, which the industry sees as an emerging market, said Ian Davis, director of financial services in the Agency of Commerce and Community Development, and was planned in partnership with the Vermont Captive Insurance Association.
"As the captive market in the region continues to grow, we want to make sure those companies know Vermont is open for business," association president Rich Smith said when the mission was announced in August.
But two of the major industry sponsors of the international roadshow — AIG and Marsh — dropped out as large corporations move to restrict employee travel over coronavirus concerns, Davis said. A major industry conference in California was canceled last week.
"A lot of effort goes into something like this. It's frankly pretty disappointing," Davis said.
---
Sanders Cancels Cleveland Rally
Sen. Bernie Sanders (I-Vt.) planned to address the results of Tuesday's primary elections during an evening rally in Cleveland. But his campaign announced late that afternoon that it would cancel the event "out of concern for public health and safety," citing the threat of coronavirus.
"We are heeding the public warnings from Ohio state officials, who have communicated concern about holding large, indoor events during the coronavirus outbreak," Sanders spokesperson Mike Casca said in a written statement.
Sanders' rallies typically draw thousands of supporters, often in close quarters. It wasn't immediately clear Tuesday whether the candidate would continue to hold such gatherings in other locations.
"All future Bernie 2020 events will be evaluated on a case by case basis," Casca said in the statement.
Soon after Sanders canceled his rally, Democratic rival Joe Biden called off his own election night event, which was also scheduled for Cleveland.
"We will continue to consult with public health officials and public health guidance and make announcements about future events in the coming days," Biden spokesperson Kate Bedingfield said in a statement.
---
Ben & Jerry's Postpones Free Cone Day
Fans of "Vermont's Finest" ice cream will have to wait for gratis Cherry Garcia: Ben & Jerry's is postponing its Free Cone Day over fears of the coronavirus,
the company announced on Tuesday.
The event typically takes place in April.
Some scoop shops around the world had already delayed Free Cone Day "due to precautions put in place by local Governments around large public gatherings, considering the increasing presence of COVID-19," the ice cream-maker said in a statement on its website. "To stand in solidarity with ice cream lovers everywhere, we have made the difficult decision to postpone Free Cone Day."
Ben & Jerry's hopes to reschedule the global event later this year. And fear not, dairy fans: Scoop shops remain open for regular business.
Monday, March 9, 2020:
Williston Schools Get a Deep Clean
Allen Brook School and Williston Central School were closed Monday over concerns that a staff member may have been exposed to coronavirus at a conference in Boston. After consulting with state health and education officials, the Champlain Valley School District decided to keep the schools closed on Tuesday to complete a deep clean, the district said in press releases.
"The original decision to close today [Monday] was based on the information available to the administration Sunday evening, without the benefit of guidance" from the Vermont Agency of Education and Vermont Department of Health, the district said.
The schools will reopen on Wednesday, once janitors who have been trained in proper use of disinfectants clean the buildings and school buses "top to bottom."
---
Courts May Postpone Trials
Vermont's state courtrooms will make changes designed to limit coronavirus exposure, including delaying or modifying hearings.
State court administrator Patricia Gabel and Chief Superior Court Judge Brian Grearson sent a memo to members of the judiciary on Monday "recommending" a series of actions. They include: holding hearings by video and telephone when possible; excusing litigants from routine hearings; and "liberally" considering requests for juror excusals due to illness.
The memo further states that superior court judges may decide to postpone jury draws and trials upon consultation with the state.
In Chittenden County, Judge Helen Toor issued a temporary standing order allowing any lawyer or client with cold symptoms to appear by phone for most hearings, according to a statement
that circulated online.
---
Tech Conference Postponed
Organizers of the upcoming Women in Data Science conference in Burlington say they're postponing the event indefinitely.
Maureen McElaney, one of the organizers, told
Seven Days
in an email that the group decided to cancel the March 21 conference after reading last week about a
New Hampshire individual who attended a mixer
in White River Junction despite guidance from health officials. The man was later diagnosed as the state's first case of coronavirus.
"We care deeply about the health and safety of our community and did not want to risk hosting a large, free event where someone might get sick," McElaney wrote, adding that tech conferences around the world have been canceled as the virus spreads. McElaney said organizers were particularly concerned about being able to provide a venue that is accessible to immunocompromised attendees.
The conference is a locally planned offshoot of the international network of events tied to the Women in Data Science conference held last week at Stanford University in California. It drew about 80 participants last year.
McElaney said organizers hope to reschedule the event at a later date.
---
Norwich Hockey Team Will Play in an Empty Arena
Norwich University's women's hockey team will play its first NCAA playoff game Wednesday in Amherst, Mass. — but no tickets will be for sale.
Amherst College — the Cadets' opponents —
made the call on Monday
to bar spectators from the arena over coronavirus concerns.
"We are taking these actions out of an abundance of caution and being mindful of the health of the Amherst community, including the teams that are competing," Amherst said in a press release.
Norwich won its fourth consecutive New England Hockey Conference (NEHC) title over the weekend. The Vermont university apologized to fans who were planning to travel for the playoff game.
The game will be
streamed live online.
---
Bishop Suspends Communion
Catholic parishes across Vermont won't be offering communion from the cup "until further notice," per order of Bishop Christopher Coyne.
The bishop's
March 4 order
also included changes to churchgoing custom meant to reduce physical contact during mass. Further, Coyne said, churchgoing Catholics who feel ill should not attend.
"The obligation to attend Mass in such cases is lifted," Coyne wrote.
---
VA Limits Visitation

Beginning Tuesday, March 10, the VA Medical Center in White River Junction will restrict access to its facilities, executive director Brett Rusch announced.
Veterans and "essential visitors" will only be able to enter through the main entrance, according to a press release. The VA recommends that no children accompany patients to the facility, and that patients with cold- or flu-like symptoms call a patient care line at 802-295-9363 (ext. 6364) before coming in for treatment.