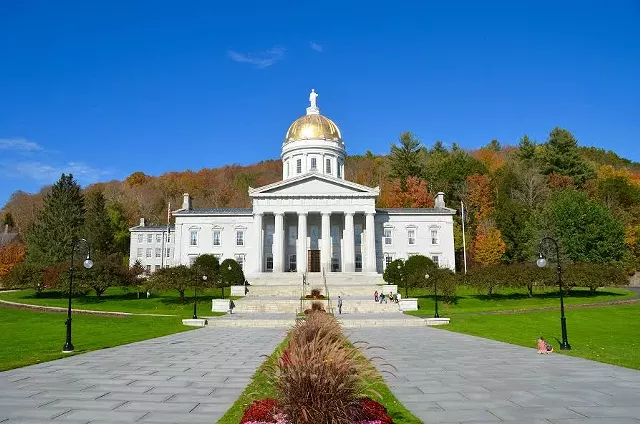 This November, 234 candidates from the Champlain Islands to Brattleboro are vying for spots in the Vermont House. On November 6, voters will choose 150 to send to Montpelier.
Our reporters have monitored several of these races over the course of the political season. Here are some of the races we'll be watching this Election Day, excerpted from our coverage over the past few months. Once you've caught up on these, make sure to check your registration and view a sample ballot at the
Vermont Secretary of State's voter portal
, and don't forget to vote.
Chittenden 6-1: Last Elephant Standing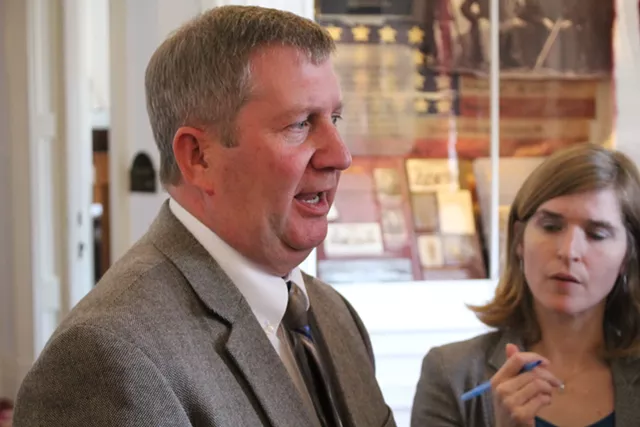 File: Paul Heintz
Rep. Kurt Wright
State Rep. Kurt Wright (R-Burlington) is a unique political success story. He's the only Republican member of the Burlington City Council and also its president. And he's the only Queen City Republican in the Vermont House. He's one of two state representatives from the Chittenden 6-1 district, which covers much of the city's New North End, a suburban area with a mix of upscale homes and low- and moderate-income housing.
House Democrats are hoping to erase one of Wright's distinctions on November 6. They believe he's vulnerable in a changing district and hope to take his seat in their drive to win a veto-proof majority in the next legislative session.
Wright is the only Republican on the ballot in Chittenden 6-1. Two Democrats are in the race: first-term incumbent Rep. Carol Ode (D-Burlington) and Bob Hooper, a retired state employee and former president of the Vermont State Employees' Association. This is Hooper's second bid for the House; he finished fourth in 2014.
This isn't the first Democratic effort to oust Wright, and they have yet to succeed. Wright has served in the House since 2001. He's finished first in every election but one.
That one time, however, was in 2016. Wright not only came in second, he barely held on to his seat, winning by a mere 67 votes. As further evidence of a changing district, the Dems also cite the 2017 city council election, when New North End voters chose Ali Dieng, a Democrat/Progressive. Democrats see Wright as out of step with a district that's becoming younger and more ethnically diverse.
"I notice that," said Hooper, when asked if Chittenden 6-1 is changing. He welcomes the increased diversity. "It's good to have such rich communities within our city."
Ode says the changing population doesn't necessarily mean a shift in politics. "The economy and quality of life, we're all concerned about," she said. "Whether lifelong resident or New American, they care about family, kids, neighborhoods, schools, health care and jobs."
As the sole Burlington Republican in a heavily Democratic legislature, Wright argues that he provides much-needed balance. "We've had one party dominate the legislature for a decade and a half," he noted. Retaining the GOP caucus' ability to uphold gubernatorial vetoes, he added, is "critical."
At the same time, he doesn't want to be seen as too Republican. "I'm a centrist, independent-minded Republican," he said. "I think people will understand that."
Unsurprisingly, neither Hooper nor Ode think much of the "balance" argument.
"Every person is unique and brings different experiences and talents," Ode said. "To say one person will bring more balance than another, I don't see it. I'm supporting Bob."
Hooper takes it a step further, claiming that "balance" misses the crucial point: Getting things done for the district. "I could go there as a member of the majority party," he said. "You're one of the players on the field, not in the stands throwing peanuts."
Conventional wisdom says 2018 could be a bad year for Republicans, with liberal voters highly engaged — and often enraged — by the Trump presidency. Wright sees it differently. "No question the 2016 election was close," he said. "I survived, because I've been around and earned enough loyalty from the voters. I'm better off this time without Trump."
That's certainly an optimistic reading, but it fits a guy who's been beating the odds his entire political career. And for Democrats hoping to finally knock him off, Wright offers a lesson from history.
"My district is famous for splitting its ticket," he said. Indeed, he has shared the podium with a Democrat nine straight times. If this election follows tradition, then Wright will continue to be the last elephant standing in deep-blue Burlington.
Essex-Caledonia-Orleans: The Union Label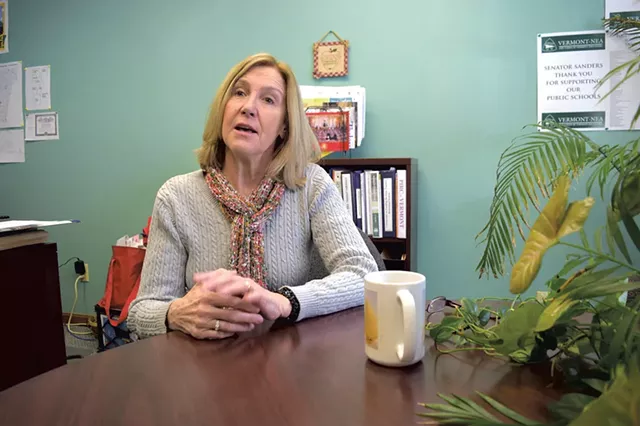 File: Terri Hallenbeck
Former Vermont-NEA president Martha Allen
Vermont Democrats have hopes of capturing state House seats in two neighboring Northeast Kingdom districts. In both cases, its candidates are prominent members of the Vermont labor union scene: Martha Allen, former president of the Vermont-National Education Association and Dennis LaBounty, political director for the Vermont AFL-CIO.
Allen is challenging two-term incumbent Rep. Paul Lefebvre (R-Newark) in the Essex-Caledonia-Orleans district, which comprises the northeastern corner of the Kingdom. LaBounty is looking to pick off one of two seats in Caledonia-4, which includes the towns of Lyndon, Burke and Sutton. The district is currently served by Reps. Martha Feltus (R-Lyndon) and Dick Lawrence (R-Lyndon). Lawrence is retiring; Patrick Seymour is the Republican candidate hoping to succeed him.
Allen and LaBounty are fixtures around the Statehouse, but both also have deep roots in the Kingdom. Allen has lived in Canaan since 1985 and taught in the local schools for 24 years. LaBounty has lived in Lyndonville for 25 years and spent virtually his entire life in the Kingdom.
Both emphasize their local ties. "It's where my home is. I love the Northeast Kingdom," Allen says. They also say their experience around the legislature would be a bonus for constituents. "I've been in the Statehouse for 16 years," said LaBounty. "I know how it works. I know the committees and the leadership."
That might be a double-edged sword. "We have a pretty strong independent streak," said Feltus. "We want Montpelier to leave us alone."
Lefebvre points to one particular Montpelier intrusion. "The State Board of Education wants Brighton and Charleston to merge," he said. He argues that the two school districts have been cooperating to expand available classes and keep costs down. "My constituents believe the [state] board never took a look at what's happening on the ground." He also points to high property taxes as a big issue.
Allen and LaBounty believe they can appeal to Kingdom voters with core Democratic issues. They would cut property taxes by shifting education funding to an income-based tax. They emphasize universal broadband as key to economic development. LaBounty is a strong advocate for a $15 minimum wage and paid family leave. Allen sees the Kingdom as "desperately in need of [state] support," in terms of transportation, mental health and opioid addiction.
Lefebvre is seeking a third term in the legislature. Feltus is running for a fourth. Seymour, at age 21, is seeking a House seat for the second time. In 2016, he ran as a Democrat and finished behind Feltus and Lawrence. At the time, he adopted the Dem label partly because he thought it was "an easier path to election." This time, he says, he was enticed to cross the aisle by Lawrence himself. And with a Republican seat open in a normally Republican district, Seymour stands a better chance by switching sides.
Democrats are hoping that a blue wave will sweep them to a legislative supermajority. But "up here, that's not as much of a factor," said Steve Amos, former chair of the Caledonia County Democratic Committee. "People here are pretty independent." He believes that Allen and LaBounty's prospects depend on their ties to the community and their advocacy for the Kingdom.
Grand Isle-Chittenden: Can Republicans Bring Down the House Speaker?
Originally published September 19, by Alicia Freese.
File: Jeb Wallace-Brodeur
House Speaker Mitzi Johnson
House Speaker Mitzi Johnson (D-South Hero) didn't seem worried as she made her way through the South Hero farmers market on a sunny afternoon last week. Wearing Tevas and a T-shirt and periodically popping cherry tomatoes into her mouth, she chatted with farmers, greeting them by first name.
Though her nonchalant demeanor didn't suggest it, the top-ranking House Democrat faces a serious electoral challenge from an uncle-nephew duo with backgrounds in the military and Milton town government. Republicans Leland and Michael Morgan are trying to oust Johnson and her seatmate, Rep. Ben Joseph (D-North Hero).
"I realize that I have a target on my back because I am speaker," Johnson said, noting that she will campaign more vigorously this year than she has in the past.
"If you're looking at districts Republicans can pick up, that's definitely at the top of the list," said Jack Moulton, executive director of the Vermont Republican Party. And, he noted, "There's some kind of intangible value to beating the speaker."
Moulton has reason to believe Johnson is vulnerable.
The eight-term incumbent only narrowly won reelection in 2016. She finished second to Joseph, a first-time candidate, and edged out Republican Jason Moquin by 103 votes, 2,157 to 2,054. The race was even tighter in 2014, when she beat Moquin by just 31 votes to claim the second seat.
The district includes the five towns of Grand Isle County and a slice of Milton, in Chittenden County.
Lamoille 3: No District for Old Men
When Rep. Bernie Juskiewicz (R-Cambridge) opted not to seek reelection after three terms in the legislature, his decision touched off a frantic phone call to Cambridge native Zac Mayo, who was — I kid you not — hiking the Appalachian Trail.
"A friend of mine reached out and said, 'There's an opportunity here if you want to run for office,'" Mayo recalled. "It was about two weeks before the filing deadline, so I had to scramble." And scramble he did.
That friend was Gregory Tatro, son of Jeffersonville contractor and frequent GOP donor Greg Tatro. The elder Tatro gave Mayo a job at his company and a $1,000 campaign donation. The 29-year-old Republican will face 23-year-old Democrat Lucy Rogers of Waterville in a rare contest between two candidates under 30. (Juskiewicz turned 75 this year.)
Democrats and Republicans see this race as a bellwether. "Lamoille-3 is definitely one to watch," Rep. Jill Krowinski (D-Burlington) said of the district that includes Cambridge, Jeffersonville and Waterville.
"Zac's a great candidate," Moulton said. "I think he'll win. But if it's bad, it's bad. If Zac loses, it's a bad night for us."
Both candidates were born and raised in the district, went away for a time and returned to their respective hometowns. They are young, energetic and dislike partisanship. "We emailed each other" early in the race, said Mayo, "and agreed we're going to keep it positive."
Rogers is a child of rural Vermont who milked the family cow every morning before school, gaining a passion for agriculture that hasn't diminished. Between high school and college, she worked on farm-related projects in other states. After earning a biology degree from the University of Vermont, she moved back to Waterville.
"There's a lot that small towns can't offer," she said. "But what they can offer in terms of community and personal relationships is so much more important than what I could have in a bigger town or a city." When she's not going door-to-door, she works at a local restaurant and on a nearby farm.
Rogers' agenda emphasizes the needs of rural Vermont: infrastructure, internet access, job opportunities and community-scale education. "I believe in local control," she said. "I went to a school with 11 kids in each grade. There's been a lot of talk about how small schools don't prepare kids for college, and I absolutely did not have that experience."
She considers her youth an asset as she seeks a seat in a legislature dominated by the AARP-eligible. "I feel the struggle of being a young person in Vermont and want to make sure that their voices are at the table," she said.
Rogers originally thought of running as an independent before choosing the Democratic label. "Local issues are not partisan issues," she said. "You should elect me because I'm the best voice to represent this area, not because I'm running as a Democrat."
As for Mayo, he tried college for a year and realized it wasn't for him. He worked at Copley Hospital until he was 21 and then signed up for a six-year term in the Navy. He trained as a nuclear technician and served for four years on the USS Olympia, a nuclear-powered submarine.
When his six years were up, he spent some time on the road, "trying to see where I could see myself." He took two cross-country trips, went to Iceland and hiked most of the Appalachian Trail.
Mayo became focused on politics after the 2016 election. Although he had conservative beliefs, he didn't like President Donald Trump. "I found President Trump to be very divisive, with an incredible amount of ego," Mayo said. "It's hard to watch from the sidelines how quickly we use absolute terms in politics. If we're yelling at each other all the time, where are we going? What are we doing?"
He wants civility, but he is a staunch Republican. "I believe in liberty and personal responsibility," he said. He'd like to see reform of the Act 250 permitting process to make it more efficient, as well as stronger efforts in job training and workforce development.
And if he doesn't win, he'll have time to finish his interrupted hike. "I've got about 300 miles to go [on the Appalachian Trail], and absolutely someday I will."
Orange 1: An Ephemeral Candidacy
A candidate for Vermont House in Orange County is pursuing an unusual strategy: almost complete invisibility. Republican Christopher Covey, owner of C.C.'s Tree Service, is not spending any money. Nor is he campaigning door-to-door — "It feels intrusive" — and he's shied away from most media requests. "I'm running under the radar," he explained. "I've spent $150 on my campaign. I've received donations from people and sent them back."
Covey is one of four candidates contending for two House seats in the Orange-1 district, which includes six communities: Chelsea, Corinth, Orange, Vershire, Washington and Williamstown. It's a predominantly rural district; as Democratic candidate Carl Demrow noted, "Orange-1 doesn't have a single traffic signal." The other two hopefuls are incumbent Rep. Rodney Graham (R-Williamstown) and Progressive Susan Hatch Davis, who represented the district in the House from 2009 to 2017. She lost her seat in the 2016 election, finishing a mere seven votes behind Rep. Bob Frenier (R-Chelsea).
Frenier isn't seeking a second term, but he is managing Covey's campaign — what little there is to manage. Frenier argued that the no-campaigning campaign is a throwback to the state's political roots. "It's the traditional style of Vermont campaigning and the tradition of people who work with their hands on our lands and forests," Frenier said. "We need more people like that."
Burma-Shave-style roadside signs, a sequence of placards delivering a message, provide the only visible evidence of Covey's candidacy. "I call it Vermont Twitter," said Frenier. One example, as reported by the Barre-Montpelier Times Argus: "Under the Vermont government/ Bureaucracy is like a well-manured garden/ That never gets weeded."
Covey calls himself "a constitutionalist" who believes that some freedoms have been "trampled" this year — particularly by the new gun restrictions that became law following what authorities called a foiled mass shooting plot at Fair Haven Union High School in February. Not only does Covey believe that some of the new laws are unconstitutional, he also argues that Jack Sawyer, the teenager who drew up detailed plans for the shooting, "was exercising freedom of speech. He didn't commit a crime."
Graham, a more conventional sort of conservative, is seeking a third term in the House. "I've still got things to do," he said. "I definitely didn't want to leave the district without an incumbent." His priorities, he said, are keeping taxes down, opposing further restrictions on guns and making health care more affordable. And he wants to prevent Democrats from winning a supermajority. "We need to do that, or pretty much not bother going [to the Statehouse]," he said.
Demrow is a self-employed carpenter and construction worker from Corinth, and a first-time candidate. He brings a rural perspective to the Democratic agenda. "Pocketbook issues are No. 1," he said of a district with many people struggling to make ends meet. He supports worker safety and the right to organize, strong public schools, and "a roadmap to universal health care," he said. "The things that help people get out of poverty."
It might seem a foregone conclusion that Davis would seek to return to Montpelier, but she said that she didn't make up her mind until the spring. "A group of young people contacted me and wanted to organize my campaign," Davis said. "They felt they were underrepresented in the Statehouse. We met three or four times, and I said I'd run."
The four-candidate race presents contrasting visions of rural Vermont's needs. The Republicans' agenda could be summed up as "Cut my taxes and leave me alone." Davis and Demrow support an activist state government that can provide help to rural communities that can't fend for themselves.
Democrats are confident about Davis and hope Demrow's hard work will pay off. For Republicans to retain both seats, the voters will have to respond to Covey's unconventional strategy.
"We'll see if people respect [Covey's low-budget] campaign," Frenier said. "If people think he should spend money and take time away from his business, he won't do well."
If so, Republicans will be one seat closer to losing their ability to uphold gubernatorial vetoes.
Washington 3: Lion in Winter
Vermont Rep. Paul Poirier (I-Barre) has had a remarkable life in politics.
"I just finished my 22nd year in the legislature," 70-year-old Poirier said at a candidates' forum last Thursday night. "I've held 52 years of elective office — legislature, city council, justice of the peace."
And then he added: "This will be my last election. You'll never see 'Paul Poirier' on a ballot again."
He might exit the political stage as a loser. Many of his longtime allies have abandoned him. In previous years, the Democrats have only run a single candidate in the two-seat Barre City district. This time, they are fielding a full slate in a direct challenge to Poirier.
Everyone agrees on one fact: With two Democrats, a Republican and one liberal independent, the race is wide open. "The math is very difficult to predict," said Rep. Tommy Walz (D-Barre), the other incumbent on the ballot. Which means this is one of the Republicans' few opportunities to add a seat to their caucus. Their entrant is John Steinman, an orthodontist and first-time political candidate. The fourth man in the race is Democrat Peter Anthony, a former mayor of Barre.
Steinman is a solid Republican who trumpets his conservatism on taxes and spending and his skepticism on climate change. That might seem like an odd fit for traditionally Democratic Barre, but with three liberal candidates on the ballot, there's room for Steinman to make a move. Besides, he noted, Republican Karen Lauzon, wife of former Barre mayor Thom Lauzon, finished a mere 140 votes behind Poirier in 2016. "She came very close in a three-way race," Steinman said. "A four-way race may increase my chances."
Poirier has served three separate stints in the House: 1981 to 1989, 1997 to 2001, and 2007 to the present. During the '80s he was a fixture in Democratic leadership. He was House speaker Ralph Wright's top lieutenant and the party's nominee for Congress in 1988. He served as a Democrat until the end of the 2009 session, when he went independent because of what he saw as an increasingly partisan atmosphere. "I chose to leave the Democratic Party so I could do what's best, not follow orders," Poirier said at the candidates' forum.
Until this year, the Democrats valued Poirier as a strong voice on progressive issues and tolerated his occasional straying. Not anymore.
"Paul has lost credibility in the Statehouse," said Brandon Batham, Barre city councilor and chair of the city's Democratic Party. "He's been inconsistent on many issues."
Take this year's gun-control debate, in which Poirier was a strong critic of new restrictions. "The bills we passed this year did nothing to protect our children," he told the forum audience.
Poirier loudly opposed the Democratic majority's bill to raise the minimum wage to $15 per hour over six years; he favored a quicker implementation, while Dems were content to make incremental progress. Union leaders also criticize Poirier for raising the idea of converting the Barre City Fire Department from a full-time, unionized service to a volunteer-based organization.
"We're disappointed with Paul," said Darren Allen, communications director for the Vermont-NEA. "He used to be a staunch supporter. Recently, he's taken positions contrary to labor and education."
Poirier insisted he still has a "perfect record" on labor issues and blames the Democrats for the loss of union support. "I called the two unions," he said in a Monday interview. "They gave me some bogus answers. I think the Democratic Party told them not to endorse me. I think they got squeezed."
Poirier claimed that his independent status allows him to work with all parties and vote his conscience. Anthony argued that being independent actually diminishes a lawmaker's clout. "Walking out of the fold is not the best way to be effective," Anthony said. If he joined Walz in the caucus, he added, Barre would have two voices "who could argue the case for the city's challenges."
Sue Higby, who succeeded Poirier on the Barre City Council, views herself as a former ally and supporter who saw him as "a legislative lion." No more. "Good political leaders have to evolve," she said. "The 'I' used to stand for 'independent.' Now it stands for 'impediment.'"
Ouch.
The voters of Barre, Poirier noted, "have been very good to me." It remains to be seen if they will continue to stand by him, even as his political and labor allies have moved away.
Windsor-Orange 1: Farmer Versus Filmmaker
Rep. David Ainsworth (R-Royalton) is running for the legislature for the eighth consecutive time. So far he's won four times and lost three, usually by razor-thin margins. The district is once again a flash point in this year's battle for the House.
The Democratic nominee is Tunbridge resident John O'Brien, a filmmaker best known for Man With a Plan, the 1996 film that launched the brief political career of Tunbridge farmer Fred Tuttle. Two years later, Tuttle ran for the Republican nomination for U.S. Senate and upset the party's choice, Jack McMullen, in the primary. Immediately afterward, Tuttle withdrew, endorsed incumbent Sen. Patrick Leahy (D-Vt.) and returned to his farm.
The 63-year-old Ainsworth, a fifth-generation farmer, is running for reelection despite serious health issues that kept him away from the Statehouse for most of the 2018 session. After receiving a kidney transplant in 2016 and suffering the onset of a chronic neurological disorder last summer, he contracted a life-threatening staph infection near the end of last year. "I was bedridden or in a wheelchair through January and February," Ainsworth recalled. "I was in rehab through March." When he returned to the Statehouse, on April 25, he received a standing ovation upon casting his first vote of the year, to uphold a gubernatorial veto of a toxics bill.
Ainsworth acknowledged that he's still far from 100 percent. He gets around slowly. There's some bruising on his face and head, and his once-formidable beard has been reduced to a few wisps. But he's back for another go-round, in large part because he couldn't find a replacement.
"I did rack my brain trying to find someone to run," he said. And he's deeply worried about a Democratic supermajority. "We stopped the majority party from raising taxes [this year]," he said. He listed various tax ideas that have been proposed in Montpelier and expressed his concern that, with a bigger majority, the Dems could increase taxes at will.
"I've been told I'm too conservative, but I'm sticking up for working Vermonters," he said. So he's running again, even though he can't guarantee he'll be able to serve out another two-year term. "I hope I'm over the hump with my health issues," he said.
O'Brien, meanwhile, says his filmmaking renown has proven to be an asset —sometimes. "Anyone under 30 doesn't know who Fred Tuttle was or heard of Man With a Plan," he said. On the other hand, "I talked to a guy last night, asked if he'd put up a yard sign. He replied, 'I know Fred would approve!'" Score one for the filmmaker.
The 57-year-old O'Brien is a Tunbridge native. He earned a degree in government at Harvard, then moved back to the family farmhouse. He still lives there. He first got interested in politics at age 11, when his father Robert ran successfully for the state Senate. "We'd go door-to-door," he recalled. "I have memories of campaigning and being chased by German shepherds."
The filmmaking career has been on hold for a while. O'Brien's most recent project, a climate change comedy called Oxymoron, has been more than 10 years in the making and has "gotten stalled." He and his wife are building a business by renting out their farm as an event venue. "We had six weddings and a funeral this year," he said. Film nerds.
O'Brien believes in many of the ideas that worry his opponent. He favors a Democratic proposal to raise the minimum wage to $15 an hour over six years, a plan to create paid family leave and the idea of legalizing marijuana. "I generally agree with the Democratic platform," he said. "What I don't agree with is how partisan the process has become. It discourages cooperation and problem-solving."
On that, if on little else, Ainsworth would agree. He sees a loss of civility in Vermont politics. "We don't have all the answers, but they don't either," he said.