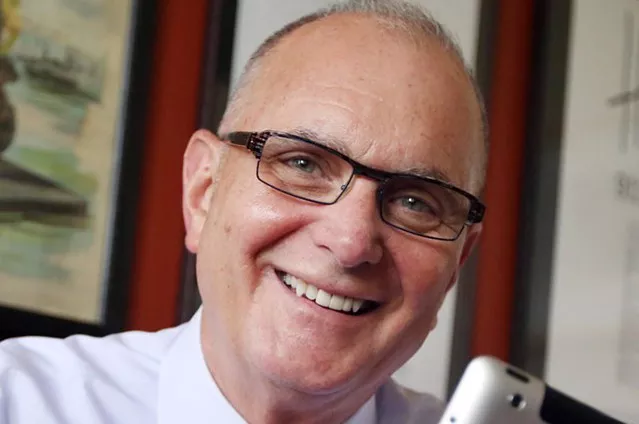 Courtesy Steve Earley/The Virginian-Pilot
Burlington Free Press Executive Editor Denis Finley
The top editor of the
Burlington Free Press
drew heavy criticism on Twitter Friday and Saturday for a post suggesting that Vermont's proposal to offer a third gender option on government identification "makes us one step closer to the apocalypse."
In his Friday night Tweet, Freeps executive editor Denis Finley was responding to
a Vermont Public Radio story
about the proposal and a comment from Rights & Democracy spokesman Shay Totten that the policy move was "awesome!"
Community members quickly excoriated Finley,
who joined the Free Press in 2016
. Totten, a former
Seven Days
political columnist, questioned whether Finley was "transphobic, bad at Twitter, or both." Vermont Democratic Party chair Terje Anderson called it "another reason not to subscribe to the
Burlington Free Press
."
Finley responded to several of his critics in real time.
When Twitter user Tim Sinnott wrote that the policy was awesome "because recognition is awesome," Finley responded, "All recognition? Any recognition, Tim? What if someone said it's awesome they are going to recognize pedophiliacs on licenses? I'm not being snarky, I'm just asking. Not all recognition is awesome."
"So you think trans people are the equivalent of pedophiles?" Anderson asked.
In an interview Saturday afternoon with
Seven Days
, Finley said that his tweet may have been poorly presented but that his intent was journalistic.
"I really just wanted to ask the question: 'Why is that awesome? And why is that necessary?'" Finley said. "That's all, and I think any journalist would ask that question."
Finley said his word choice was a reference to the regular
Sports Illustrated
feature "Signs of the Apocalypse."
"It was a riff on that," he said. "It was poorly chosen."
As the post spread throughout the Vermont twittersphere, fellow journalists questioned its propriety.
Valley News
news editor and columnist John Gregg suggested Saturday afternoon that Finley would apologize or possibly lose his job.
Finley did not apologize in the Saturday interview but suggested he would if the tweet had the effect of making any
Free Press
employees uncomfortable.
"If it was harmful to them, I would apologize to them," he said. "It was not my intention."
Jasper Craven, a freelance reporter who previously worked for VTDigger.org,
tweeted
Saturday that Finley's "apocalypse" tweet was just the "tip of the iceberg." He pointed to previous posts in which the editor appeared to make light of allegations of sexual impropriety and cautioned against a rush to judgment against Roy Moore, the Alabama Senate candidate accused of sexual misconduct.
In the interview, Finley clarified that he was not a Moore supporter. He has, however, frequently weighed in on national politics on Twitter, often criticizing former Democratic presidential candidate Hillary Clinton and retweeting such conservative provocateurs as Ann Coulter.
Craven wrote that many of Finley's tweets appeared to violate the widely adopted Society of Professional Journalists
Code of Ethics
.
Craven also pointed out a December 2017 tweet from Finley that questioned whether it's appropriate "to promote drag queens at an event for little kids" and another from that month referring to Politico journalists as "whores."
Finley said Saturday that he understands why some support a policy to add a third gender option to driver's licenses but said he had questions about whether that's a smart idea.
"I'm not sure it's a good policy, but I understand where the community is coming from when they say that," Finley said. "When they say 'It gives us recognition, recognition that we've never had, or recognition that wasn't enough' I get that, but is it the right policy? … I'm not sure."
He didn't name specific concerns with the policy and said he didn't necessarily oppose it.
"Do I disagree with it as a policy? I don't really know because I haven't thought about it for days, but that's why I'm asking the question: Is that what we should be doing as a society? Is it the right thing to do? That's all," Finley said.
Twitter users such as Chris Donnelly, the director of community relations for Champlain Housing Trust, weren't satisfied with Finley's tweet-length versions of that explanation Friday evening.
The editor said Saturday that he tweeted his comments from his personal account and said the tweets do not reflect the opinions of the
Burlington Free Press
or its parent company, Gannett. Finley identifies himself in his Twitter profile as executive editor of the
Free Press,
but also has
a separate, professional account
.
Asked whether he thought the "apocalypse" tweet violated any of his employer's policies, Finley said it was a close call.
"We do have a policy, like most news organizations," he said. "We are supposed to be circumspect. We have to be careful. And that's the expectation from every journalist. Do I think this complied? It was probably right on the edge."
Finley said he hadn't heard from his employer in relation to the controversy, other than a message from his boss, Freeps publisher Jim Fogler, notifying him about interview requests related to the tweets. Gannett did not immediately respond to a request for comment.
As far as he could remember, Finley said, he's never deleted a tweet — and he doesn't plan to start now.
"I think taking them down would be cowardly. I said it. I'll answer questions. If I made a mistake, I'll admit it. But I think it would be cowardly of me to take them down," he said.
So,
does
Finley think he made a mistake?
"I think I should've just asked the question," he said. "I think the word apocalypse was too strong. Hindsight is always 20/20. I was trying to add some humor and it backfired."
Corrected at 9:16 p.m. to reflect the fact that Finley has a separate professional Twitter account.