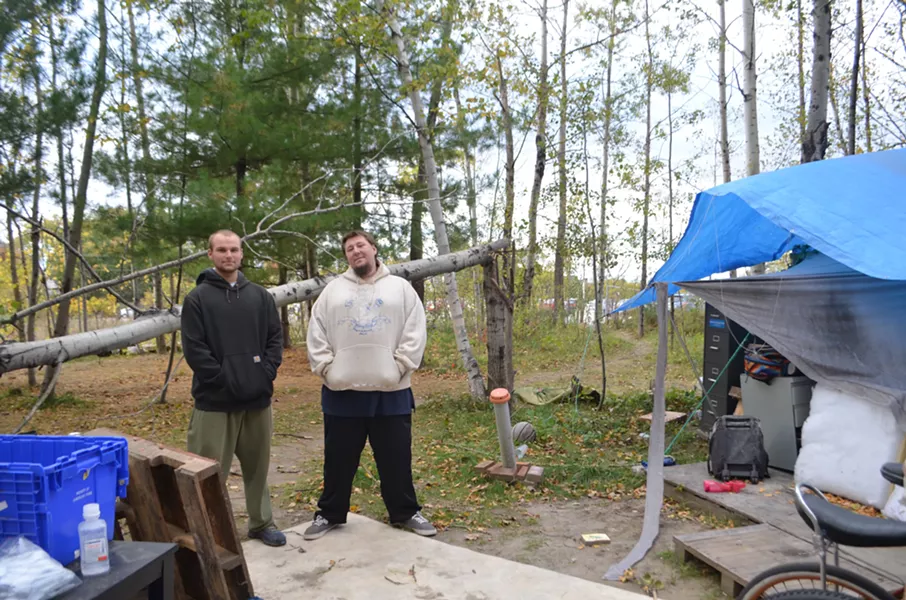 Katie Jickling
Dylan Berns-Snyder and Nick Walls
This post was updated at 1 p.m. to include Chief Brandon del Pozo's comments from Thursday.
The city of Burlington was not clearing out a South End homeless encampment that has previously been a source of safety concerns, Police Chief Brandon del Pozo said Wednesday — because the city has nowhere to put the residents' stuff. But on Thursday, he said officials are looking for a way to store the belongings that have accumulated there — and still planned to shut it down.
Smith left an eviction notice at the encampment weeks ago, and had hoped that the campers would leave of their own accord — and bring their belongings with them. Three of the original seven campers are staying at Safe Harbor, she said; four remain.
The safety issues, which include allegations of drug dealing and use and domestic violence in the encampment, are still a concern, said del Pozo. But he accused the remaining campers of using the city's efforts to protect their property as a way to trespass on the land. Leaving their belongings, he said, "seems like a modus vivendi, a strategy to hamstring the city."
But when a reporter visited Monday, Nick Walls and Dylan Berns-Snyder were ready to pack up. They emerged from a tent and said they were preparing to move the following day; a rumor had reached them that that was the date the city had set for the eviction. Both had been staying in tents there for months, they said.
"We're just doing what we have to do to survive," Walls said.
Walls added he doesn't feel the encampment is a dangerous place. "I feel safe, don't you?" Walls said to Berns-Snyder. Downtown, where there's been a
string of violent incidents
involving the homeless, would be worse, Walls concluded.
Katie Jickling
Belongings at the South End encampment
The following day, no one arrived. That was because the job is impractically big for the city, Smith said later.
There
was
plenty of stuff at the site. Besides the tents and accompanying sleeping bags, tarps, and mattresses, there was a grill, a lawnmower and a filing cabinet. An exercise bike lay in the pile of leaves, and several bikes were chained to trees.
Three former residents, who are now housed at Safe Harbor, confirmed that they abandoned their belongings at the site, according to Smith. When
Seven Days
visited, only Berns-Snyder and Walls were there, though about two others were living there as well, Smith said.
The
Burlington Free Press
reported last week
that the police had originally planned to remove the encampment on October 10.
When the city considers taking down an encampment, the heads of the Public Works and Parks, Recreation and Waterfront departments, as well as del Pozo and Mayor Miro Weinberger make the decision by consensus, said Smith. The city attorney must then affirm that the decision is constitutional.
Katie Jickling
Dylan Berns-Snyder and Nick Walls
Thursday morning, those people met and discussed the issue, and decided they do want to dismantle the South End encampment, the chief said. In fact, it may happen as soon as Thursday, said del Pozo.
An earlier version of this story — one that indicated city officials
weren't
going ahead — "highlighted to us that we need to conclude this," del Pozo said. "The city's work has an effect on the residents and the people camping there."
The city had previously "reached an impasse" and wasn't going to rent a storage locker, del Pozo acknowledged. "Resolving the issue for the sake of the campers and the concerned citizens, rather than this vacillating uncertainty seems compelling," del Pozo indicated.
The decision will require city funding to pay for a storage locker. The city is required to keep the belongings for at least 30 days, del Pozo said.
When the police department first announced its intent to disband the encampment, Jay Diaz, an attorney with the American Civil Liberties Union of Vermont, wrote a letter to del Pozo and Weinberger saying that dismantling the encampments without due process would violate the constitutional rights of those who stay there.
"We write to insist that the City of Burlington respect the constitutional rights
of its homeless residents, treat them with dignity, and expand available shelter
for these individuals rather than unlawfully forcing them out of their current
locations and destroying their property," Diaz wrote.
Del Pozo said Diaz's letter had no bearing on the city's decision; the city's effort to safeguard property has long been in place.
"It's a vexing problem for the city balancing safety and compassion," he added. "It's turning the city into an inadvertent landlord."
Meanwhile, the campers were hoping to find permanent shelter.
"There are a lot of barriers," said Smith, such as debt or bad references from previous landlords. "One way or another, it's all piled against them," she said.
Walls said he hoped to find housing by November 1. Berns-Snyder also said he wants to be sleeping inside by next month. He's been on the waitlist for a spot with Spectrum Youth & Family Services for seven months, he said.
"It gets cold at night," said Walls.
Correction, October 19, 2017: City officials are considering dismantling other homeless camps as well. An earlier version of this story contained an error.