Ryan Mercer/Burlington Free Press
Aita Gurung in court Friday
A man accused of
hacking his wife to death with a meat cleaver in broad daylight
on a Burlington street has been ordered held without bail and must undergo a mental competency and sanity evaluation, a judge ruled Friday afternoon.
A shackled Aita Gurung, 34, looked at the floor and showed no expression as an interpreter explained Judge Kevin Griffin's orders during an appearance in Vermont Superior Court. Gurung will be evaluated at the University of Vermont Medical Center and will be kept in the custody of the Department of Mental Health until it's complete, Griffin ruled.
Sara Puls of the Chittenden County Public Defender's Office, who represented Gurung in court, entered not guilty pleas on his behalf.
Authorities say that on Thursday afternoon, Gurung killed his wife, 32-year-old Yogeswari Khadka, and critically injured his 54-year-old mother-in-law, Tulasa Rimal. Burlington Police Chief Brandon del Pozo said she was expected to survive. Gurung was charged with first-degree murder and first-degree attempted murder.
"We believe he had every intention of murdering them and he knew that that's what he was doing," Chittenden County State's Attorney Sarah George told reporters after the hearing.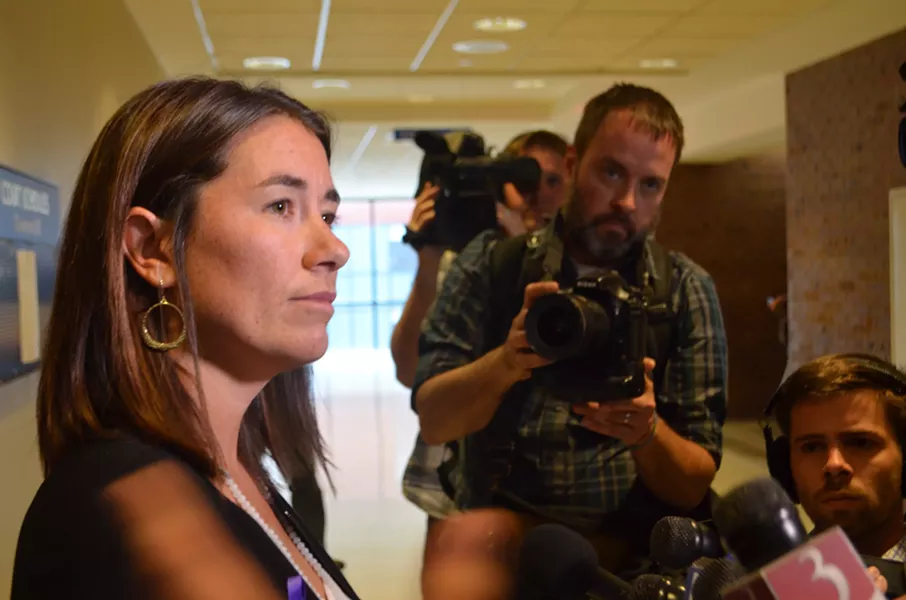 Sasha Goldstein
Sarah George speaks with reporters Friday.
George visited the crime scene at 72 Hyde Street in the Old North End and recounted for reporters a harrowing sight.
"It was heartbreaking. It's a quiet street and it was in the middle of the day and that sidewalk was covered in blood. The house was covered in blood. It was really heartbreaking," she said. "There's no other way to describe it."
Burlington police first interacted with Gurung, a refugee from Nepal, on October 7, del Pozo said at a Friday morning press conference.
Gurung entered an Old North End deli that day and said he needed the police because he'd committed an act of domestic violence the night before and was having mental health issues, del Pozo recounted.
Burlington police
Aita Gurung
Officers investigated and found no evidence of a violent act at the couple's residence, del Pozo said. The officers then interviewed his wife at her workplace, a Shelburne Road hotel. She had no visible injuries, according to police.
"She said 'Yes, my husband is having mental health issues. He does take medicine. I think he's slipping off his meds. This is a problem but I don't think he committed a crime against me the night before,'" del Pozo said. "Lacking probable cause to arrest for a crime, they counseled Mr. Gurung about the availability of services. He was transported to crisis at the UVM Medical Center. And that was the last contact we had with him until [Thursday]."
A UVM Medical Center spokesman declined to discuss Gurung's hospital stay, citing federal privacy statutes.
Gurung was admitted voluntarily, according to del Pozo, and asked to leave Thursday. Khadka picked him up around noon, drove him home, "and at 2:30 he's alleged to have murdered his wife," del Pozo said.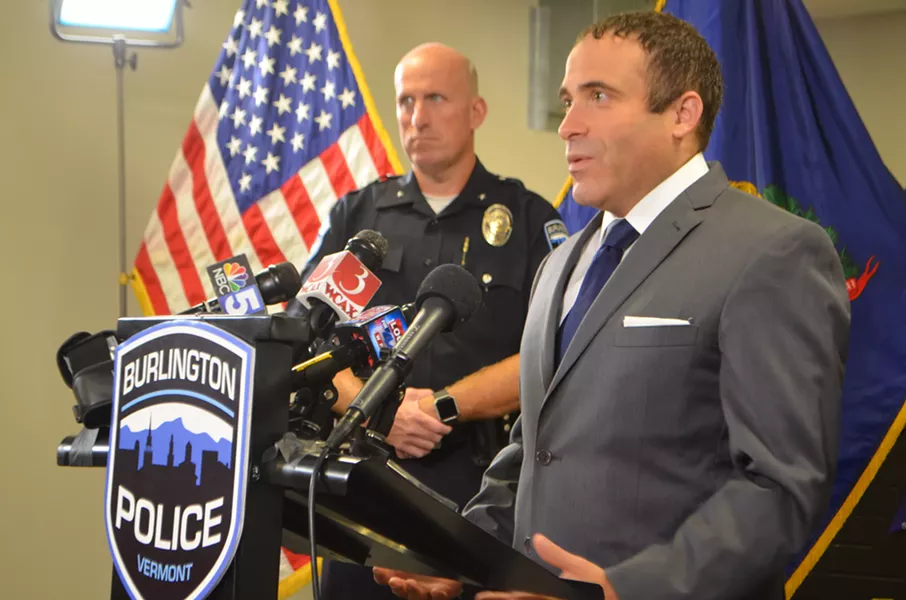 Sasha Goldstein
Burlington Police Chief Brandon del Pozo, right, and Deputy Chief Shawn Burke
A police affidavit filed in court gave a detailed and graphic account of what happened. Neighbors heard screams from the home and ran outside. Gurung lived there with his wife, their 8-year-old daughter, and his wife's parents.
Neighbors saw Gurung — a hospital bracelet still wrapped around his wrist — hacking at his wife, who had escaped the house and fallen in the driveway. He had "a blank look on his face" and he was saying, "She betray me, she betray me," witnesses told police.
Rimal, his mother-in-law, had been cut as well and was "slumped in a seated position in the doorway" as Gurung attacked her daughter, according to the affidavit.
One witness, John Casey, told police "he was initially drawn to the scene because he heard screaming and crying. He heard someone yell, 'He's killing her, he's killing her ... He's killing the whole family.'" He said he saw Gurung "hitting her, hitting her like on the arms, on the head, on the shoulder ..."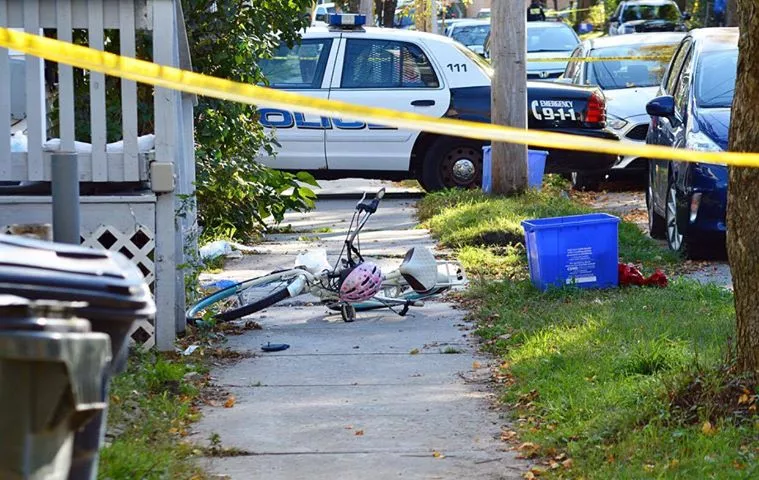 Courtesy: Alex Corriveau
A bike at the crime scene
Police said Casey pulled out a black-powder revolver, aimed it at Gurung and threatened to shoot him. Police officers arrived and, with guns drawn and using ballistic shields for protection, approached and apprehended Gurung. Police said the meat cleaver had a 10-inch blade.
The couple's daughter was at an after-school program during the attack. She was being cared for afterward by her grandfather, who was at work when the attack occurred, del Pozo said.
The assaults took just "a few short minutes," Det. Lt. Michael Warren said. At least one witness took cellphone video of the attack and police have reviewed body camera footage to piece together key parts of the incident, according to del Pozo.
Facebook
Yogeswari Khadka
"There were people who were brave in trying to get as close as they thought they could get to scream at him and tell him to stop," del Pozo said.
The chief praised his officers for their work responding to the gruesome, chaotic scene.
"In seconds, they processed all of this. They used their training with their shields. They were able to safely figure out where the man with the gun figured in. They were able to safely apprehend the alleged killer," del Pozo said.
"And then, they went ahead and used tourniquets, which are not commonly carried by police in Vermont, to staunch the bleeding and attempt to save a life," he added. "I think that's great police work and I think the men and women of this department deserve a huge amount of credit."
He added: "The only thing we lament, as armchair quarterbacks, is if we'd gotten there a minute earlier. I think the last minute was decisive."