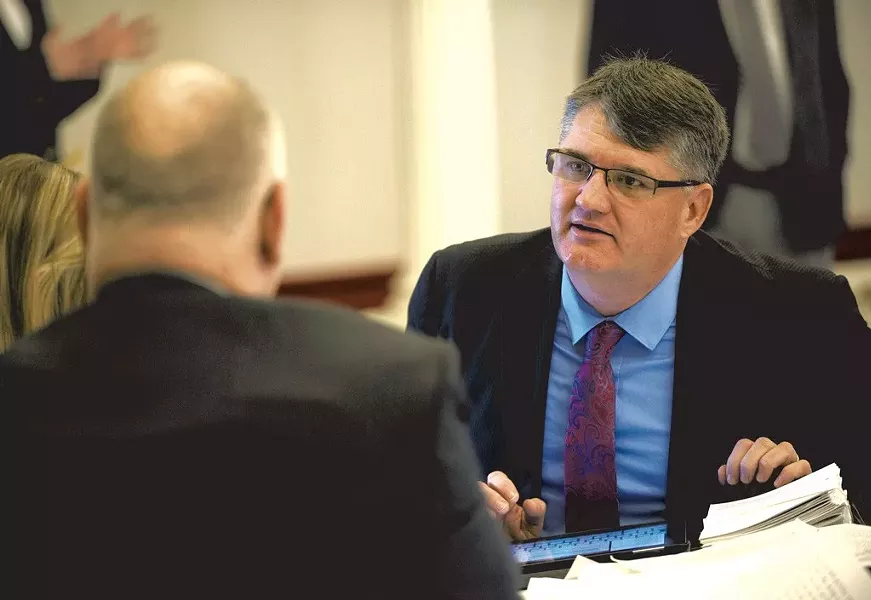 File: Jeb Wallace-Brodeur
Rep. Don Turner
Citing an unnamed source, Vermont Republican Party vice chair Brady Toensing
alleged in a federal complaint last year
that Sen. Bernie Sanders (I-Vt.) "pressured" a bank to approve a loan application submitted by the senator's wife, Jane O'Meara Sanders.
But in an interview with
Seven Days
Friday, that source — Vermont House Minority Leader Don Turner (R-Milton) — disputed Toensing's characterization of their May 2016 conversation and called into question Toensing's allegation. Turner described the information he provided Toensing as nothing more than "hearsay" — and hardly evidence of wrongdoing.
"There's no way I'd file a complaint or anything like that," said the Milton Republican, who has not previously been identified as Toensing's source.
Turner's remarks appear to undercut the most explosive charge that Toensing, a Charlotte attorney, has leveled in recent years at the senator and his wife. But they don't directly contradict another of the Republican official's allegations: that O'Meara Sanders committed federal loan fraud by overstating fundraising commitments when applying for a $6.5 million loan on behalf of Burlington College, the now-defunct school she once ran.
As Seven Days has previously reported
, the latter charge has prompted an extensive federal investigation that former college officials believe is focused on O'Meara Sanders and her 2010 loan application to People's United Bank. No evidence has surfaced suggesting that the feds are investigating the senator himself. He and his wife have denied any wrongdoing.
Jeff Weaver, a longtime Sanders confidante who managed the senator's 2016 presidential campaign, said Friday that the discrepancy between Turner's and Toensing's accounts undermines the latter's credibility. Weaver said he was speaking for the family — not for Sanders' Senate office or reelection campaign.
"This revelation proves what most already knew. Brady Toensing, who was Trump's Vermont campaign manager, is a right-wing hack trying to impugn Bernie Sanders with no foundation whatsoever," Weaver said, referring to Toensing's service as President Donald Trump's 2016 state campaign chair. "He's the kind of guy that if he told you it wasn't raining, you'd look outside to see if you needed an umbrella."
But Toensing, who confirmed to
Seven Days
Friday that Turner was his source, declined to retract his charge.
"I stand by what I have said based on what I was told," he said. "It is time for the senator himself to end his silence and answer questions about what contact his office had with the bank about this loan."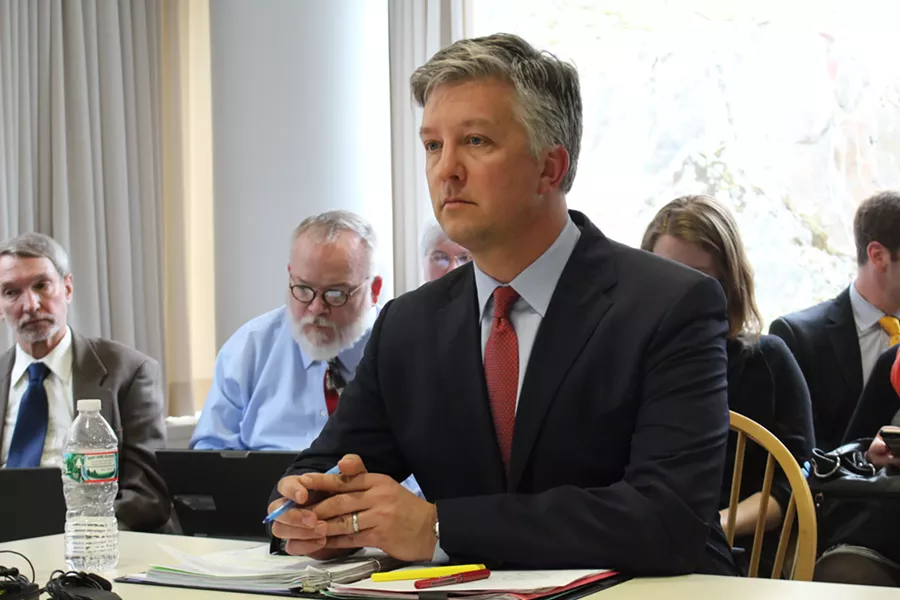 File: Paul Heintz
Brady Toensing
After accusing O'Meara Sanders of loan fraud
in a January 2016 complaint
to the U.S. attorney for Vermont and the Federal Deposit Insurance Corporation, Toensing followed up that May with
a second letter to the feds
.
"As a result of my complaint, I was recently approached and informed that Senator Bernard Sanders' office improperly pressured People's United Bank to approve the loan application submitted by the Senator's wife, Ms. Sanders," Toensing wrote in his May 2016 missive. "Improper pressure by a United States Senator is a serious ethical violation."
For the first time Friday, Toensing elaborated on the conversation that prompted his second letter.
"I was approached by Don Turner on Saturday, May 21, 2016 and told that a former People's Bank executive had told him that he was upset about the Burlington College loan because Senator Sanders' office had pressured the bank to make the loan and he felt it was improper," Toensing told
Seven Days
in a written statement. "I later asked Mr. Turner for more detail about the allegations. He explained that he was at a lunch with three bankers and the former People's Bank executive told the whole table about the pressure from the Senator's office and that the bank was told to 'make it happen.'"
Turner confirmed to
Seven Days
that the subject came up during a meal he shared with three bankers at Montpelier's NECI on Main, but he denied that any of his lunch companions had disclosed firsthand knowledge of the loan — nor the senator's potential involvement.
"They said that they were aware or had heard that Bernie's office had helped get that loan — and that was it," said Turner. "It was just a hearsay, general conversation."
Turner said he could not remember the date of the lunch nor the identity of the banker who suggested that the senator had acted improperly, but he said that person was not involved with the Burlington College loan and was not purporting to share firsthand information.
"I have never said I had any knowledge or evidence or anything," said Turner, adding that he has not been contacted by federal investigators.
Daniel Johnson, a senior vice president for commercial lending at People's United, said Friday that he remembered dining with Turner and NBT Bank commercial banking manager Rob Roy in Montpelier, but he couldn't recall what they discussed. He declined to reveal the identity of the fourth person at the table.
"We got together. It was lunch. That's all," Johnson said. "I don't remember our conversation, frankly, what it was about. It was just light, general stuff."
Johnson did not join People's United until October 2014 — years after the bank loaned Burlington College $6.5 million to buy a new campus on North Avenue. Roy could not be reached for comment Friday.
File: Paul Heintz
Jane O'Meara Sanders
Turner confirmed that he later mentioned the lunch to Toensing, but he claimed he was unaware until Friday that he had been the source of the federal complaint. When
Seven Days
read a portion of it to the House minority leader, Turner said Toensing had not accurately described their May 2016 exchange.
"The statement you read to me was a lot more pointed than anything I said based on a conversation, I can tell you that," Turner said.
In Toensing's written comments Friday, he seemed to contradict Turner's assertion that the legislator did not recall the name of the banker who allegedly shared the information about the senator.
"At one point, I asked Mr. Turner if he would reconsider giving me the banker's name and he said he would get back to me," Toensing said. "When he got back to me he said he had checked with the other two people at the lunch and said he did not feel comfortable sharing the executive's name because he did not want to get him involved."
While the Vermont press corps
has been covering the allegations against O'Meara Sanders for years
, the story only caught fire in the national media last week, after
Politico Magazine
published a story summarizing previous reporting
. That prompted multiple cable news stations to query the senator about it.
"That is an absolute lie," Sanders told MSNBC's Chris Hayes on Thursday, referring to Toensing's charge that he pressured People's United to approve the loan.
Weaver, who is serving as Sanders' spokesman on the matter, seized on Turner's remarks to dismiss Toensing and his allegations.
"What's sad is that his repeated baseless, politically motivated attacks against people like Bernie Sanders, Jane Sanders, former Vermont Attorney General Bill Sorrell, state Senator Chris Pearson, Bernie's presidential campaign and others all come at a huge cost to taxpayers because of all the time spent by government officials looking into them," Weaver said, referring to targets of Toensing's previous complaints. "Every time Brady Toensing tries to land a low blow with one of his political smears it's really hardworking taxpayers who take it in the gut."