Terri Hallenbeck
House Speaker Mitzi Johnson (center right) and Rep. Kate Webb (center left) huddle with fellow legislators and staff Wednesday in a Statehouse copy room.
Vermont House Republicans nearly pulled off a stunning upset late Wednesday night as they faced off against the Democratic majority over which side had the better plan to capture savings from new, cheaper health insurance policies for teachers.
House Speaker Mitzi Johnson (D-South Hero) had to cast a rare vote to counter a 74-73 tally that was favoring the Republican position. By forcing
a 74-74 tie
, Johnson defeated a GOP amendment that would shift teacher health care negotiations from the local to the state level.
The dramatic vote came at 10:30 p.m. after a long day of backroom negotiations followed by floor debate. Republicans would have won if two of their supporters — Reps. Marcia Martel (R-Waterford) and Jim Condon (D-Colchester) — were present.
"In nine years, I've never seen anything like it," said Rep. Adam Greshin (I-Warren), who joined Republicans on the issue.
"It's the closest I've ever come to winning," said House Minority Leader Don Turner (R-Milton). "Unbelievable."
Democrats prevailed in a subsequent vote to leave health care negotiations at the local level. Under that plan, any savings generated would be used to lower property taxes. That amendment passed by an 81-56 vote at 11:10 p.m.
Though Democrats technically prevailed, the close margin was a defeat of sorts for them — and a victory for first-term Republican Gov. Phil Scott. The governor had made a major push for statewide teacher health care negotiations in the previous weeks, arguing that the new health care plans could save the state $26 million a year if negotiations were conducted correctly.
Terri Hallenbeck
Gov. Phil Scott talks to reporters Wednesday about teacher health care legislation.
Republicans managed to rally about a dozen Democrats to the governor's cause.
Jeff Fannon, executive director of the Vermont-National Education Association teachers' union, said he, too, was stunned by Wednesday's vote. He agreed that the new health plans would save money but said the amount is unknown.
"People were wowed by $26 million and I think that number is made up," Fannon said.
The governor indicated Wednesday night that the close vote would embolden his push for savings as the legislature nears its targeted Saturday adjournment.
"Clearly the willingness is there," spokeswoman Rebecca Kelley said. "There's definitely still a path forward."
House Republicans, who hold only 53 of 150 seats, started the day Wednesday thinking they had amassed support from enough Democrats and independents to pass legislation creating a statewide teacher health care contract. But their optimism quickly faded as Democrats scrambled to announce their own plan to capture savings from the plans.
Democrats would keep negotiations at the local level but insist that savings from health plans be tracked and returned to the state to lower overall property taxes.
"There has never been disagreement that we should try to recapture as much of that savings as possible and return it back to taxpayers," Senate President Pro Tempore Tim Ashe (D/P-Chittenden) told reporters Wednesday morning.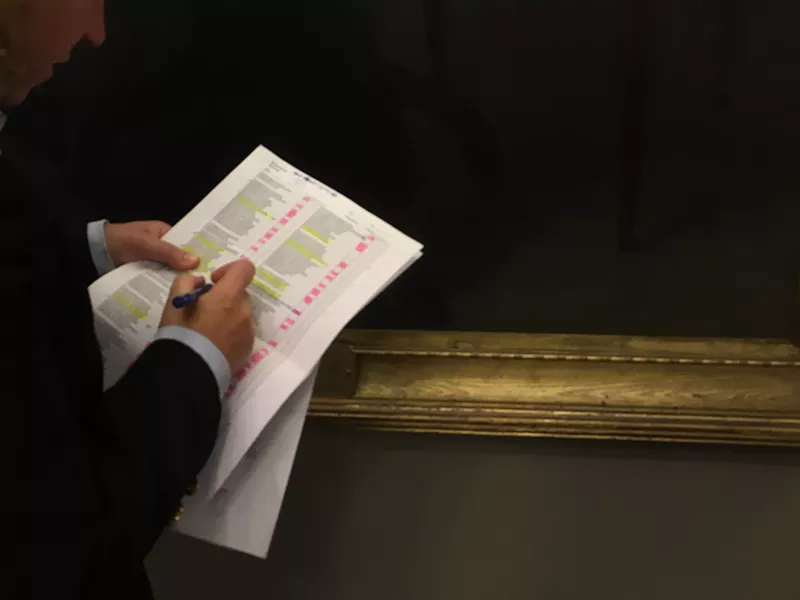 Terri Hallenbeck
Rep. Heidi Scheuermann (R-Stowe) counts votes on teacher health care legislation Wednesday.
Later in the day, with Republicans arguing that the Dems' plan lacked incentive for each school district to negotiate savings, Democrats revised their plan, with Rep. Kate Webb (D-Shelburne) taking the lead. She and Johnson huddled with staff in a copy room outside the House Ways and Means Committee room to work out revisions.
As an incentive, the revised plan called for returning savings in 2019 to school districts via grants. That money would have to be used to lower property taxes.
"We're trying to find something that addresses property tax relief," Webb said.
That there are savings to be had from teacher health care plans is not in dispute. But the ideological disagreement centers on who would negotiate, how much money could be saved and how it should be used.
To meet federal Affordable Care Act regulations,
new health care plans for teachers and school staff take effect next January
. Those plans are less expensive, but how much less expensive depends on which of four plans teachers choose. Those plans' costs are negotiated at the school district level across the state.
Terri Hallenbeck
(From left to right) Reps. Scott Beck, Kurt Wright, Don Turner, Heidi Scheuermann and Adam Greshin talk strategy in the Statehouse hall Wednesday.
Seven districts have ratified contract agreements, including the Lamoille South Supervisory Union. Superintendent Tracy Wrend said the supervisory union expects to save up to $200,000 in the first six months of 2018.
The negotiations on that contract were difficult, Wrend said. As president of the Vermont Superintendents Association, she said she supports talking about a statewide approach to teacher health insurance contracts.
Scott and his Republican allies in the legislature pushed for shifting those talks to the state level this year. The idea is that the state would have leverage to negotiate a better deal than school boards do, thus ensuring the estimated $26 million a year in savings.
"School contract negotiations are extremely complex," said Greshin, who is also a Warren School Board member. "By far, the most complex item to be negotiated is health care."
Democrats held firm against altering the collective bargaining process that allows employees to negotiate directly with their employer.
Rep. Tommy Walz (D-Barre), a former teacher and school board member, decried "taking the power away from the school board and giving it to the state."
"What I want to point out to you is this creates a very strange construct in collective bargaining. There is collective bargaining going on, but neither side is at the table," Walz said. "I object to that."
That, too, is the position of the Vermont-NEA. Fannon said he supported the Democrats' plan to capture savings from the health insurance plans but would adamantly oppose moving negotiations to the state level.
Scott, speaking Wednesday afternoon to reporters, declined to say he'd veto any budget that depended on the Democrats' plan. But he held strong to the notion that his approach — to take over negotiations and direct the savings to state coffers —would be the most successful.
How did he square the notion of Republicans, who are traditionally against big government, pushing for the state to take control of contract negotiations?
"These are interesting times, but this is an opportunity for all of us to reap the benefits of this change in health care plan as being presented to us with the Affordable Care Act," he said.
Further irony? The governor was pushing a plan that came as a result of the Republican-despised ACA.
Disclosure: Tim Ashe is the domestic partner of
Seven Days
publisher and coeditor Paula Routly. Find our conflict-of-interest policy here: sevendaysvt.com/disclosure