Terri Hallenbeck
Nicole Mace, executive director of the Vermont School Boards Association, talks about potential savings in teacher health care costs, with Gov. Phil Scott last month.
As the 2017 legislative session approaches its final days, teachers' health insurance looms as the central issue threatening the peace between lawmakers and the governor.
Can the two sides find common ground on how to ensure that anticipated savings in teachers' new health coverage finds its way to Vermont property owners? Or will philosophical differences over the issue prompt a gubernatorial budget veto?
Those questions hung in the air Tuesday at the Statehouse as legislators worked toward a targeted Saturday adjournment for the year.
Gov. Phil Scott has claimed that his proposal for a statewide teacher health care contract would save the state education fund $13 million next year and $26 million annually after that.
The latter amounts to about $75 a year in property taxes on a $250,000 house. Just a month ago, Scott praised a House-passed budget that didn't include that savings, but he now says he won't support a final state budget
without
it.
His proposal, borrowed from the Vermont School Boards Association, calls for shifting negotiations of teacher health insurance contracts from local school boards to Scott's secretary of administration, who would bargain one statewide agreement.
The Vermont-National Education Association, a statewide teachers union, strongly opposes the move, arguing that it would infringe on the collective bargaining process by which teachers negotiate pay and benefits with their employer. "The state is not their employer," argued Vermont-NEA president Martha Allen.
Health insurance is part of teachers' overall compensation packages, she argued, and should be negotiated alongside pay and other benefits.
House Republicans are pushing for a House debate on the governor's plan, but Democratic leaders delayed action on the GOP amendment for the second day in a row Tuesday.
"We've decided to postpone action and see if there's any additional room for compromise," said House Majority Leader Jill Krowinski (D-Burlington).
"It's buying us more time to see if there's a more productive way out of the box," echoed House Assistant Majority Leader Tristan Toleno (D-Brattleboro).
If their comments suggested that lawmakers were on the precipice of an agreement with the governor, that appeared not to be the case.
"There have been no meetings on the issue," said Jason Gibbs, Scott's chief of staff. The governor has been trying to amass public support for his plan and counts the VSBA and the Vermont League of Cities and Towns as allies.
Still, various players indicated that finding common ground might yet be possible.
"I'm confident we're going to get to a finish line together," said Senate President Pro Tempore Tim Ashe (D/P-Chittenden).
File: Terri Hallenbeck
Vermont-NEA president Martha Allen
Ashe declined to identify how that might happen, but he made clear that interfering with the collective bargaining process without taking a deep look at the consequences is off the table for the Senate.
"That's our starting point," Ashe said. But, he added, "To save $26 million, there could be many roads to get there."
Asked if the House was equally opposed to Scott's plan, Toleno indicated that the question was under discussion among leaders. "Some of those hard lines are fluid right now," he said.
According to Gibbs, the governor agrees. "There are options to get at this savings in different ways," Gibbs said. "We think the governor's proposal is the most logical."
Nicole Mace, executive director of the VSBA, proposed the $26 million savings plan. But, she said Tuesday, "I don't think it needs to be all or nothing. There are things the state can do to set a better backdrop for negotiations."
By that, Mace means that even if lawmakers are unwilling to require a statewide health insurance contract, savings would be realized if legislators agreed to standards to be used when negotiations reach an impasse.
That there are savings to be made is not in dispute. But questions
do
remain about the amount — and how that money gets used: by local school districts or the state?
Districts across Vermont are negotiating new teacher contracts this year to meet requirements of the federal Affordable Care Act. The Vermont Education Health Initiative, a nonprofit organization that serves school districts, came up with four plans available to teachers starting next January. Those plans, which cover 36,000 teachers, staff and their families, are cheaper than VEHI's current plan, according to trust administrators Laura Soares and Mark Hage.
The new plans are expected to generate savings because they feature lower premiums and higher out-of-pocket costs for the insured — and because they include incentives for choosing generic drugs and alternatives to emergency rooms, such as urgent care, according to Soares.
She and Hage said VEHI is projecting that even if school districts collectively chip in $50 million to cover those new out-of-pocket expenses, the new plans will result in lower overall health care costs.
The savings wouldn't start until January, which is halfway through the state's fiscal year. The VSBA projected that the new plans would save $13 million in fiscal year 2018, then $26 million a year after that. But that's only if all school boards negotiate what the association considers a standard contract, with teachers paying 20 percent of their premiums and choosing the Blue Cross Blue Shield of Vermont gold plan.
The savings are "based on a lot of assumptions," Soares said.
For example, there's no way of knowing until late this year which of the four plans teachers and staff will choose. Several school boards around the state have already negotiated new health insurance contracts with their teachers, none of which are identical to each other.
The Republican governor is proposing to shift the remaining contract negotiations to the state and require that all savings be captured by the state, rather than local districts.
A statewide contract appears to be a nonstarter for the Democratic majority in the legislature. Its members also question the fairness of the state, rather than the local districts, deciding how savings get used.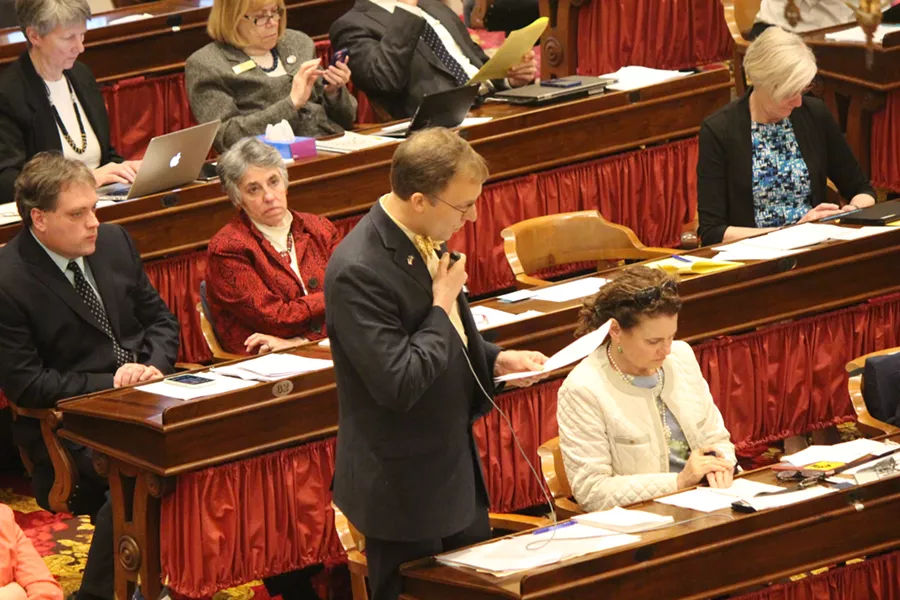 File
Rep. Martin LaLonde (D-South Burlington)
Some lawmakers are torn. Rep. Martin LaLonde (D-South Burlington) serves on the South Burlington school board. "I don't like the idea of taking negotiations off the table. I prefer not to see it go to the state level," he said.
But he also sees value in the legislature sending a message that these health contract negotiations must capture savings for state property taxpayers.
Would he, a Democrat, vote for the governor's plan? "I've been yes. I've been no," he said. "I think ultimately I would vote yes."
It was unclear Tuesday, however, whether that plan would ever reach a vote in the House. That could be because a compromise is in the works — or not.
House leaders might also be avoiding a vote because it would make their members uncomfortable. "I think they don't want people on the record voting for a property tax increase," Mace said.
Disclosure: Tim Ashe is the domestic partner of
Seven Days
publisher and coeditor Paula Routly. Find our conflict-of-interest policy here: sevendaysvt.com/disclosure