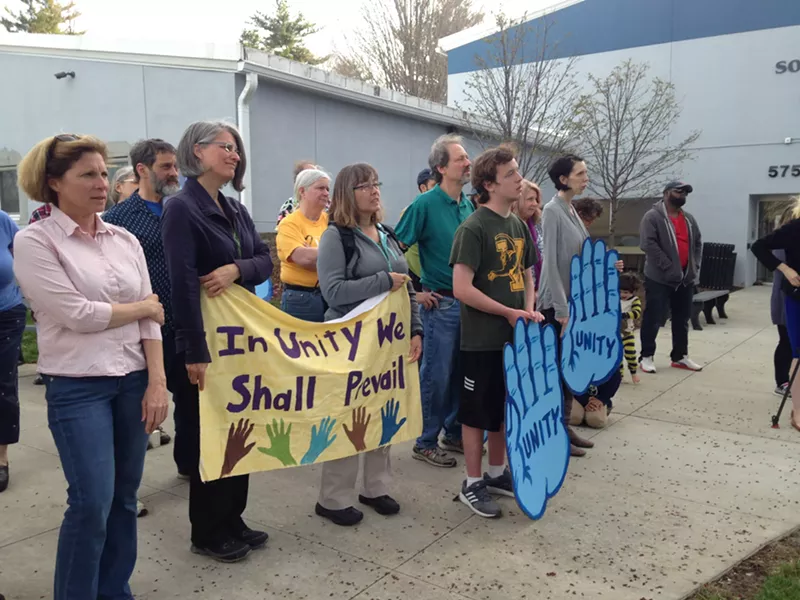 Molly Walsh
People at Wednesday's vigil in South Burlington
Community members convened at two separate gatherings a few miles apart in South Burlington Wednesday evening in an attempt to unite after a week fraught with fear and uncertainty.
But the competing events represented the two sides in the often contentious — and racially tinged — debate over the high school's Rebel nickname. And the gatherings came just days after a South Burlington High School senior's arrest for
allegedly threatening to kill
his classmates and teachers, supposedly as retribution for the decision to drop the Rebel name.
One of the groups gathered for a vigil outside city hall with a message of peace and unity, while another showed up at the police station to thank officers for their work as the death threats last week terrified the town.
Organizer Vicki Garrison told the 60-person strong crowd at city hall that the vigil was "an opportunity to start healing, to start a new beginning — together. This gathering represents unity, harmony and peace and I just thank you so much for coming."
Holding signs that read "unity is in our hands" and "strength in unity," the crowd listened as speakers urged the school board to stand by its February decision to drop the Rebels name, which some say has racist connotations. The group at times prayed together and sang "We Shall Overcome" in the round.
Garrison collaborated with Black Lives Matter Vermont and the Champlain area National Association for the Advancement of Colored People to put on the event. She said she wanted "to have people come from near and far to wrap their arms around South Burlington." Garrison emphasized that the decision to drop the name was morally just, even though it generated struggle and controversy.
"This is what our country must go through in order to heal. Frederick Douglass said, 'Without struggle, there will be no progress,'" Garrison said, quoting the 19th-century orator and abolitionist who escaped slavery.
Molly Walsh
Vicki Garrison, organizer of Wednesday's vigil
A resident of Essex who works on social and racial justice issues, Garrison said it does not matter that she doesn't live in South Burlington. She had ample reason to get involved in the debate, she said.
"I'm black in Vermont and that answer should suffice. We have a responsibility. I feel a very personal and communal responsibility to stand in solidarity with voices of color, especially young voices," Garrison said.
Mary Brown-Guillory, president of the local NAACP chapter, said community leaders need to stand up for what is right, and that is to retire the Rebels name with its association to the Confederacy and slavery.
"We are standing up for the right to say our children will not bear this anymore," she said.
The mood was somber, reflecting events of the last week. Josiah Leach, 18, was arrested Friday for allegedly making threats to kill teachers and students at his school. He's due in court Thursday morning.
The escalating threats prompted school lockdowns and a district-wide
cancellation on Friday
. Leach, who is African American, allegedly issued a kill list of specific teachers and students. Among those named was Isaiah Hines, an African American student
who pushed the district to drop the Rebel name
.
Garrison urged forgiveness for Leach, and also for Dan Emmons, a supporter of the Rebels name who is accused of stalking and harassing Hines. Emmons has
pleaded not guilty
.
Molly Walsh
Khrishna Hines and her son Isaiah Hines
Hines, a co-president of the high school's Student Diversity Union and a student rep on the school board, addressed the crowd at the vigil.
"I really just want to say thank you to everyone here," he said. "But also thank you to my peers who stood up with me, thank you to the teachers who have supported this, thank you to the administration who has always been there to support the Student Diversity Union since the very beginning …"
Hines told S
even Days
after the vigil that he was taken aback by Leach's arrest. "I'm totally and completely shocked and really saddened by it," he said.
Hines said he does not know Leach well, other than as a fellow senior at the high school. The two are Facebook friends and did have a few exchanges online, Hines said.
"It seemed like he was a nice guy," Hines said of Leach. "I was really confused by it and and it makes me sad that he would do that."
The vigil initially was scheduled to take place outside South Burlington High School. District administrators approved it, but then rescinded the invitation after members of the Rebel Alliance, a group that wants to keep the Rebels name, complained that Garrison is not a city resident and accused her of attempting to sow racial division.
"These individuals are the same ones who have used race as a means to divide the South Burlington community by insisting on pushing an ideological agenda that includes the racist ideas of 'white privilege,' 'white dominance' and 'white fragility,'" Rebels Alliance member Stacey Savage wrote to schools superintendent David Young.
Hines attended the vigil with his mother, Khrishna Hines,* who at one point teared up as speakers at the event repeatedly thanked her son for his leadership. "I'm more proud than I could ever show," she said of her son.
Two police officers stood near the vigil, on hand for security if needed. It wasn't, and the event unfolded in a peaceful manner that seemed to leave many participants deeply moved – choked with emotion, tears streaming down their faces.
Michael Hill Jr., who works at Spectrum Youth & Family Services in Burlington, came because he believed it was important to gather. "I think it was necessary and much needed," he said.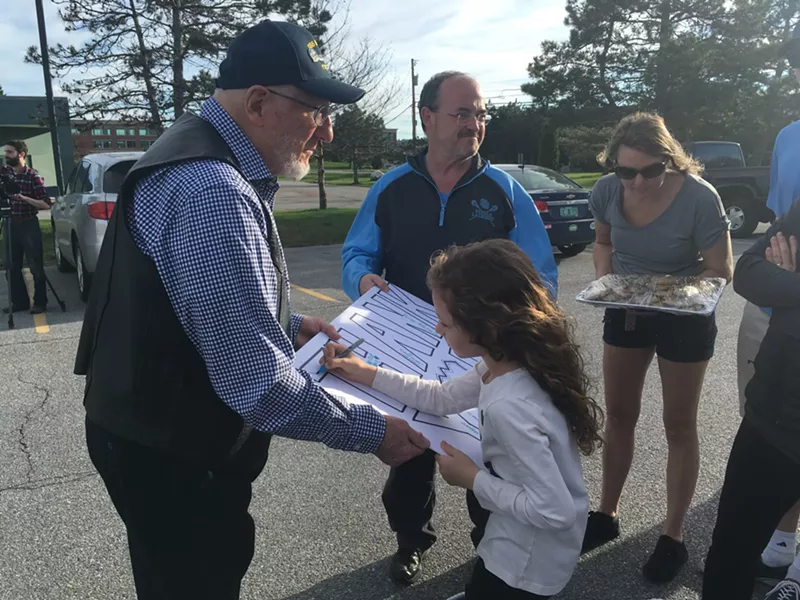 Mark Davis
South Burlington community members visit the police station to thank officers for their work during the school lockdowns last week.
At the same time and just a couple miles away, a group of 50 parents and community members filed into the South Burlington police station carrying dozens of trays of food, gifts and a hand-written sign reading "thank you."
Organizers, most of whom are active in the Rebel Alliance group, billed the event as an opportunity to show support for South Burlington police officers after their work during last week's school lockdowns.
The group also made clear in interviews that they were opposed to the vigil and the fact that it attracted members of Black Lives Matter Vermont, a group they considered to be reflexively anti-police.
Savage, who attended the event at the police department, said she and others had been planning an event to thank cops before learning of the vigil.
"We are showing support for our police. It's not a reaction to them. We had been talking about this for days," Savage said, later adding: "Black Lives Matter is an anti-police group, I don't know what else to say."
Parents said that they were still on edge after the events of last week. Many of them said they received frantic texts from their children during the lockdowns, and were still struggling to feel normal again.
They said they saw the vigil as divisive.
"This is a community building event. We have a divided community and we're trying to bring it together," said parent Carrie Plunkett, who has three children in the South Burlington school system. "Our community is severely divided right now and I feel like their event is further dividing the community. I feel like all lives matter, all children matter, no matter what color."
Mark Davis
Sgt. James Mills addressed the group.
An hour into the evening, trays of prime rib, shrimp cocktail, chicken wings, cakes and muffins sat arrayed on tables inside a police station conference room. There was just one problem — there were no cops around.
Word filtered down to parents that the on-duty officers had been busy with a series of calls.
Finally, Sgt. James Mills emerged and sheepishly told the excited group that officers were tied up responding to larceny complaints and car crashes.
"I don't know what to say. I appreciate everything, and I'm sorry the rest of my team is not here," Mills said. "There's really no need. This is what we do. We want to be police officers. We want to help people. But thank you ... I don't know what else to say."
Mills then basked in a hearty round of applause, posed for pictures — and went back to work.
*Correction, April 28, 2017: A previous version of this story misidentified Khrishna Hines.