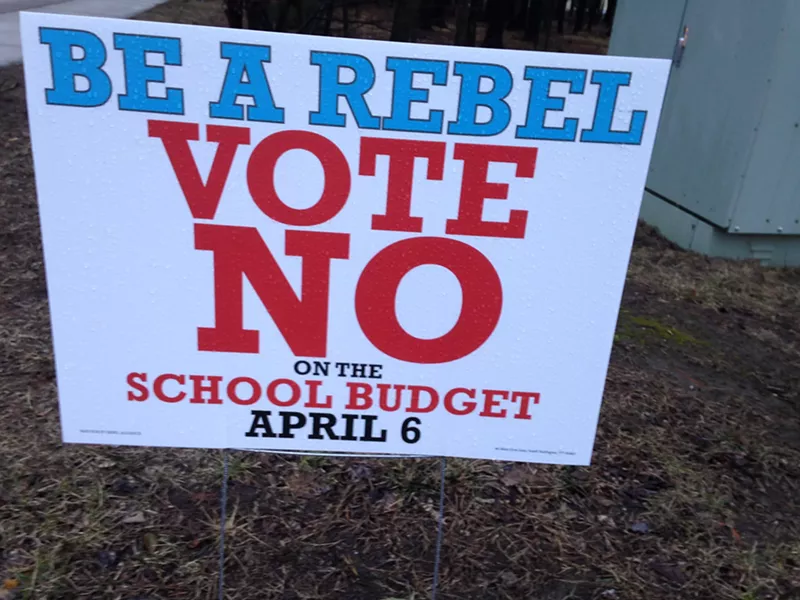 Molly Walsh
Sign encouraging voters to defeat budget
South Burlington residents on Thursday voted down their school budget for the second time — and by a wide margin of 57 to 43 percent.
The $49.7 million budget had been revised down from the $50.5 million proposal that voters rejected March 7. Officials reported 24 percent of voters turned out for a tally of 1,948-1,474.
The second defeat was rare, if not unheard of, in the suburban district. South Burlington has a history of passing budgets on the first try and it pays some of the highest salaries for public school teachers in the state.
"We've not had this scenario," South Burlington Superintendent of Schools David Young said after the defeat.
He saw the proposal as a responsible budget, and said he was disappointed with the loss. Young will bring a new proposal to the school board later this month but said it was too soon Thursday night to talk about details.
The rejection came as the city remains locked in a bitter debate about the school board's decision to drop the "Rebels" nickname at South Burlington High School. Critics say the moniker has racist associations with the Confederate south and slavery.
The Rebels controversy, as well as budding debate about costs associated with a new teacher contract under negotiation, were likely factors in the defeat, Young said.
"I think all of those things, perhaps, have been contributors," Young said.
Only voters in the Orchard Elementary School neighborhood approved the budget — it went down everywhere else in the city.
The first budget failed as opponents organized under the banner of the "Rebel Alliance" and mounted a campaign against the spending plan. The group has gathered signatures to bring the name question to a public vote.
Frustration carried over into the second vote a month later.
"I voted no and very proudly voted no, I should say," said Stacey Savage, a South Burlington resident and mother of two South Burlington High School grads.
Her budget opposition began with a desire to keep the Rebel name and evolved into a broader wish for tighter budgeting and a more responsive school leadership.
"The school board has never in recent times had a budget defeated. They've always been just handed whatever they want," Savage said. "We simply as a community need to hold them accountable."
She does not see the Rebels name as offensive, or connected with the Confederacy.
"How many years ago was that, move on," Savage said. "The slavery issue and all that. I didn't do that. It's not my fault. Move forward. The community today in general does not tie the Rebel name to the flag and the Confederacy."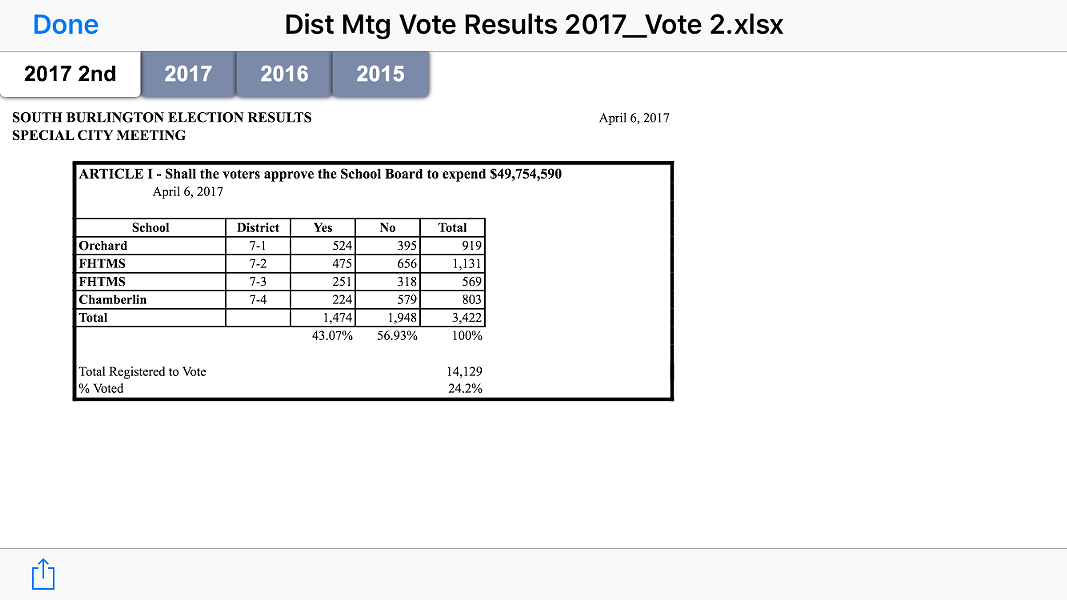 Courtesy
Ward results for Thursday's vote.
School leaders voted in February to drop the name and have stuck to the decision, pointing to feedback from students who found the name offensive and racist.
The revised budget included funding to scrub the Rebel name from jerseys, scoreboards and school playing fields. But $810,814 was cut in other areas, and the proposal would have actually reduced taxes by 0.07 percent.
Still, due to the mechanics of the state education funding law, spending was set to go up 5.9 percent, which some voters opposed.
The Rebel debate grew heated as the vote approached. Dan Emmons, a Rebel Alliance supporter,*
was cited last week to appear in court
after a South Burlington High School student active in the name debate complained to police of harassment.
On Monday, South Burlington police issued Emmons a no-trespass order barring him from school district property — even to pick up his two children from school.
The school district lifted the no-trespass order Thursday.
"They dropped it but they never should have issued it. Not if they were consistent," said Emmons' attorney, William Norful, who met with Young and school district legal counsel Wednesday to ask that the order be lifted.
"This is pure squelching of political speech and there will be repercussions about this legally to come," Norful said.
Molly Walsh
Sign urging voters to approve the budget
The Rebel Alliance has been active in fighting against the budget proposal. The group registered on March 23 as a political action committee and spent money on signs and advertising in the
Other Paper
, according to campaign finance reports filed with the Vermont Secretary of State's Office.
But Paul Engels, a budget supporter, claimed on the
Seven Days
website that the group did not register as a PAC until he complained to the Vermont Attorney General's Office.
Eve Jacobs-Carnahan, an assistant attorney general, confirmed that a review is underway.
"What I can tell you is that we received a complaint about the Rebel Alliance that raised some campaign finance issues and it's under review. And because it's in process, I really can't tell you anything else," Jacobs-Carnahan said.
Kiya Batmanglidj, a Rebel Alliance leader, said in an email that the group registered as a PAC of its own volition, and not in response to Engel's complaint.
*Correction, April 7, 2017: A previous version of this story incorrectly described Emmons' role in the Rebel Alliance.