File: Jeb Wallace-Brodeur
David Zuckerman
Tuesday's
startling setback
for H.170, a modest marijuana-legalization bill, was the latest in a string of recent reversals for Vermont's left — Progressives and Berniecrats especially. For them, it hasn't been a good fortnight.
While the Vermont legislature has been moving forward on a number of fronts, two of the left's top priorities — marijuana and
raising the minimum wage
— have run aground. A third,
paid family leave
, is in danger of following suit. On top of that, House budget writers have tried their darnedest not to raise taxes or fees — even at the cost of some painful belt-tightening.
Progressive/Democratic Lt. Gov. David Zuckerman sees a missed opportunity to capitalize on political momentum.
"In the land of Bernie, I would hope that we would be a leader on many of these working-class issues," he says, referring to Sen. Bernie Sanders (I-Vt.). "Voters are tired of establishment politics, and they're looking for results in their day-to-day lives."
James Haslam, executive director of the progressive advocacy group Rights & Democracy, agrees.
"It really seems like the new leadership in our state is not coming in with the appetite to take on big things," he says. "I understand the excuses people make, but we need action."
Josh Wronski, executive director of the Progressive Party, takes more of a glass-half-full approach.
"We are certainly disappointed on a number of issues, especially the minimum wage and cannabis, which have support from a large majority of Vermonters," he notes. "On the other hand, having the issues come to the forefront — that is exciting, and I see it as step one, and we're going to continue fighting."
The evident disaffection from the left is a familiar theme. During the six-year tenure of former Democratic governor Peter Shumlin, there were frequent tensions between left and center-left. The biggest blow came in December 2014, when Shumlin abandoned single-payer health care. The left-center dynamic within the Democratic Party sharpened with Sanders' presidential bid.
There's no talk of an open split. It's more of a sense that the Dems are on the clock, and the left expects results by the end of the current biennium.
File: Jeb Wallace-Brodeur
Sen. Tim Ashe
"Biennium" being the key word for legislative leaders. "I think of it as a two-year session," says Senate President Pro Tempore Tim Ashe (D/P-Chittenden).
That's certainly true of the bill to gradually increase the minimum wage to $15 per hour. It was derailed in the House because a study of its potential impact by state economist Tom Kavet won't be available in time for action this year, but quick action seems likely in 2018.
"This report [by Kavet] is a little more than a typical standard fiscal note," says House Speaker Mitzi Johnson (D-South Hero). "We owe it to Vermonters to take the time to really look at it carefully and do it right."
"Obviously they have to be able to make decisions based on the information they say they need," Haslam acknowledges. "We think it should move forward, and we will make sure they hear that message loud and clear. We're certainly not going to end this biennium without raising the minimum wage."
Marijuana legalization suffered a potentially fatal setback, in terms of 2017, at least, when House leadership pulled H.170 from the floor on Tuesday. The bill would allow Vermonters to possess and cultivate small amounts of pot. Legislation to fully legalize marijuana had earlier been sidelined in committee.
Wronski calls the failure to legalize, regulate and tax marijuana a "missed opportunity." He continues: "We could be raising millions of dollars in revenue. It's unfortunate that the legislature is taking such a cautious approach to an issue that a large majority of Vermonters support."
As for paid family leave, a late change to the bill may be fatal to its chances. As originally proposed, employers and employees would have paid equally into the system. Just before crossover, the House Committee on General, Housing and Military Affairs eliminated the employer contribution and put the entire burden on employees.
Which makes the bill less appealing to the left — and no less a target for anti-tax Republicans and tax-shy moderates. But Johnson insists the issue is very much alive.
"This is a strong priority for the caucus, so I do see it moving forward, yes," she says. Of course, in the legislative process, the bill could be amended yet again or put off entirely for 2018.
Johnson offers an interesting — and unreported — explanation for the sudden change to an employee-only tax.
"I believe it was actually done because there were strong indications of potential support from Republicans in the room," she says. "So some compromises were made, and then there were some — there were some about-faces on votes."
In the end, all the Republicans on House General voted "no."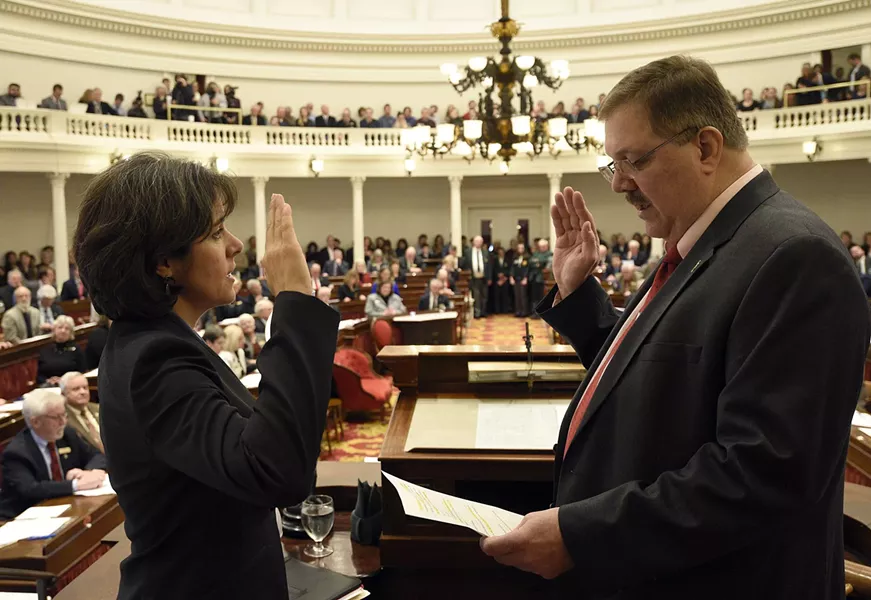 File: Jeb Wallace-Brodeur
House Speaker Mitzi Johnson taking her oath of office in January with Secretary of State Jim Condos
Did the Democrats get played? Maybe. But whether or not they did, supporters of family leave might wonder
why the leadership was trying to get Republican support at all.
You've got a majority; why not use it?
Were they hoping that a couple of Republican votes in committee would sway GOP Gov. Phil Scott to sign the bill despite his no-new-tax promise? That seems far-fetched.
Whatever happened behind the scenes, the outcome is a bill that's profoundly distasteful to avid supporters of the family leave concept.
"Placing the entire tax burden on employees is regressive," Wronski says. "If we're going to ask working people to help pay the cost, we should also be asking employers to pay some, if not most, of the cost."
Meanwhile, the House is poised to approve a budget bill this week that is largely written on Scott's terms — no tax or fee increases. That may smooth the way for a final budget deal, but it's another disappointment for the left.
"It doesn't make sense to negotiate against yourself," says Haslam. "Put forward the things they got elected on. Put those on the governor's desk, and if he chooses to veto them, they have the chance to override."
There seems to be little appetite among legislative leadership for the confrontational approach.
"The political process is always a bit conservative when it comes to making change, there's no doubt about it," says Zuckerman, who spent 20 years in the legislature. "But I think what this last election nationally showed is that people want significant change."
Could things get bad enough that the Progressives might field a candidate for governor next year, for the first time since 2008?
"We always leave all cards on the table," says Wronski. "Running a candidate for governor isn't something we're even talking about at the moment one way or the other; we're not saying we will do it or won't do it."
Sounds like they're not talking about it, but they're certainly
thinking
about it.
Vermont's left feels emboldened by Sanders' success — especially his astounding 86 percent support in the state's 2016 presidential primary. They see that as strong evidence that Vermonters are hungry for progressive action. So far this year, say prominent voices on the left, they're getting not much more than table scraps.
Disclosure: Tim Ashe is the domestic partner of
Seven Days
publisher and coeditor Paula Routly. Find our conflict-of-interest policy here: sevendaysvt.com/disclosure